Deep Purple's Mk 5 incarnation is one few expected when the Mk 2 band reformed in 1984. The wisdom of the move divided opinion at the time and continues to draw comment to this day. In short, Ian Gillan was sacked from the band in 1989, replaced with ex-Rainbow vocalist Joe Lynn Turner, and then in 1992 asked back when the band's new AOR album failed to set the charts on fire.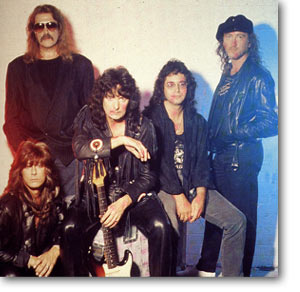 standing: Jon Lord, Roger Glover
seated: Joe Lynn Turner, Ritchie Blackmore, Ian Paice,
Joe Lynn Turner was brought on board in late 1989, at the end of a six month struggle to find a replacement for Ian Gillan. After a successful jam on 'Hey Joe' at his audition, the band were relieved to find someone they felt they could work with (and in Blackmore and Glover's cases, already had).
Deep Purple Timeline

1989
December: Joe Lynn Turner is asked to join the band.

1990
October: 'Slaves And Masters' is released in the UK, preceded by the 'King Of Dreams' single.

1991
February 4th: First Mk 5 live gig, in Ostrava, Czechoslovakia. Filmed by Czech TV.

August 29th: Final Mk 5 gig; Zemah, Israel.

1992
August: Joe Lynn Turner is asked to leave the band, Ian Gillan accepts an offer to rejoin.
The new studio album was recorded in early 1990, working up new and existing material (some of which Gillan had done demos for) from a series of relaxed studio jams. The result was 'Slaves And Masters' (named after studio recording equipment), released in October 1990. Compared to its predecessor 'House Of Blue Light' it sounded a lot less forced, but also a lot less demanding. Bad reviews in the press were few, but so were unreservedly enthusiastic ones.
The band toured the album between February and August 1991, finishing off with two shows in Israel. They were to be the line-up's final live performances. The tour met with a generally loyal reaction from fans. The shows featured a high percentage of Mk 2 material alongside 'Slaves And Masters' songs; some of which the band enthusiastically expanded, and others which were performed in a disappointingly loose fashion.
Mk 5 had only just begun to establish themselves when, towards the end of recording their all-important second album in 1992, Glover, Lord and Paice's dissatisfaction with the material brought proceedings to a halt and, with the band's 25th anniversary looming, record label pressure for Gillan's return increased. He was invited back, agreed, and Joe Lynn Turner was told that his services were no longer required. Jon Lord : "We had realised there was only one singer for us, and that was Ian Gillan."
In August 1992, after having toured the world to promote his solo album, Ian Gillan was on the verge of launching a new band 'Repo Depo', but felt unable to turn down the offer of a return to Deep Purple. Within a month he had met up with the rest of Deep Purple to begin work on a new album in 1993, this time singing on material some of which Turner had done demos for. The result was aptly titled The Battle Rages On.


click above to view the next page
.... Deep Purple Mk 5 Discography ....

UK singles
King Of Dreams / Fire In The Basement: 1990
Love Conquers All / Truth Hurts / Slow Down Sister*: 1991. (* - on 12" & CD single only)
no US singles

| | |
| --- | --- |
| | |
| Completing the collection.... In addition to the tracks on 'Slaves And Masters', there were two other Mk 5 songs released in 1990-91. One was 'Slow Down Sister' ( b-side of the 'Love Conquers All' 12" and CD single), the other 'Fire Ice And Dynamite' (an S&M out-take adapted for the 'Fire Ice And Dynamite' action movie, in preference to a Harold Faltermeyer song which it was suggested they perform.) The track was released on the CD of the movie soundtrack. See the Slaves And Masters discography). | |
| | |

.... Deep Purple Mk 5 On PAL Video / DVD....
| | |
| --- | --- |
| | |
| Completing the collection.... The 'Heavy Metal Pioneers' video documentary was released during Mk 5's time together. It features rather bland interviews with Lord, Glover and Paice, and clips of a 1990 S&M launch interview with Blackmore and Turner. It also includes a very short clip of Lord playing 'The Cut Runs Deep' on piano. Contemporary heavy metal video magazine 'Metal Head IV' had a feature on the making of the 'Love Conquers All' promo, along with interviews and very short live clips. | |
| | |

....Deep Purple Mk 5, Further Reading....