Memorabilia from Deep Purple shows played in Belgrade; March 1975, December 2003 & February 2006.
Deep Purple

Date : 16th March 1975

Venue : Pioneer Hall, Belgrade, Yugoslavia
Words: From the Deep Purple 'Live In Paris 1975" booklet (Purple Records).

Magazine covers: from the DPAS magazine gallery
"A short European tour had been booked, commencing in Yugoslavia on March 16th, where Purple were the first western rock band to play in venues seating 6,000 fans. Once again, Elf were among the support acts. As far as the group were concerned, the tour was to be followed by album sessions and then a six month break, time for them to work on solo projects, which Glenn and David were both very keen to do. Concerts had already been booked for Purple to play later in the year in South America, Indonesia, Japan and Australia.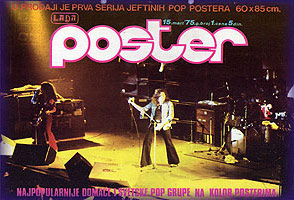 The two gigs in Yugoslavia - at Belgrade's Pioneer Hall (March 16th) and Zagreb's Sportshalle (March 17th) were well received by the rock starved audiences, but Blackmore was dismissive: "I've got to admit I looked at those two sets as warm up gigs, I know it's the wrong attitude but I was feeling my way round - and the kids enjoyed themselves anyway."
"Musically the concert was a zillion times better than it could have been, due to the audience response. Purple feed off their audience reaction and vice versa. This is what makes them THE most exciting band in the world, that and the fact they have five of the most talented musicians around. The best two numbers of that night were 'Mistreated' and 'You Fool No One', but the set began to meander on 'Space Trucking'. The band returned with the final punch on the encore 'Going Down' featuring a forceful slide solo from Blackmore, who emptied the contents of his slide (a bottle, full of local brandy) onto the surprised press enclosure. Coverdale's and Hughes' vocals were excellent - a good opening night. The audience went bananas." [Pete Makowski/Sounds/Belgrade]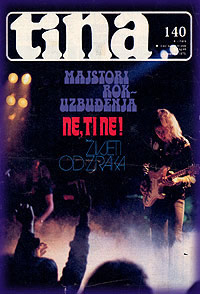 David Coverdale sensed something was not right. Was it Ritchie's now introspective solos in "Mistreated" or his new habit of drifting into "Still I'm Sad"? "After we'd done a couple of dates I began to feel strange vibes and I knew something was going on", David later explained to the NME: "I went to see Rob Cooksey and I could just tell from his eyes that he was keeping something from me. I could sense he didn't want to commit himself because Ritchie had told him something in private and he didn't want to break that confidence, even though it concerned us all business-wise." Sure enough, Ritchie had spoken to their tour manager of his plans. For the sake of the tour, it was decided that nothing would be said to the others, as Blackmore explained. "Once I'd done the album I realised that I was really excited about it. I found I'd enjoyed recording it a lot more than some Purple records. So I thought that, to be honest with myself, I should really leave the band. We had another Deep Purple album coming up, you see, and I wasn't looking forward to it at all. I liked playing with Purple on stage because they were very good, but in the studio it took such a long time to get things together and, it became a bit of a headache towards the end. So a few weeks before we were due to go into the studios I said, no. I'd rather not. And that's when I split from the band. I just didn't like the way things were going. In the studio we'd be five egotistical maniacs, pushing the faders up so each of us would be progressively louder than any of the others. It wasn't a team effort any more, the songs seemed to have been forgotten. Also, Purple seemed to be getting - uh - funky, especially with "Stormbringer". I just don't like that sort of music It was all becoming too classy, too laid back and ... cool. That's not Deep Purple. Deep Purple are a brash, demanding band."
Nigel Young

Deep Purple

Date : 7th December 2003

Venue :
Hala Rondo, Belgrade, Serbia & Montenegro

Review : Andrej Vidovic
Magazine cover: Rock Express, January 2004. Igor Gruden (from the DPAS magazine gallery)
"To tell you the truth, I never expected any less than a mindblowing performance from a band whose reputation, and that's exactly what Belgrade was treated to after 28 years of Purple abstinence.
"Arriving at the venue, a huge Belgrade Fair hall, the most noticable thing was that, despite the expected "mix of generations" in the audience, young people of age ranging from 15 to 25 were the dominant category, and as they showed later on they were familiar with the new material as well as with the old. Having got there early, we got a caught the support acts: first a "domestic" hard-rock band called Royal Apartment who did a pretty good job, then some Slovenian band whose singer was the definition of "dreadfull", doing all he could to ruin an otherwise fine performance by the rest of the band.
A few last soundchecks by the crew and then - the lights went out and the crowd went nuts! Or should I say bananas? Ian Paice showed up first, greeting us all from behind the drumkit. Then the four other Gods ran onto stage, all in great mood, looking shiny 'n' happy! The well-known drum beat started followed by Steve's incredible engine guitar-effects, Glover and Airey joined in the final notes of the intro, and then Ian Gillan burst in with ... "Nobody gonna take my car...". He seemed in incredible shape, and the audience sang right along with him. From the very first verse of Highway Star it was clear that Gillan's voice was in fantastic shape. He really was the star of the show, throughout the entire gig he kept his voice on the same (high) level, sounding so powerful... better than I've heard on any live recordings from the last ten years. He just gets better with age! Bearing in mind that this gig was the conclusion of the tour I expected him to sound a bit weary and flat. But - my concernes were unjustified! Add the fabulous showmanship and interaction with the crowd and you get one 1st class frontman.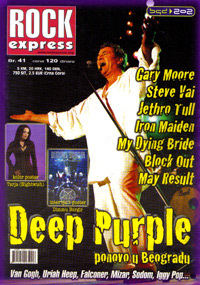 As for the others, it could have hardly been any better. Paicey is a monster, what shocked everyone about him is how he makes it all look so effortless. Morse was fabulous, bringing enormous positive energy into the band. He got huge cheers from the crowd after the beautiful and extended Contact Lost and then Well Dressed Guitar. Roger was solid as always, keeping it all going in proper direction, his moment was Hush, the solo spot he did at the end of it included the bass-line from the sadly missed Pictures of Home. As for Don, I am now 150% sure he was the best possible Jon Lord replacement. He's captured Lord's exact sound, and contributes big-time to the overall impression. A huge cheer for him too, during his interpretation of Fur Elise in his solo spot. All variations of keyboards were demonstrated, from the classic heavy organ to the "eighties" sound.
I've Got Your Number was particulary cool but then so were House of Pain and Doing it Tonight which was the particularly good fun, with Gillan doing certain "hip gestures"! The highlights to me were Space Truckin' (which I now appreaciate more thanks to this gig), Perfect Strangers and both encore songs: Hush and Black Night (which had the entire crowd singing and howling along with the riff).
Speaking of riffs, Smoke on the Water was introduced in an odd fashion. Ian first went to the mic to speak out and then changed his mind by simply pointing to Steve who instantly went into The Riff without the usual riff parade. Nice one! At the end of the 1 hour and 45 minutes long show, the band stayed on stage to throw guitar picks and drumsticks into the crowd, rounding off a magnificent evening that wasn't even spoiled by a few guys being run over on the way out. Guess they're fine... My first DP gig, and out of this world!!! May it happen again!
review: Andrej Vidovic

Deep Purple

Date : 27th February 2006

Venue : Fair Hall 1, Belgrade, Serbia

Right: poster for the show.

Far right, above: ticket for the show

Below, right: photos of the show, © Moma Rančić, with thanks to Igor Gruden

Click for more detail