Live In Paris 1975
la derniere seance
This aural document of Blackmore's last pre-reunion Deep Purple show is an amazing record of an historic event. I freely admit to having a 'soft spot' for this era of Purple as the scrapbook 1975 tour album 'Made In Europe' was an early purchase for me (when I was a mere pimply youth). So what does this 'new' release have to offer?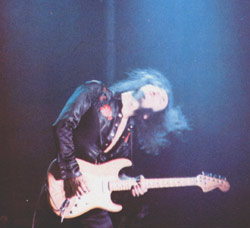 Well apart from a good half hour of previously unreleased material, the major point of interest on Live In Paris 1975 is the SOUND. Full marks to the restoring engineers as the sound on this one is absolutely awesome: everything is exactly where it should be, with each voice and instrument distinct and yet somehow blending together to make a great Purple whole. With headphones on it's easy to get a minds-eye-view of the stage in Paris. Blackmore prowling in the shadows on the right, Lord making all the right noises on the left, Paicey powering everything wonderfully from the back, Coverdale centre stage and Hughes whooping away to the left of him.
It's great to hear the full set, with in-between song chat (and all, ahem, interpolated bits) restored to their rightful place. Much has been made of Blackmore's mind being elsewhere (over the Rainbow?) at the time of this show, but his playing, whilst perhaps not as fiery as the '74 tour, is still inspired. This is clear from the outset with a very powerful 'Burn' kicking things off. Blackmore is simply on fire for this one, with some great playing, even when he's only playing rhythm behind Lord's solo. Some manic keyboard work leads into 'Stormbringer' with killer solos from both Blackmore and Lord. 'The Gypsy' is next up with good vocals and nice soloing from Blackmore again at the coda. We're then treated to a full-tilt 'Lady Double Dealer' before arguably Mk 3's finest hour 'Mistreated'. If Ritchie Blackmore loses his way a little on the intro to this, he more than makes up for it with the seemingly nonchalant virtuosity of his solo work in the middle, which is simply masterful.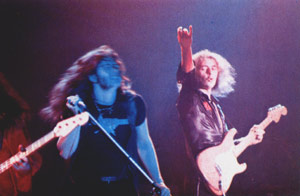 'Smoke On The Water' follows - a nice version, as Mk 3 ones go, prefaced by some casual noodling from Blackmore, which includes the riff of 'Lazy'. 'You Fool No One' begins as it always did in a live setting - with a keyboard solo, and is very much a vehicle to show off the individual talents of the band with Blackmore doing his blitz-&-blues thang, and the whole shebang rounded off with a dose of Paicey magic and a snatch of 'The Mule'. Oh, and there's some pretty good harmonised singing from Coverdale and Hughes in there somewhere too.
'Space Truckin' begins with Glenn getting a bit carried away, before Jon gets things back on track with his '2001' intro. This 20 minute work-out finds Blackmore seemingly a bit subdued, but has some good 'lead' bass work from Glenn Hughes, using the 'twangy' effects pedal that people who saw him on his recent UK tour will recognise. The 'Going Down / Highway Star' encore brings proceedings to a close in fine style with the excellent sound again meaning that everything is clearly audible and showing that the whole band is working hard.
All in all then a fitting, and indeed a fighting finish to the Mk 3 era, with Blackmore giving his Strat some serious abuse into the bargain. The release also has an informative booklet which tells you all you could wish to know about the background to the concert, so stop reading this, and get yourself over to the DPAS shop and buy a copy. Now!
review: Tim Summers, (photos: Rock & Folk)