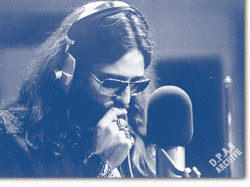 In March 1976 David Coverdale contacted ex-Snafu guitarist Micky Moody and asked for his help with a planned solo album. Work began sooner than planned when Deep Purple broke up at the end of a poorly received UK tour. Despite lacking the finance to put a new band together, Coverdale was still able to record the solo album while still under contract to Purple's management. Roger Glover produced and contributed some bass, with Moody on guitar, plus session musicians Lisle Harper on bass and Simon Phillips on drums.
The album 'Whitesnake', which included some tracks originally written for Deep Purple's follow-up to 'Come Taste The Band', proved an introspective and under-worked collection of material. Even so, the good-time r'n'b title track (co-written with Micky Moody) was to give Coverdale the inspiration for his first group. By early 1977, when it was released into a punk-saturated vacuum, work was already approaching completion on a much superior follow-up. 'Northwinds' is regarded as one of Coverdale's very best, in turn understated and powerful, soulful, and well produced.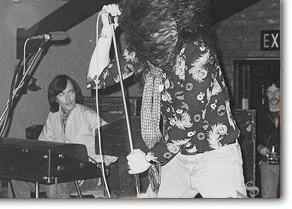 In late 1977 Coverdale was finally in a position to begin putting together a touring band to promote 'Northwinds', whose release was held back to coincide. As a result the band was assembled in haste, and with the full knowledge that personnel might later change. Bernie Marsden joined from the ashes of Paice Ashton Lord to compliment Micky Moody and provide a twin lead guitar approach.
Bernie was followed by his ex-Hammer band-mate Neil Murray on bass. In turn Murray roped in David Dowle on drums, and the troublesome keyboard spot was hurriedly filled by Brian Johnstone, who at least brought the desired Hammond sound to the group. Both Dowle and Johnstone had previously been members of Streetwalkers. The band's debut 'back to the roots' tour (many in cramped intimate UK venues) was chaotically organised, but despite everything proved a triumph. In its aftermath it was decided that with the new band already writing and performing its own material on stage ('Northwinds' barely got a look-in), a true vinyl representation of what the new band was about had to be captured as soon as possible. First though, a new keyboard player was required.
.... 1976-78 David Coverdale Discography ....
WHITESNAKE
May 1977 - studio album
David Coverdale's first solo album. Reissued with Northwinds as "Early Years 76-77", by Purple Records in 2003. The reissue includes alternate takes of two tracks.
DPAS ONLINE STORE • DISCOGRAPHY • LADY mp3

NORTHWINDS
March 1978 - studio album
David Coverdale's second solo album. Remastered as a double CD set with Whitesnake on Purple Records in 2003. The reissue includes two previously unreleased out-takes.
DPAS ONLINE STORE • ONLY MY SOUL mp3 • 1978 DPAS REVIEW • DISCOGRAPHY

UK Singles:
Hole In The Sky / Blindman : 1977
Breakdown / Only My Soul : 1978

Completing the collection :
Coverdale's first post-Deep Purple Mk4 recording session was for Eddie Hardin's 'Wizard's Convention' album. He provided vocals for the track 'Money To Burn'. The album is available on Purple Records.
.... 1976-1981 David Coverdale and Whitesnake Discography ....
LOVEHUNTER
October 1979 - studio album
Ian Paice didn't play on the album, but had joined by the time it was released. The CD remaster also includes four BBC session tracks.
1979 DPAS REVIEW • DPAS ONLINE STORE • WE WISH YOU WELL mp3

UK EPs / Singles:
Come On / Ain't No Love.. / Bloody Mary / Steal Away : 1978*
Lie Down / Don't Mess With Me : 1978
The Time Is Right For Love / Come On (live) : 1979
Long Way From Home / Trouble (live)/ Ain't No Love.. (live) : 1979
Fool For Your Loving / Mean Business / Don't Mess With Me : 1980
Ain't No Love.. (live)* / Take Me With You (live) : 1980
Ready An' Willing / Nighthawk / We Wish You Well : 1980
Don't Break My Heart Again / Child Of Babylon : 1981
Would I Lie To You / Girl : 1981

Completing The Collection:
The Snakebite EP* was expanded to album length in the USA by adding a selection of tracks from 'Northwinds'. The live single b-sides all appeared on 'Live In Hammersmith' (Japan only, March 1980), and in turn 'Live... In The Heart Of The City' (November 1980).. Whitesnake Mk4's first studio sessions were for Bernie Marsden's 'About Time Too' solo album, alongside Cozy Powell and Don Airey from Rainbow. Marsden's follow up album 'Look At Me Now' was recorded in 1981 with the help of Ian Paice, Jon Lord, and Neil Murray. Both albums have been re-issued on CD by Purple Records, with radio session bonus tracks, two of which feature David Coverdale on vocals.

* 'Ain't No Love..' is a different version to the 'Live.. In The Heart Of The City' take, recorded in 1980 rather than 1978. It was added to the 2007 CD remaster of 'Live...In The Heart Of The City'.

BBC recordings of Whitesnake's performances at the 1979 and 1980 Reading Festivals were included on the (expensive) 9xCD, 1xDVD, 1x vinyl EP boxset "The Sunburst Years", released by EMI in 2011.
.... 1978-1981 Whitesnake On Video ....
FOURPLAY
Picture Music - VHS video
Four promos, including 'Fool For Your Loving' (1980) and 'Don't Break My Heart Again' (1981). Not transferred to DVD.

Completing The Collection:

A 22 track DVD containing nine 1978-81 promos, four TV appearances from UK TV shows The Old Grey Whistle Test & Top Of The Pops, and eight live tracks from a show in Washington 1980 were included on the "The Sunburst Years boxset in 2011. Sadly there has been no separate release of the DVD.