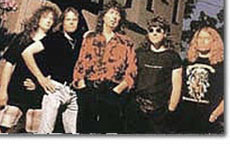 This line-up kicked off the tour in Helsinki, Finland, on September 30th 1995. European shows recorded included Stockholm for Swedish radio and Dusseldorf for German TV. The gigging went on through 1996, albeit at a slower pace than had been the case first time around, and included a trip to South America followed by a second lap around Europe.
Rainbow's previous manager Bruce Payne had stayed with Deep Purple, and Rainbow were handled by a new agency, though increasingly Ritchie Blackmore's girlfriend's mother began to take on a management role. Burgi left the band at the end of 1996 for a more financially rewarding gig with Enrique Iglesias, and was replaced by another American, John Micelli, who had worked with Meatloaf.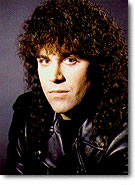 The group now set off on a low-key American tour, and the new album was finally issued there. The shows in February / March 1997 proved to be their last.
Blackmore had already talked about doing a proper solo album in partnership with Candice Night (who had helped write some of the "Stranger In Us All" songs), and the plan had been to finish that then reconvene Rainbow. The band played their last show at a festival in Esbjerg,Denmark on May 31st 1997. The rest of the band were offered 'retaining contracts' by Blackmore's new manager but with no clear future they declined, and Blackmore released his first Blackmore's Night album in April 1997.
Tribute act Over The Rainbow were formed in 2009, notable in that it comprised former Rainbow members Joe Lynn Turner on vocals, Greg Smith on bass, Bobby Rondinelli on drums, and Tony Carey on keyboards. With Ritchie Blackmore's blessing his son JR Blackmore joined on guitar. After an initial tour of the former USSR Carey left, to be replaced by Paul Morris. The band toured Europe in September and October 2009 (Over The Rainbow 2009 tour reviews)