Blackmore's Night began as a side project to the reformed Rainbow. Blackmore and his partner Candice Night (a former model who had met Blackmore during Deep Purple's reunion spell with Joe Lynn Turner) were writing the material at least as early as 1994 (one of the songs appeared on the Rainbow reunion album Stranger In Us All), but didn't begin to record the new music until September 1996.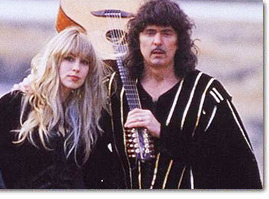 Members of Rainbow were aware of the project but didn't realise it would mean the end of the group. Indeed the situation had distinct echoes of late 1974 when Blackmore was still a member of Deep Purple but was recording an album on the side...
Rainbow played some American shows in early 199, but after a gig in Denmark in May, Blackmore put Rainbow on hold to promote the first Blackmore's Night album. The band were told Ritchie might want to do some more shows with them later in the year, but they couldn't afford to wait and see.
Shadow Of The Moon sold well enough to give Blackmore the confidence to pursue this new musical direction on a full-time basis. It's a musical style which saw Blackmore bringing together elements of folk and Renaissance era musical themes, along with rock and pop. Purists of the various genres were unconvinced but Blackmore himself determined to stick with it. He took some of his old fans with him, but over the next few years built an entirely new following who entered into the spirit of Blackmore's Night with surprising zeal. There was no full time recording band for the Blackmore's Night studio albums, Ritchie and Candice instead being joined by a variety of handpicked musicians. On 'Shadow Of The Moon' Pat Regan (producer of Rainbow's 'Stranger In Us All') handled both the production and the keyboard work. A follow-up Blackmore's Night album was soon under way, and a first tour undertaken. (photo: Ritchie Blackmore and Candice Night )

The first Blackmore's Night touring band included Argentinian born session bassist Mick Servino, ex-Sweet Little Sister guitarist and vocalist Jessie Haynes, and Rainbow's 1994-95 drummer John O'Reilly.
September 1997 shows in Europe were postponed when Blackmore suffered a hand injury, and instead the band's live debut was in Tokyo on November 2nd. For the rescheduled German tour in December the band encouraged fans to dress in medieval costume, with the front rows of concert halls reserved for anyone thus attired; this has now become a Blackmore's Night tradition.
.... 1997-2000 Blackmore's Night Discography ....
Completing The Collection:
The Japanese issue of Shadow Of The Moon featured an instrumental version of 'Minstrel Hall' as a bonus track. A 1998 UK re-issue on HTD included the bonus track 'Possum's Last Dance', which was also the bonus on the US edition.
.... 1997-2000 Blackmore's Night On Video ....
Completing The Collection:
None of the videos are avaialble on DVD. 'Behind The Music' was first released in Japan as 'Shadow Of The Moon'. Japanese TV showed parts of the video, and added extra material, with Blackmore discussing some of his classic riffs.
(with thanks to Jose Galvan)