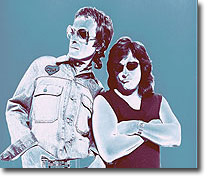 The success of the 2000 Hughes / Turner tour of Japan (Glenn's first shows there since 1997) lead to the recording of the first Hughes Turner Project studio album, which was released to positive reviews in March 2002.
A Hughes Turner Project tour of Japan followed in May 2002, backed by a band made up of Japanese musicians including Turner's regular guitarist Akira Kajiyama. The results were released on CD as 'Live In Tokyo' in October 2002. A European tour in the same year was also a success, and helped raise the profile of both artists. The band for Europe included JJ Marsh, along with drummer Tomas Broman (from John Norum's band) and keyboard player Joakim Svalberg (Yngwie Malmsteen).

Following the success of the first album and tour, the Hughes Turner Project was reconvened in April 2003 to record a follow-up studio album. The players included JJ March and Shane Gaalaas from Glenn's then current solo band, plus keyboard player Ed Roth, who had previously played alongside Glenn (and Keith Emerson) in Marc Bonilla's Dragon Choir (released as Boys Club) back in 1998.
The second HTP studio album was released in 2003, but did not build on the success of the first. The project was laid to rest in April 2004 after a two month tour. The live band (outside Japan) was the same as the first tour, but with Swedish keyboard player Kjell Haraldsson stepping in to replace Svalberg.

Glenn's solo career continued alongside his HTP work. Before setting out on the final HTP tour, Glenn recorded a live CD / DVD 'Soulfully Live In The City of Angels' in front of an invited audience in LA. JJ Marsh and George Nastos shared the guitar duties, with Ed Roth on keyboards. Red Hot Chili Peppers' drummer Chad Smith sat in on drums. Smith also played on Glenn's next three studio albums.
With the album recorded, Glenn lined up a two month tour of Europe starting in December 2004. Smith was due to take part, but the Chilis' own album sessions overran and the tour had to be cancelled. The dates were re-booked for February 2005 with Hughes Turner Project drummer Tomas Broman drafted in. Smith was able to catch up for the latter half of the tour. Tony Iommi was also looking likely to guest, but this didn't materialise.
In 1996 Glenn had sung on sessions for a Iommi solo project, which was finally released in 2004 as 'The DEP Sessions' - partly as a response to bootlegs of the recordings. This was followed by a newly recorded joint studio album called 'Fused', which appeared in 2005. Plans for a supporting tour came to nothing. partly due to Iommi's commitments with the 10th anniversary Ozzfest shows. Glenn also sang studio sessions for the Italian Voodoo Hill and Moonstone projects, and (on what must be his most surreal session of all) with Joe Lynn Turner on an album with Moscow's deputy mayor Mikhail Men. All of which helped finance his solo career, while also perhaps detracting from it.

Glenn recorded his new studio album in early 2006, with The Red Hot Chili Peppers' Chad Smith on drums and John Frusciante on guitar.
'Music For The Divine' was released in June 2006. It featured a well honed production sound and splashes of Trapeze updated for the 21st century. With the album done, Glenn flew out to Australia to promote it with two acoustic gigs, his first shows there since 1975. The shows were recorded, and released in 2007 on CD and DVD as 'Live In Australia'. He brought along JJ Marsh on guitar, and was joined by Australian musician Lachlan Doley on keyboards.
Drummer Tomas Broman had been replaced at the end of 2005 by Sebastian Sippola, who was in turn cast aside in favour of ex-Jeff Beck Band drummer Mark Mondesir by September 2006. JJ Marsh was axed from Glenn's touring band before the October 2006 European tour began. Jeff Kollman was brought in, a guitarist who had already played with Glenn mainly in US live appearances.

Ex Peter Gabriel keyboard player Anders Olinder came in on keyboards in time for the late 2006 tour, replacing Kjell Haraldsson. Despite positive reviews for the new band, JJ Marsh's reinstatement in May 2007 was a popular move with fans. Kollman still played on two Californian dates in June 2007, which also featured Chad Smith on drums, and ended up forming The Bombastic Meatbats with Smith and keyboard player Ed Roth.
The late 2006 - early 2007 tour was an extensive one, including return visits to the UK, Russia and Norway. Glenn visited Norway again to play with Deep Purple tribute act Come Taste The Band (which lead to more shows with them in 2008), and also toured Italy in May 2007 with Matteo Filippini's Moonstone Project. The first Moonstone Project album 'Time To Take A Stand' was released in mid 2006, and reunited Ian Paice and Glenn Hughes on disc for the first time since 1975. They played together on two numbers, 'Rose In Hell' and 'Where Do You Hide'. The pair appeared together on stage for the first time in 32 years at The Childline Rocks show in London on March 13th 2008. Joined by members of Thunder, plus keyboardist Anders Olinder, the pair played 'Mistreated' and 'Might Just Take Your Life'.

Over the summer of 2007 Glenn continued to tour Europe, including festival dates in Norway and France. By the end of the year he had also completed three visits to Bulgaria, becoming an honorary citizen of Kavarna in May.
In Kavarna Glenn introduced new drummer Matt Goom, who ran the Norwich Drum Academy. Goom had met Glenn while organising a show in the city during 2004 and was brought into the line-up full time in September 2007 on the recommendation of Chad Smith, who had been unable to tour due to Red Hot Chili commitments.
New studio album 'First Underground Nuclear Kitchen' was recorded in December 2007 and released in May 2008. It was welcomed as one of Glenn's finest albums. The majority of the guitar chores were handled by young prodigy Luis Maldonado, who had first played with Glenn in November 2007as part of a three-piece completed by Smith. JJ Marsh, and old 'Feel' side-kick George Nastos. For the May 2008 FUNK tour Maldonaldo joined the touring band to form a dual guitar with JJ Marsh, although when the second leg of dates began in September 2008 (either side of dates in Norway with Come Taste The Band) Marsh was no longer in the line-up. Glenn had previously played a special show at the Robin 2, Wolverhampton with British guitarist Tony Remy called in at short notice for the electric half of the set.

The FUNK tour took in the Russian Federation and Ukraine during the latter half of 2008, coming to a close in Tallinn, Estonia on 1st November. Glenn barely took a breather before heading out to guest live with Czech funk group Monkey Business (for whom he has sung sessions on their last two albums), and performed a 'plugged-in' session on US radio show Rockline.
Glenn's 2009 touring schedule was as varied as ever, taking in showcase gigs in the USA in April with Jeff Kollman and Chad Smith. Two special tribute shows for Mel Galley at the Robin 2, Wolverhampton, on 6th-7th June 2009 also included Kollman, with Steve Stephens on drums - who had played US east coast shows with Glenn in 2007. The shows were recorded for download (although not all of the first night was captured), and were released on CD and DVD in 2012 as "Live In Wolverhampton".

Glenn played a showcase gig at the Guitarfest, Birmingham on 11th July, and revealed what would become his new regular touring line-up, with Goom and Olinder joined by guitarist Søren Anderson.
After more live shows with Come Taste The Band, and Matt Filippini, Glenn returned to his solo tours, taking in Poland and Brazil during late 2009. On 12th November Glenn joined guitarist Joe Bonamassa onstage at the House Of Blues in Los Angeles, where they performed a couple of Trapeze and Deep Purple Mk3/4 songs. In early 2010 Glenn announced a new band project with Bonamassa called 'Black Country' (which soon became 'Black Country Communion'). After recording their debut album in March, Glenn rounded off the month by playing shows in Ukraine with his solo band.


Glenn introduced new drummer Pontus Engborg to his solo band on 17th July 2010 at a show in Serbia in front of a crowd of 21,000. Since then Glenn has fitted solo tours in between his Black Country Communion schedule, although no more solo studio albums have been recorded.
Tours of the British Isles were undertaken in 2010 and 2011 with his band, as well as Glenn only shows in late 2011 labelled as "An Evening with Glenn Hughes", which were designed to promote his autobiography. In 2012 he took his solo band out on the road in England (as part of a double bill with ex-Marillion singer Fish), also visiting Russia and Israel.
Other projects have included a one-off show with Tony Iommi and Heaven & Hell at the 2010 High Voltage Festival in London (in tribute to Ronnie Dio) and Kings Of Chaos, a new all-star live co-operative featuring Joe Elliott (Def Leppard) and assorted ex-members of Guns & Roses. Their first project (minus Glenn) was a studio recording of 'Never Before' for the Deep Purple tribute CD 'Re-Machined' in 2012. Pontus Engborg is in a similar collective, "Legends - Voices Of Rock", featuring Joe Lynn Turner and ex-members of Toto and Journey.




click above to view the next page!
.... 2002-2010 Glenn Hughes discography ....

HUGHES TURNER PROJECT




2002- studio album


Hughes Turner Project. Well received first studio album by Glenn Hughes and Joe Lynn Turner. The Japanese edition included bonus track 'Against The Wall'. DPAS REVIEW

LIVE IN TOKYO




2002 - live album


Hughes Turner Project live album recorded May 17th-19th 2002. Split evenly between HTP and Rainbow / Deep Purple tracks. The European edition includes bonus track 'Against The Wall' (from the Japanese edition of HTP1). DPAS ONLINE STORE

HUGHES TURNER PROJECT 2
2003 - studio album
Hughes Turner Project. Quick follow-up, seen as almost as good as the first album. The Japanese edition included bonus track 'Keep On Shining'.
DPAS ONLINE STORE • DPAS REVIEW

SONGS IN THE KEY OF ROCK




2003 - studio album


The European version includes bonus track 'Secret Life' which is replaced on the Japanese edition by 'Change'. DPAS ONLINE STORE • DPAS REVIEW

FREAK FLAG FLYIN'




2005 - live album




Mail-order live album released on Glenn's Pink Cloud label. Recorded live on UK tour 2003. Deleted.

SOULFULLY LIVE IN THE CITY OF ANGELS




2004 - live album




2xCD live album recorded before a specially invited audience in Los Angeles, 11th January 2004, with Chad Smith on drums. The European edition includes bonus studio track 'Change' from Jap. edition of 'Songs In The Key Of Rock'.

DPAS ONLINE STORE

SOUL MOVER




2005 - studio album




The Japanese edition includes bonus track 'Camel Toe Stomp'. An Australian 2cd version includes a video of the title track, 'Nights In White Satin' and an interview with Smith / Hughes.


DPAS ONLINE STORE

MUSIC FOR THE DIVINE
2006 - studio album
With Chili Peppers Chad Smith and John Frusciante. The Japanese edition features acoustic bonus track 'This House'. The Australian edition includes a 2005 session of 'Misty Mountain Hop' and alternate mix and video for 'Monkey Man'.
DPAS ONLINE STORE

Live In Australia




2007 - live album




Thirteen track live CD from acoustic set recorded in Sydney, 2006.


DPAS ONLINE STORE

First Underground Nuclear Kitchen




2008 - studio album




Glenn's latest, and one of his very best. Chad Smith on drums. The European edition includes a video for 'Love Communion'. The Japanese edition includes acoustic bonus track 'Imperfection'.


DPAS ONLINE STORE

Live In wolverhampton




2012 - live album




Eighteen track live double CD recorded in 2009. Includes a range of tracks from Glenn's career.
.... Some other notable releases 2002-2010 ....
Voodoo Hill


2000 - studio album




Guitarist Dario Mollo studio project. Glenn sings throughout.

The Alchemist - Songs From The Westside


2002 - studio album




Album by Greg Lake's drummer Carl Kennedy. Glenn sings on six tracks.

Wild Seed of Mother Earth


2004 - studio album




Voodoo Hill. Second studio album with Dario Mollo. Glenn sings throughout.


DPAS ONLINE STORE

Michael Men Project - Made In Moscow


2005 - studio album




Totally bizarre. Glenn Hughes and Joe Lynn Turner sing tracks written by the deputy mayor of Moscow in the 1980s when he played bass in a rock band.

CHILDLINE ROCKS




2009 - live album




2xCD live souvenir of the 2009 Childline charity show in London. Includes Glenn Hughes and Jon Lord performing 'You Keep On Moving' and 'Mistreated'.


DPAS REVIEW
.... Glenn Hughes, DVD 2002-2012 ....

A Vivo en Teatro Gran Rex
2005 - DVD
Rata Blanca with Glenn Hughes. Glenn sings four Deep Purple Mk3/Mk4 tracks live with Argentinian rock band Rata Blanca. Recorded in December 2003.
DPAS REVIEW

Soulfully Live In The City Of Angels
2004 - DVD
Glenn's first live DVD release. Ruined by cheap looking post-production effects, and poor sound. Released in the US as 2xCD/1xDVD package.
DPAS ONLINE STORE

Live In Australia




2007 - DVD


GLENN HUGHES. Sydney 2007 acoustic set. The Australian 2xDVD edition includes 3 promo videos, a documentary on the making of Music For The Divine, and concert clips from Rome 2006.
DPAS ONLINE STORE

Live In WOLVERHAMPTON




2012 - DVD




GLENN HUGHES. From the two special shows in Wolverhampton on 6/7 June 2009. 202 minutes long.

Completing the collection
The 'Alive Drive' USB download service includes a 90 minute 'bootleg' video from Boston, March 27th 2009, and 'Live at The Robin 2, Wolverhampton - June 6th & 7th 2009'. The latter became a retail DVD / CD release in January 2012.