DPAS ALBUM REVIEW
The Hughes Turner Project
This is not a collaboration I'd have thought of, and my first concern was that Glenn Hughes would wipe the floor with Joe Lynn-Turner. This turns out not to be the case, with Joe giving one of his best recorded performances and matching Glenn stride for stride.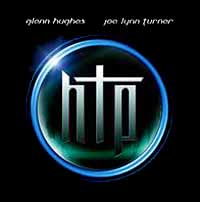 The details then: 1/ Devil's Road - A good driving opener, perhaps a little too similar to Rainbow's 'Death Alley Driver', but the interchanging of vocals at each verse sets the scene for the rest of the album. Both parties putting a huge amount of effort into this. 2/ You Can't Stop Rock'n'Roll - Some great integrated vocal lines, this time during the verses. A decent guitar solo, but it could have been lifted straight off 'From Now On'. 3/ Missed Your Name - Quite a bit faster this one, and as a result both vocalists seem to be straining themselves to keep up. Awful solo, just doesn't fit the track at all.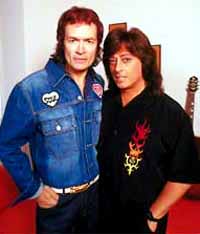 4/ Mystery of the Heart - First power ballad of the album, and this one is handled just by Joe. He performs this really well and the track is a highly polished end product, but I have to say that this sort of stuff just washes over me. 5/ Sister Midnight - A really funky number which would fit on any Hughes album. I expected this to be just his vocals, so it was something of a surprise to hear Turner adding the second verse. 6/ Better Man - I really enjoyed this one, it took a while to figure out what it reminded me of, but then when you get it, it's really obvious, it's 'Sail Away', and the more you listen to it, the more you recognise bits. Hughes really lets rip on this one. 7/ Heaven's Missing An Angel - Second power ballad, this one handled by Hughes, not as good as the Turner track, it could have been lifted straight off a late eighties Whitesnake album (it's that bad, really!)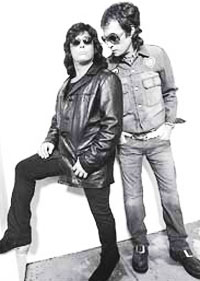 8/ Fade Away - This one takes a while to grow on you, the vocals are really impressive as you'd expect, but it does need a killer guitar solo adding to it. 9/ Ride the Storm - Another driving number, a bit too Yngwie for my liking, Hughes' vocals change the style a little, but Turner's are too formulised. 10/ Run Run Run - Both of them really flex their vocal chords here on possibly the best track on the album, which also contains a really good guitar solo, at last, even though it is very short. 11/ On the Ledge - Seems to have quite deep lyrics this one, in a similar vein to 'Into the Void' and 'Don't Want to Live that Way Again', and may well be about the usual illegal substances that both of these guys have had issues with... and if that isn't Keith Emerson on the keyboards, it bloody well should be!
Overall, I really enjoyed this album and keep going back to it, which is usually a good indicator. The main downside is the standard of the guitar work, I know JJ Marsh is on there, but I couldn't really tell if it was him all the way through or not, he's a man I do rate very highly. The vocals, as you would expect, are of a very high standard.
review: Michael Richards, photos: John Harrell