Episode Six grew out of two school bands, centred around Harrow County Grammar School.
First to tread the boards were The Lightnings (aka Pete Jason, Shandy & The Lightnings), formed in 1960.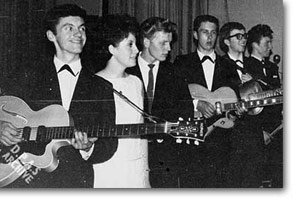 Sheila and Graham Carter-Dimmock (brother and sister) would sometimes sing and play together, and were asked to join The Lightnings when they were formed. They played school dances, youth clubs, and similar gigs. During this period Sheila Carter used the stage name 'Shandy', while vocalist Pete Reglar was known as 'Pete Jason'. Pete left in January 1963 and was replaced by Andy Tait, also known as 'Andy Ross'. A couple of months later they got a new bassist too.
The photo shows the Mk2 line-up in 1963, augmented by second guitarist Dick Crofts: Jeremy Dicker, Sheila Carter, Andy Ross, Graham Carter-Dimmock, Dick Crofts, Lawry Geller.





Roger Glover's family moved to run a pub in Pinner around 1960 and he became a pupil at Harrow County. He bought a cheap Spanish guitar to learn, then took up the bass because it seemed an easier instrument to play. The Madisons became good enough to occasionally play London venues like the Last Chance Club on Oxford Street.

The two bands all knew one another. Sheila helped out The Madisons on vocals occasionally and both groups performed at an end of term school concert. In July 1963, when members of both bands finished their exams and left school some of the musicians packed it in. Sheila and Graham wanted to continue in a band, so asked Roger and Harvey to join The Lightnings. As they'd been going the longer of the two groups, and were better known, the pair agreed. Around this point Harvey began to use the name 'Harvey Shield'.

photo : Harvey Schildkraut (later known as Harvey Shield), and Roger Glover





They played their first gig with the new line up at a Dance at Harrow County School with a set-list of an incredible 56 numbers, Sheila and Andy doing over half the lead vocals between them.
In early 1964 they got an agency and more work came in, though they could only play shows on Friday, Saturday and Sunday as Harvey was still at school (Lawry Geller would sometimes stand in for him), and the others had college and work. Prompted by their agency, they decided to choose a new name and rechristened themselves Episode Six, inspired by a novel called Danish Episode (though they sometimes used both names where people knew the old one).


They rehearsed at the Carter family home twice a week - without amplifiers - and Sheila's father drove them to gigs. The band all (except Sheila) wore smart white shirts and Beatles-style leather waistcoats, and via their booking agents there was soon plenty of work further afield. They could have done more, but because Harvey wanted to finish at school they held off. Nevertheless, they soon started doing demos for a record deal, and then did a season in Germany in early 1965, after which Andy Ross left.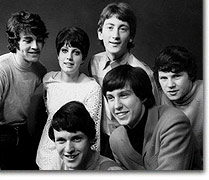 The band had already checked out Ian Gillan in a group called Wainwright's Gentlemen and now asked him to join. Prior to this he'd been with The Javelins, a popular local group, from 1961. Ian's arrival coincided with the band getting a record deal with Pye and in July they turned professional, giving up college and jobs. They were doing an average of twenty shows a month from July '65 onwards and cut their first single "Put Yourself In My Place" before the end of the year. It was released in early 1966.
The band were booked by Radio London to appear at one of their big open-air summer shows in May 1966 alongside David Bowie and issued more singles during the year, all of which failed to chart. In September 1966 the group played on the Dusty Springfield package tour and did a weekly residency at the Marquee Club during October. There was also the first solo single from Sheila; "I Will Warm Your Heart" in November 1966. The year climaxed with a long Christmas season in Beirut (where they topped the local chart) through December and January.
The group had by now built up an impressive repertoire of covers and originals and would vary their sets according to the audiences. They were also beginning to do sessions for the BBC. They did a mini tour of London parks (organised by the GLC) in mid-June 1967, performing two 45 minute sets, and played for four weeks in Germany. On their return Harvey left the group as the touring was telling on his health.
photo : (back row): Ian Gillan, Sheila Carter, Roger Glover, (front row): Harvey Shield, Graham Carter, Tony Lander



(click above to view the next page)
.... 1966-67 Episode Six Discography ....
Mk2 UK Singles:
January 1966 • Put Yourself In My Place / That's All I Want
April 1966 • I Hear Trumpets Blow / True Love Is Funny That Way
August 1966 • Here There & Everywhere / Mighty Morris Ten
February 1967 • Love Hate Revenge / Baby Baby Baby
June 1967 • Morning Dew / Sunshine Girl
September 1967 • I Can See Through You / When I Fall In Love
SHEILA CARTER & EPISODE SIX:
November 1966: I Will Warm Your Heart / Incense
....Episode Six Mk1-2, Further Reading....
© 2009 DPAS/Darker Than Blue.
Not to be replicated, reproduced, stored and/or distributed in any way without prior written permission