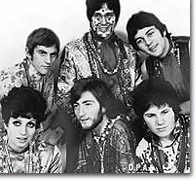 New drummer John Kerrison had previously been in The Pirates (with Nick Simper).With him onboard Episode Six were soon back in Germany doing clubs, and returned there early in the new year.
The group got a new record deal with MGM and shortened their name to The Episode, releasing "Little One" in May 1968 (their only single under the new name). They did three UK TV shows to promote this and recorded dozens of tracks for radio sessions over the year, including the new Radio 1 Club. However they were not getting along with their new drummer, who was eventually fired. A replacement had already been chosen: ex-Outlaws drummer Mick Underwood.
.Photo : Sheila Carter, John Kerrison, Roger Glover, Graham Carter-Dimmock, Ian Gillan, Tony Lander.




Mick had been in The Herd and played alongside Ritchie Blackmore in The Outlaws. The music got noticeably heavier and they moved to Chapter One Records, reverting back to being Episode Six.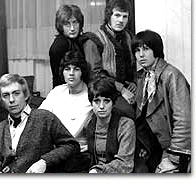 Their September 1968 single 'Lucky Sunday' became their eighth chart miss, depsite some good reviews. "Mozart Vs The Rest" followed in February 1969. This was issued in response to hundreds of calls to Radio 1 after the band performed it on air. Sadly this happened too late for it to chart .
The band made a start on a debut album but it was never fnished. In June 1969 Ritchie Blackmore and Jon Lord came to see Episode Six play live in London, and then offered Ian Gillan a job in Deep Purple. Glover helped them out on a studio session and was also asked to join. The pair helped Episode Six fulfil existing bookings while rehearsing with Deep Purple.
Episode Six carried on for a time with John Gustafson on bass and vocals. Sheila rehearsed with Pete Robinson, John Gustafson and Mick Underwood as a quartet, before they formed the trio Quatermass. Episode Six then played for a while with Sheila, Tony Lander, Dave Lawson (later of Greenslade) and Tony Dangerfield on bass. By the end of the year they were billed as Episode Six with Sheila Carter and then The Sheila Carter Band, and this continued off and on (mostly with gigs abroad) until 1974 with Sheila as the constant, before she went into session work.
.Photo : Mick Underwood, Ian Gillan, Roger Glover, Sheila Carter, Tony Lander, Graham Carter-Dimmock.


.... 1968-69 Episode Six Discography ....
Mk3 Single (as The Episode):
May 1968 • Little One / Wide Smiles
Mk4 Singles :
October 1968 • Lucky Sunday / Mr Universe
February 1969 • Mozart vs The Rest / Jak D'Or

Completing The Collection:
The band played on Sheila Carter's solo single,with Ian Gillan contributing organ to the b-side. All of the a and b sides are available on the 'Love Hate Revenge' collection (see below). Both that CD and 'Cornflakes & Crazyfoam' also contain pre-Ian Gillan demos by Episode Six Mk1, and Mk2-4 out-takes / radio sessions / live recordings. It also rounds up 'Gentlemen Of The Park', a track previously available only on the ultra-rare Bicyclettes de Belsize film soundtrack.
.... Notable post 1969 Episode Six Discography ....
CORNFLAKES & CRAZYFOAM




Purple Records - studio & live


Released in 2002. 52 track double CD collection from 1964 - 1969, using the band's tape archive of demos, live sessions, acetates etc.
DPAS ONLINE STORE • DPAS REVIEW • TEMPTATION mp3

LOVE HATE REVENGE
Castle Records - singles & out-takes
Expanded update of Sequel's 1991 'Complete Episode Six' collection. Includes the band's singles (plus solo singles), plus 22 sessions and out-takes (with 3 duplictated from Cornflakes & Crazyfoam)DPAS ONLINE STORE • DPAS REVIEW

PRE PURPLE PEOPLE




Purple Records - rarities collection


Rarities from pre-Purple careers of members of Deep Purple Mks1-3. Includes three live Episode Six radio performances and studio demo, all unavailable elsewhere.
DPAS ONLINE STORE • DPAS REVIEW

RADIO 1 CLUB SESSIONS
RPM Records - BBC sessions
Deleted 22 track collection from 1997 containing live broadcasts made for the BBC Radio 1 Club in 1968-69. Includes many tracks not recorded by the band in the studio. A handful were re-released on Love Hate Revenge in 2005.
....Episode Six, Further Reading....
© 2008 DPAS/Darker Than Blue.
Not to be replicated, reproduced, stored and/or distributed in any way without prior written permission