John Douglas Lord was born into a musical family in Leicester on June 9th 1941. His father Reginald played saxophone with a local dance band and also appeared with his sister In a duo called 'Reg And Molly - A Smile And A Song'. During the war Reg was attached to the Leicester Fire Brigade and a founder member of the Fire Service Band. To get Jon out from under his mother's feet, Reg took his son to afternoon tea dances, thereby instilling into him a love of music at a very tender age.
There was an old upright piano in the house and Jon showed an early interest in the instrument so his parents enrolled him for formal piano lessons when he was seven. At nine he found another teacher, Frederick All, who gave recitals for the BBC and played the church organ. "He was a marvelous teacher", says Lord. "He could impart a love of music to his students as well as teaching them to play it. He taught me to enjoy music and to want to play well." Jon Lord attended Wyggeston Grammar School and stuck with his piano lessons until he was 17, studying theory and composition and passing examinations set by the Royal College of Music. After gaining an 'A' level in music, Lord quit school (against the wishes of his parents) and went to work as a clerk in a local solicitor's office.
Lord was also Interested in acting, and joined the Leicester Little Theatre Group in his spare time where he acted or joined trips to see plays outside Leicester. The rest of his wage packet went on records, classical and later rock and roll. Jerry Lee Lewis was a seminal influence. "The first four bars of "Whole Lotta Shakin' Going On" totally turned my head around", he says. "I tried like hell to make the old piano at home sound like that but it wouldn't. That's when I realised there was more to rock and roll than meets the ear."
Lord was fired from the solicitor's after two years for taking too much time off work. A friend at the Little Theatre suggested Lord audition for the Central School of Speech and Drama at Swiss Cottage in London. To his astonishment he was accepted and in September 1960 left his parents' home in Leicester for a 32 bob a week bedsit in Bayswater. After two years there, several teachers left to found a college of their own, the London Drama Centre in Chalk Farm, and a number of students, including Jon, went with them. Since he no longer qualified for a grant, Jon decided to put his keyboard skills to work to make ends meet.
He got a gig playing in pubs with a jazz group, The Bill Ashton Combo, led by tenor saxophonist Bill Ashton, (who went on to front and later direct the National Youth Jazz Orchestra). He also moved to a cheaper cold-water flat in Archway but although his mum sent him £1 a week towards his keep, he was virtually starving when he met guitarist Derek Griffiths at a party in 1963. Griffiths was working with bassist Don Wilson and drummer Reg Dunnage in The Don Wilson Combo, playing weddings and tennis club dances. They also doubled as Red Bludd's Bluesicians at the weekend, playing R&B at The Flamingo allnighters and lots of U.S. air bases. Jon Lord was a useful addition especially as he could get his hands around a little jazz and all the old standards. "Jon used to ring me at work and interrupt my vouching of sales ledger invoices in order to discuss the coming weekend's gigs. We would bubble with excitement at the approach of an R&B gig as we really hated all the weddings and bar-mitzvahs." says Griffiths.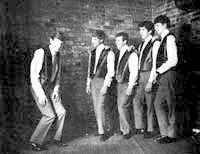 Shortly after this a rival R&B band, The Art Wood Combo, led by singer Art Wood (elder brother of guitarist Ronnie Wood), split and The Don Wilson Quartet teamed up with them as Art could get them more work. The group started advertising their gigs in the music press, firstly billing themselves as the New Art Wood Combo, and later as the Great Organ-ised, reflecting Lord's switch from piano to a Lowrey organ. Soon they were playing to large enthusiastic crowds two or three nights a week, mainly at clubs like the Speakeasy, Blaises, the Ad-Lib and the Cromwellian. While returning from one of these gigs the group suffered its first major set-back - their van crashed into the back of a lorry on the North Circular, injuring Don Wilson and bringing his musical career to an untimely end. The band resolved to carry on, drafting in Malcolm Pool from another Ealing outfit, the Roadrunners, as his replacement. In early 1964, the band began angling for a record deal, and went into the studio to cut an acetate, featuring covers of "Talkin"Bout You" and "Kansas City". The acetate was sold by auction in the early 1990s and has not appeared officially. These may well be Jon's earliest known studio recordings.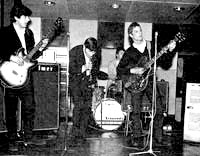 Pool had only been with combo for a few days when Johnny Jones, a booking agent and manager from the Wardour Street-based London City Agency, approached the group after a gig at the George and Dragon pub Acton. Jones had attended the performance after seeing an advertisement in `Melody Maker', and liked very much what he saw "We were all excited with the idea of having manager with an office in the West End," Art Wood recalled, "and we thought we had really cracked it." Jones worked quickly, and within a matter of weeks he had secured for the band both a residency at London's 100 Club, and recording deal with Decca. In the summer of 1964, they entered Advision Sound Studios in New Bond Street to record a possible single, Muddy Waters' blues standard "Hoochie Coochie Man", but Decca decided not to release it, presumably because rival versions had just been issued by both Dave Berry and Manfred Mann. The band got the recording deal through a subsidiary of Southern Music Publishing in 1964. Southern had a four track studio in the basement of their offices in Denmark Street. Via Southern Music Lord was soon getting extra work as a session player, playing keyboards on The Kinks' debut album amongst advertising jingles and even an obscure album of cover tracks called 'Art and Movement' attributed to Dave Greenslade & The Leading Figures.
The revitalised Art Wood Combo decided to turn professional but drummer Reg Dunnage, who worked as a courier at Heathrow Airport, was reluctant to become a full-time musician, and opted to leave the band. .Auditions for a replacement attracted a flood of young hopefuls, including a pre­Jimi Hendrix Experience Mitch Mitchell. The drummer played a few dates with the Combo, but his style was generally agreed to be unsuitable for the band, so Keef Hartley — who had replaced Ringo Starr in Rory Storm and the Hurricanes — was offered the position instead. According to Derek Griffiths "It was more or less a foregone conclusion that Kee Hartley would get the job. You see we'd already decided that what The Artwoods needed above all else was a Liverpool drummer! Unfortunately none came to the audition, but Keef hailed from Preston which was near enough for us." The band went pro on 1st October 1964. The Art Wood Combo's change of drummer coincided with a change in their name. On the advice of Decca producer Mike Vernon, the band decided to bill themselves as simply 'The Artwoods', as the producer thought it "sounded more hip, like the Manfreds".

Traveling in a 15 cwt. van with all the gear, spending 6 or 7 nights a week on the road - sometimes doing two shows in a night - they averaged 300 gigs a year. They often veered into jazzy improvisation with Lord rattling off Jimmy Smith impersonations and Keef Hartley experimenting with unorthodox time signatures. Although owning a Lowrey Holiday organ to give them the Jimmy Smith sound, they failed to realize that they also needed a Leslie cabinet until fellow organist Graham Bond pointed this out. Despite the extra cost and humping involved, it had to be bought. The band were fortunate to score a deal with Selmers though, who provided free amps and P.A.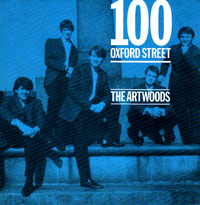 When the famous UK television pop show "Ready, Steady, Go!" went "live", the band were proud to be picked for the first live show, promoting their first single. "Sweet Mary", a cover of the Leadbelly blues standard set to the band's arrangement, was put out in October 1964. Wood described the single as a "heavy, laid back thing", which was a live favourite at pubs like the Viaduct in Hanwell and the 100 Club. "If Ever I Get My Hand On You" was chosen for the B-side, a number newly-penned for the band by the Carter/Lewis songwriting team, who later achieved success with The Flowerpot Men.
Despite favourable reviews, a great deal of air-play, and the appearance on 'Ready, Steady, Go!', the single failed to chart. Nevertheless, the publicity surrounding "Sweet Mary" generated a lot of interest in the band, increasing their bookings substantially. "That single got us a hell of a lot of work, the phone didn't stop ringing", Wood remembered. After the group had completed their residencies at the 100 Club, and Klooks Kleek in WIndsor, their management started booking them to play as many as three gigs a day — a matinee and evening performance at one venue, and then a stint at an all-nighter elsewhere.
Their early shows were attended by other bands, keen to soak up their unique sound. "Everyone came to those gigs," Art Wood recalled. "Bryan Ferry would always be at the 100 Club, and Alex Harvey would come down to Klooks Kleek — he always wanted to sing with us every night. Brian Jones came all the time with Keith Richards — they were like a couple of book-ends."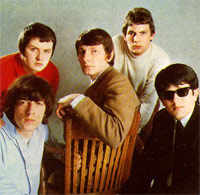 A very lo-fi private live recording survives from this era. It was made at a gig in Llandudno in October 1964, and captures the band playing both sides of their first single, together with R&B covers like "Green Onions". (Incidentally, Lord can be heard playing the riff to the Kinks' "All Day And All Of The Night" during a break between numbers.). The show was recorded on a primitive reel to reel tape by a US air force employee who really liked the band, after he asked permission. He later gave copies to a couple of the band, one of whom later did somebody else a copy, which is how it eventually ended up (in almost unlistenably bad quality) on the bootleg vinyl album "The Artwoods Begin Here". The guy now lives in Canada and was really shocked when he learnt of the bootleg twenty years later. There is another show taped at 100 Oxford Street but this too is not good enough for general release.
The Artwoods returned to the studio in January 1965 to record a follow-up single, another blues cover titled "Oh My Love". The song had been given to the band by Southern Music, who liked it even though it was not representative of their sound, being what Art described as "more of a solo singer's record". The flipside was an original Jon Lord composition, "Big City", a standard affair which the singer felt was "fairly typical of the day, with that organ lead".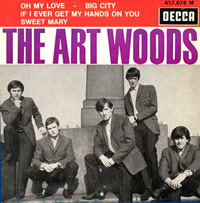 Unfortunately, "Oh My Love" fared little better than their debut, although again this didn't reduce their live appeal. The Artwoods were also in demand as a backing group for numerous visiting American blues artists. Thus it was that Jon found himself sitting in with people like Bo Diddley (at the 100 Club on Sept 28th 1965), Mae Mercer (who they toured with in February 1965), Little Walter and many more. Many of them spoke quite highly of The Artwoods, who were not slow to use such words of praise in their press ads. "I thought white boys couldn't play the blues, but they were playing the hell out of the music. Them boys was as pure in the blues as many a negro back home, in fact there's many a player in The States couldn't keep up with them", Little Walter said afterwards. Wood remembered the time with great affection: "It was a great experience. It totally changed our outlook and widened our horizons. In such a short time we had gone from playing club dates up and down the M1, to backing Bo Diddley and playing at Memphis Slim's in Paris. It brought us into contact with the real blues and its fans. Although the audience came to see the main star, they were also getting to see us and the exposure was fantastic."
A third Artwoods single, "Goodbye Sisters", followed, but despite becoming Billy Fury's 'Pick Of The Week' in the singles column in the 'Melody Maker' music paper it flopped. The A-side had come to the attention of Wood when a demo of the song was sent to the band. It was a smooth-edged R&B number, originally called "I See My Baby", but the band changed its name because the phrase was repeated throughout the song, and thus the title seemed a little too obvious. Recorded at Southern Music's basement studio in Denmark Street, the single enjoyed a better production than their previous efforts, and Wood believes that the silky flow of the song brought out the best in their playing. The B-side was an original group composition titled "She Knows What To Do", which was for whatever reason credited to the mysterious 'Paul Gump'.
The band soon forgot their third chart failure, when plans were made to tour and record in the U.S. with Bo Diddley — but bad luck struck when the Musicians' Union put a block on the project. Wood explained: "In those days, if a British band was to play in the States, the policy was to swap over with a U.S. act. But there was no-one available, so we couldn't go. It was a real disappointment."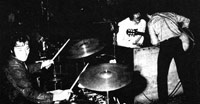 1966 saw things picking up. The group toured Poland in April supporting Billy J. Kramer, preceded by dates in Paris. The Polish trip was so successful that a return visit for September was planned. With some of the proceeds Jon had his Hammond (which he had purchased on Hire Purchase) cut in two by sponsors Selmer Music, making it easier to get in and out of the small clubs the band invariably played in, though his back had already suffered damage from this chore. He also took stock of his own playing. "I realised I was just playing Jimmy Smith cliches most of the time like a thousand others. It occurred to me that I could use some of my classical knowledge. I tried to fit Bach fugues into what we were playing, not note for note, but just getting the feel of it. I think we were one of the first groups to use little chunks of classical music as an introduction for songs. We used Tchaikovsky as an intro to Sam Cooke's Shake". It was these early beginnings which led to the Concerto some years later.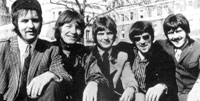 On their return, Vernon put them into Decca's own studio to record their fourth single and begin work on an album. The band benefited greatly from Decca's superior studio facilities, and recorded a blistering version of Sam and Dave's hit, "I Take What I Want". Released in April, the single, which was coupled with the eccentrically titled "I'm Looking For A Saxophonist Doubling French Horn Wearing Size 37 Boots", peaked at No. 35 on one music paper chart. "We really needed that hit," Wood explained. "It was my favourite thing we did, and it was a great way to promote the album. The B-side was just a bit of a laugh, but the music was great — it was an early Bonzo Dog type of thing, a musical extravaganza of nonsense."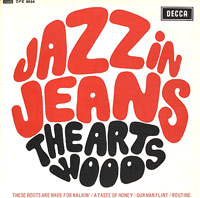 The same month also saw Decca issue an EP, "Jazz In Jeans", comprising three cover versions together with a Lord original (although it is credited to the band), titled "Routine". The covers — "Our Man Flint","These Boots Are Made For Walking" and "A Taste Of Honey" — were not really suited to the band, but they recorded them anyway. The band recorded the material in the belief that the record would only be issued in France, where they had built up a following from recent club dates at La Locomotive, Paris and an appearance at the International Beat Festival in Monte Carlo. However, much to their chagrin, Decca also released the EP in England, threatening the band's integrity as a serious R&B club act. It didn't make the EP charts, however, and is now the Artwoods' rarest release.
The band went straight into the studio's on June 6th, 7th and 8th to record a follow up and begin an album. The group had initially announced plans to record some tracks for the LP with the New Jazz Orchestra, and pursue some of Jon's classical/rock ideas, but this sadly fell through. The "Art Gallery" LP, released in November 1966, was made up entirely of covers. Although some were very good, the band's lack of any writing abilities probably counted against them more and more. "We found out very late that was where the royalties were," Wood explained. "We had put some of our own stuff on the B-sides, things like 'Molly Anderson's Cookery Book', which was no more than a musical recipe. But it didn't really matter, because the A-sides weren't getting anywhere." The album included an instrumental cover of Jimmy Smith's "Walk On The Wild Side". Jon: "This turned me on to the organ. I first heard it when I was a drama student and I didn't even know what the instrument was making the sound". The band also did it live where it consisted of organ and drum solos for the most part, "it was Keef who wanted to do it; funnily enough it was one of our most popular numbers".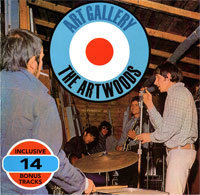 The album sleeve has a great colour photo of the group rehearsing in what looks suspiciously like someone's garden shed, while the band donned plant pots on the back sleeve to predate the Devo look by over a decade. In a bid to capitalise on the Andy Warhol-influenced Pop Art style (utilised by the Who, the Creation and the Eyes), "Art Gallery" was also emblazoned with a huge target design. However, the album failed to capture the imagination of the Mod audience, and sales were poor. To promote the album "I Feel Good" was issued as a single, backed by the previously unreleased "Molly Anderson's Cookery Book". Wood rated the A-side very highly, picking out its punk-style bass intro and its strange guitar sound for particular praise: "Derek had this cheap little amp that his aunt had bought him, which sounded like a radio and just buzzed all the time you were plugged into it. That's how he got that fuzzy tuneless sound." Neither the single nor album charted, and as a result Decca dropped the Artwoods at the end of the year.
The band also suffered because Jones was reluctant to give them the financial backing they needed to promote themselves properly. "Johnny never invested anything in us. We had no plugger working on us, and we were still paying for our own ads," Art Wood later reflected.
In January 1967, Johnny Jones negotiated a one-off single deal (with an option on a second 45) with Parlophone, which resulted in the extremely rare "What Shall I Do" / "In At The Deep End" release. The release, whose B-side was an old Jon Lord number stuck on at the last minute by Wood, sold even fewer copies than their other records, and consequently Parlophone decided to withhold their option. Two unreleased follow-up tracks lying in their vaults have never seen the light of day. On 18th March 1967, a BBC radio session by the Artwoods was broadcast on the 'Wayne Fontana Show', which was also pressed up on a BBC Transcription Disc. This item features great versions of "In The Deep End", "What Shall I Do", "Day Tripper", "Steady Getting It" and "Devil With A Blue Dress On / Good Golly Miss Molly", which have since been bootlegged.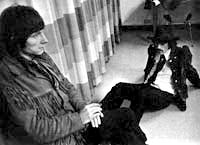 In early 1967 the group were approached by Hans Bregel and a German Symphony Orchestra from Frankfurt with the idea of writing a special piece together to be performed in December. Nothing came of the plan, and with the R&B scene losing fans to the underground rock movement, the group's future seemed uncertain. Jon was to see his ideas of working with an orchestra taken up by other groups, in particular The Nice led by Keith Emerson. "I'd pushed the boundaries of The Artwoods as far as I could go," says Jon Lord. "I was sticking Bach and Tchaikovsky into my organ solos and I think it rather frightened them." Disillusionment soon spread within the band, culminating in the sacking of Hartley two weeks prior to a tour of Denmark in April 1967. They made the trip to Copenhagen with a new drummer, Colin Martin (later a noted BBC producer), only to find the whole thing cancelled. The promoter managed to organise some last minute shows (and it was to him that Roundabout were to turn a year later looking for some work in Denmark) but by this time the band had lost heart, and returned to England ready to call it a day.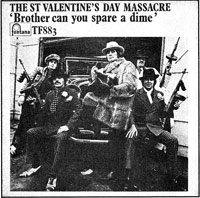 The most bizarre stage in the Artwoods' career followed soon after. During their absence, Johnny Jones had secured another one-off deal for the band, this time with Fontana. The label's manager, Jack Baverstock, had come up with the idea of dressing the group as gangsters, and relaunching them under the new name of the The St. Valentine's Day Massacre. In reality, the proposal was a lame attempt to cash in on the gangster craze sweeping the country following the success of the film "Bonnie and Clyde". Wood was unequivocal in his condemnation of the episode. "It was a bloody stupid idea . but they reasoned that Georgie Fame was getting away with it — and we badly needed a gimmick." In a fit of desperation the group agreed to the idea, and a single, Bing Crosby's "Brother Can You Spare A Dime" / "Al's Party", was released under their new name, initially coming in an appropriate picture sleeve. Though it flopped in the U.K. it went to number one in Denmark and the group spent three weeks touring Scandinavia as chart topping stars, although Derek Griffiths looked back on the trip merely as "a few heavy-hearted gigs with a changed line-up."
"Actually I felt bloody ridiculous," says Lord. "It wasn't too bad abroad but back in England we had to wear these suits and I felt stupid playing R&B dressed like that. We all did." Despite the Scandinavian success, various promotional appearances with actress Faye Dunaway (who'd played Bonnie Parker in the Hollywood film), and a show in the window of the Lord John shop in Carnaby Street which was covered by cinema newsreel, the group disbanded. Wood concluded: "It was a sad way to go, but when all is said and done it was a good single. It had a great atmosphere and I still really like it."

Enter Twink, alias drummer John Alder, working with The In Crowd alongside guitarist Steve Howe (a band which, renamed Tomorrow, went on to take London by psychedelic storm during 1967). Twink was sharing a house with Jon Lord and others at this time, and used to have Ron Wood and Kim Gardner (then with The Birds) popping over from time to time. Ron Wood came up with an idea for The Artbirds, which would comprise himself, Twink, Gardner, Lord and Art Wood on vocals. They booked Decca's studios. Art Wood pulled out but the others, renaming themselves Santa Barbara Machine Head, recorded three tracks without him one Sunday afternoon in early 1967. These psychedelic organ based instrumentals ("structured jams" according to Twink) later ended up on a "Blues Anytime" compilation when the project floundered without finance.
Of the other Artwoods, Keef Hartley played in John Mayall's Bluesbreakers for a year before forming The Keef Hartley Band in 1968 with Miller Anderson, who is best known in Purple circles for singing 'Pictured Within' at the 1999 Concerto shows. The band achieved some success both as a live act and in the studio. A major highlight was a place on the 1969 Woodstock festival, although Hartley later regretted that his management withheld permission for their performance to be filmed or recorded. (Never mind!..) In 1974 Hartley formed Dog Soldier, where he teamed up again with Derek Griffiths. Malcolm Pool went on to play with Jon Hiseman's Colosseum. In 1969, Art Wood formed Quiet Melon with Santa Barbara Machine Head players Ron Wood, and Kim Gardner, ex Small Faces Kenny Jones and Ian McLagan, and Rod Stewart. "Ron and the members of the Small Faces were between jobs at the time and completely skint," he later recalled. "I had some studio time so we recorded the songs "Engine 4444" and "Diamond Joe". We played a few Quiet Melon gigs afterwards. But then Rod and Ronnie blew me off, the little bastards, and went on to become hugely famous as the Faces. Oh well." Art Wood quit the music business ("Sod this for a living.."), although he recorded again with his brothers Ron and Ted in 1999 as Quiet Melon. He died in 2006.

Jon Lord, who had moved in with Ronnie and Art Wood's family in West Drayton for a time was now offered a flat in Gunter Grove. He moved in and began to look for more session work to pay the rent. Towards the end of 1967, a track called "Let's Go To San Francisco" written by Carter and Lewis, and recorded by session players dubbed The Flowerpot Men, became a sudden hit. With four vocalists on hand, Carter and Lewis needed to quickly assemble a backing band so they could cash in. Named The Garden, they used musicians who had been backing singer Billie Davies. When the keyboard player Billy Davidson was hospitalised for a tonsillectomy, Lord was offered the job. The complete line-up was Ged Stone (guitar), Carlo Little (drums), Nick Simper (bass) and Jon Lord (keyboards), plus the singers led by Tony Burrows. "They needed a fairly wide ranging keyboard player because they were essentially a cabaret band", says Lord. "We did places like Batley Variety Club in Yorkshire as well as ballrooms." At the same time Chris Curtis came to stay at Lord's flat in Gunter Grove and talked persuasively about a conceptual group called Roundabout. Lord could see a possible escape from the murky world of session playing...


Jon Lord pre-Deep Purple discography
The Kinks - single
• YOU REALLY GOT ME / It's All Right Pye 7N 15673 : UK : August 1964 Jon Lord plays piano on the a-side
The Artwoods - singles
• SWEET MARY / If I Ever Get My Hands On You
Decca F 12015 : UK : October 30. 1964
• OH MY LOVE / Big City
Decca F 12091 : UK : February 26. 1965
• GOODBYE SISTERS / She Knows What To Do Decca F 12206 : UK : August 1965
• I TAKE WHAT I WANT / I'm Looking For A Saxophonist
Decca F 12384 : UK : May 1966
• I FEEL GOOD / Molly Anderson's Cookery Book
Decca F 12465 : UK : August 1966
• WHAT SHALL I DO / In The Deep End Parlophone R 5590 : UK : April 1967
The Artwoods - EPs
• JAZZ IN JEANS EP
THESE BOOTS ARE MADE FOR WALKING/A Taste Of Honey Our Man Flint/Routine (composed by Lord)
Decca DFE 8654 : UK : April 1966 (PS) group photo on back
The St. Valentines Day Massacre - single
• BROTHER CAN YOU SPARE A DIME/Al's Party
Fontana TF 883 : UK : 1967 (PS)
Their only record release, the Artwoods under a new name, also issued in Norway in pic sleeve by Fontana.

The Artwoods - album
• ART GALLERY
Decca LK 4830 mono : UK : November 1966
1:Can You Hear Me,Down In The Valley, Things Get Better, Walk On The Wild Side, I Keep Forgettin, Keep Look in' ,
2:One More Heartache, Work Work Work, Be My Lady, If You Gotta Make A Fool Of Somebody, Stop & Think It Over, Don't Cry No More
colour photo of band on front, small b/w pits on back.
The Leading Figures - album
• SOUND & MOVEMENT
Decca Ace Of Clubs : UK : 1967
16 tracks, all covers of sixties pop tunes. Jon Lord credited on back with organ.
Santa Barbara Machine Head - tracks on compilation album
• BLUES ANYTIME VOL. 3
Immediate IMLP 019 : UK : 1968
Porcupine Juice (Dudgeon/Lord), Albert (Dudgeon/Lord), Rubber Monkey (Dudgeon/Lord). Three tracks by Santa Barbara Machine Head feat J. Lord.
Jon Lord pre-Deep Purple, recommended CDs
The Artwoods
• ART GALLERY
Repertoire : 1995
The Artwoods solitary album, expanded with 14 tracks from singles. The collection comprises tracks coloured red in the discography above.
DPAS ONLINE STORE

•SINGLES A'S & B'S
Repertoire : 2000
An 18 track collection of the band's singles, a's and b's plus the Jazz in Jeans EP, it therefore hoovers up the remaining four single tracks missing from the 1995 Art Gallery reissue.


Santa Barbara Machine Head
• PRE PURPLE PEOPLE
Includes all three tracks by the short-lived 1967 band: 'Porcupine Juice', 'Albert' and 'Rubber Monkey'. Also, some session tracks recorded by Jon and other member s of Deep Purple Mk1 in 1968.
DPAS ONLINE STORE

The Artwoods on 12" vinyl
The Artwoods vinyl albums, 1970s-1980s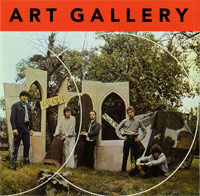 THE ARTWOODS - ART GALLERY Decca LK 4830 mono : UK : November 1966

The original album, issued in mono only.
THE ARTWOODS - ART GALLERY Decca Eclipse ECM 2025: UK : 1970
Issued in Mono or reprocessed stereo:tracks same as original, different colour photo of band on front.
THE ARTWOODS - THE ARTWOODS Spark SRLM 2006 : UK : 1974
1:One More Heartache, Our Man Flint (EP), I Take What I Want (45), Work Work Work, Be My Lady, Don't Cry No More
2:Can You Hear Me, Walk On The Wild Side, Things Get Better, I Keep Forgettin', A Taste Of Honey (EP), Routine (EP)
Reprocessed stereo. Sketch of band on front. Spark licensed the material from Decca, tracks off LP, with one a-side and three off the Jazz in Jeans EP.
100 OXFORD STREET - THE ARTWOODS Edsel ED 107 : UK : 1984 (later also released on CD)
1:Sweet Mary, If I Ever Get My Hands On You, Goodbye Sisters, Oh My Love, I Take What I Want, Big City, She Knows What To Do, I'm Looking For A Saxophonist, 2:Keep Lookin', I Keep Forgettin', I Feel Good, One More Heartache, Down In The Valley, Be My Lady, Stop & Think It Over, Don't Cry No More.
Mono dubbed from original discs, as only reprocessed stereo masters could be located. Five a-sides, four b-sides and seven LP tracks. Group photo on front, colour pic on back & four page history/discog/photo sheet inside.