July was actually a little less hectic for the band. They kicked off with an all-day open-air festival in Germany, along similar lines to Knebworth, and supported by a reformed Mountain and (from Knebworth) Meatloaf.
With the UK festival a less than thrilling event, many British fans took organised trips across to France to catch the band again in Paris, where they did two nights at the massive Omnisport.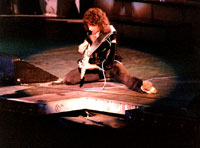 Both shows are reported as being filmed, and the second night was shown in the Rockpalast slot on German TV. Despite a lot of requests over the years, it has never been issued officially. The reason is probably that Ian was really struggling, although as a band, the second night was really powerful and more than made up for the Knebworth experience.
A couple of days off then two more nights back to back, this time in Zurich. The second gig on the 14th was quickly issued on a triple album vinyl bootleg. Two gigs in Spain [Barcelona 3rd; Madrid 2nd] were rescheduled for two weeks later [Barcelona 16th; Madrid 17th], to allow Gillan's throat a week's rest between the two German festivals. They were the last shows of the European tour.
August saw the end of the first reunion tour, with three shows in America, the last of which was the enormous Texxas (sic) World Music festival, before an estimated crowd of over 60,000 people (the venue holds 80,000 and was sold out). Deep Purple fans had to bake in the sun for 8 hours before the headliners came on.
The American trade paper Billboard later reported that Deep Purple had been the biggest grossing live act of the year. Everything the reunion has set out to do had been done. After the tour Ian Gillan had an operation to remove his tonsils, and then he and the others dispersed for some r'n'r.
July / August 1985 www.deep-purple.net links:
Deep Purple Mk 2 Reunion, family tree • Darker Than Blue 32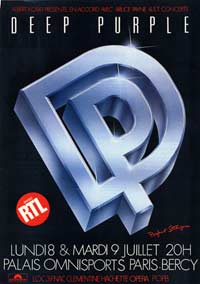 Ticket: Palais Omnisports
de Bercy, Paris. Gig poster.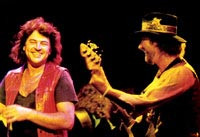 Above and far left. Paris, 1985 (Simon Robinson)