DPAS FEATURE
Farewell
John Peel
It's a little sad to see BBC Radio DJ John Peel's death being hijacked by some sections of the media. BBC Three's crass idea of dedicating the evening's programmes to the man on screen was particularly loathsome. Yet amongst the band-waggon jumping the genuine response of musicians and fans has been more than touching.
I wasn't sure whether to contribute anything to the out-pouring or not, but I don't have many heroes, and he was certainly one.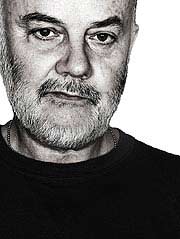 It's perhaps a little hard for younger music fans to understand how important Peel was back in the dark days of radio when DJs were generally more interested in presenting themselves than the music, and when hearing progressive, underground or hard rock on national radio was such a rarity. And to those many bands who have been telling us over the past day or so that they cut their first session for Peel, Deep Purple's name needs adding. Athough currently lost, the band's debut radio session, presented by Peel, went out on his Top Gear show as early as June 1968, some weeks before even their debut single was released. Based on their performance on the show the verdict of Radio One's selection panel was "enthusiastic, unanimous pass, polished commercial group," which ensured further, important BBC airplay for the band in their early years.
It would be stretching things to claim Peel was a huge fan after Mk 1 days, and while he presented Mk 2 on their In Concert debut (his dulcet tones can be enjoyed on the EMI CD), he and the band did exchange words through the columns of the music press not long after. His occasional caustic (but usually witty) remarks after discs he didn't like struck Rainbow a few years later when he aired a lengthy cut off the Rainbow On-Stage album and then said "Proof that the vinyl shortage is now over...".
But while our opinions on Purple may have differed, there are an awful lot of discs in my collection which I first heard on his show and then spent time tracking down. I still recall the shivers down the spine when he first aired The Sugercubes in particular. And that was the point of his approach; nobody was going to like everything he played (and I've never "got" The Fall!), but at least he gave it a chance, and it was always interesting. It was sad not to be able to hear his show much in recent years, as the Radio 1 controllers shoved it on later and later, but for the many hours of interesting listening in the seventies in particular; thank-you.
Simon Robinson