The Tommy Bolin story
Liverpool Empire Theatre was packed to capacity. On stage Deep Purple's new guitarist was floundering as a lone fan dashed down the aisle screaming encouragement— "come on Tommy you teaser!" The PA drowned him out and anxious bouncers soon hurried him away. Myself I couldn't comprehend such fanaticism for a guitarist who seemed to be destroying my favourite band single-handed. Some years on I'm beginning to understand why Tommy Bolin has acquired such a loyal following, a following which has, if anything, grown in size since his death in 1976. Bolin's studio album with Deep Purple slowly came to be one of my most played and encouraged me to dig a little deeper into his past recordings. It became clear that Bolin's guitar playing was indeed something special — in a way typically American but without blandness of technique. He had a rough edge to his playing and an ability to build simple yet staggeringly powerful runs that at times became almost overwhelming.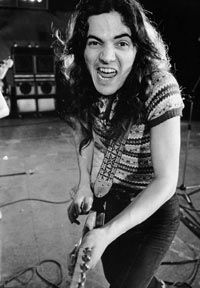 THOMAS RICHARD Bolin was born in Sioux City, Iowa, on August 1st 1951. He spent his childhood there and, with his family all interested in music to some degree, soon got the bug himself - his interest becoming more positive once he'd seen Elvis and his contemporaries on a TV show. At 13, he decided to take up drumming, though once he discovered how much a full kit would cost he began experimenting with both keyboards and the guitar, eventually settling for the latter as it was the cheapest of the three (though he continued to play drums as a hobby all his life, saying later it had been a good way of strengthening his wrists for the guitar).
Tommy's high school days seem to have been one long feud with various kinds of authority - he wanted to learn music and school didn't teach it. So apart from brief encounters with two tutors (one of whom wanted him to take up Hawaiian steel guitar, the other teaching him some country and western scales) his formal lessons were somewhat limited. Instead he began to hang around with other musicians in and out of school, learning solos and styles from records, both by American bands and English outfits like The Rolling Stones. Eventually, he got together with a few friends in school to form DENNY & THE TRIUMPHS, his first group. They played covers of '96 Tears', 'Gloria', 'Hang On Sloopy' etc - "anything and everything!" The band eventually metamorphosed into PATCH OF BLUE. School days ended when, after successfully evading the periodic hair cutting raids carried out by the senior grade, teachers finally gave him an ultimatum - cut it or leave. He wouldn't comply and was duly expelled, along with a friend who refused to give up wearing earrings!
Tommy then took off for Denver, Colorado, where he began a group called AMERICAN STANDARD who, for a time, played a weekly spot in a local club. From there he travelled to Cincinatti, eventually landing a job backing Lonnie Mack, a noted blues and steel guitar player. This too was short lived and, following a police raid on the house he was staying in, Bolin took off once more, ending up, this time, in Boulder. Here he recruited David and Candie Givens, Robbie Chamberlain and John Faris and formed a band called ETHEREAL EPHYR. They quickly eveloped a weird style, mixing jazz, rock and blues in no particular order over a very English-sounding keyboard backing, and, having shortened their name to just ZEPHYR, began to build up a strong local following - sufficient anyway to impress ABC Records, who offered them a contract.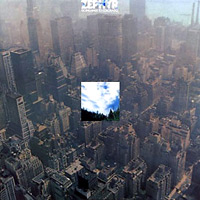 Their first album (Bolin's vinyl debut), came out in 1969 in both America and Britain. It's a fairly primitive affair with an amateurish studio sound. However, although Bolin's playing is far from earth­shattering, it's certainly interesting to hear him developing; he provides some nice jazzy bursts, most notably in 'Boom Ba Boom', though Candie's terrible screeching is something of a drawback. I wonder if a few topless publicity shots were eally worth it! The band's developing career was curtailed in 1970 when ABC went broke and it wasn't until 1971 that they managed to get their second album out, this time with Warner Brothers. They'd cquired a new drummer too, Bobby Berge, as well as a flautist called Jeremy Steig. The album, 'Going Back To Colorado', was a big improvement on their debut with Bolin co-writing many of the numbers, the best of which 'See My People Come Together'. In addition, the LP contains guitar runs which Teaser owners will recognise at once, plus a riff suspiciously like that of a later Deep Purple tune! With Candie now a lot calmer vocally, the whole thing can be listened to in relative comfort . It never got a UK release. Though the album contains some interesting playing from Bolin, he was actually becoming rather disenchanted with the band, feeling he was losing control of the musical irection. Eventually he upped and left, Berge and Steig going with him and though Zephyr struggled on to do one more album they then faded from the scene.
Working once more from the Boulder area, Bolin proceeded to put together the nigh legendary ENERGY with Berge and Steig in the autumn of 1972. Joined by Tom Stephenson on keyboards and Stanley Sheldon on bass, they returned to the club circuit. Like Zephyr, the music is hard to describe — mainly rock / jazz but with more than a nod towards the spacier sounds of Pink Floyd and God knows what else.
Local bar owners were not impressed, however, as the group attracted crowds who came to listen and beer sales inevitably slumped! Nevertheless, they soldiered on, recording a number of demo tapes although no record company was prepared to take a chance. Their shows included a song called 'Dreamer' (later to appear on 'Teaser') and also an embryonic version of 'Lady Luck'. Like the music the line-up remained flexible, drummer Gil Evans coming in after a while and vocalist Jeff Cooke joining too, forming a writing partnership with Bolin that would last until the end. Musically the group gave Bolin the freedom he'd been looking for and people like Stanley Sheldon still speak with some awe of his playing at the time.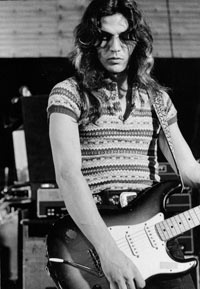 Without a deal the band eventually fragmented, Bolin deciding to take a chance over in New York with Jeremy Steig who asked him to play on a solo album he was doing (which was never released). Bolin also worked briefly with Eddie Gomez, John Lee Hooker and (back in Boulder) Albert King. King and Bolin spent their time trying to outdo one another on-stage and King taught Bolin a lot about the subtleties of playing — Tommy later cited him as one of his main influences.
One of the people Steig introduced Bolin to was Billy Cobham, then about to record some demos for his own album. As a result, Cobham hired Bolin to play on these first takes and, a few months later, on the finished item. The album, SPECTRUM, issued in October 1973, not only established itself as one of the definitive jazz / rock albums of the time but also introduced Bolin's playing to a far wider audience. His guitar work can be heard on all but two tracks, although in places it's so fast and fluid you can easily mistake it for synthesiser. Even if you're not a great jazz / rock fan, the playing is certainly worth a listen; try 'Quadrant 4' or 'Snoopy's Search' for openers.
The two days spent doing the LP probably changed Bolin's career. Among the people who picked up on it were Jeff Beck—as a result he decided to attempt material along the same lines — David Coverdale and Joe Walsh. The result of Coverdale's having heard it wouldn't be felt by Bolin for a few years, but Joe Walsh's response was more immediate.
Walsh was then leading his own group called Barnstorm, having left his previous outfit The James Gang back in October 1971. He'd been replaced by Domenic Troiano, but after a couple of years it became clear that things weren't working out. Walsh, having heard the Spectrum demos, gave them Bolin's phone number and he was duely auditioned. Troiano left to join The Guess Who and Tommy Bolin became part of THE JAMES GANG.
It was August 1973. By October they had a new album 'Bang' on sale, the material largely coming from Bolin's own stockpile of songs. As a result, the album is very much recommended both for his playing and the quality of the material. He opens the album with a rapid burst of guitar easing into a classic American rocker called 'Standing In The Rain'. The following number, 'The Devil Is Singing Our Song', hinges on a riff owners of Deep Purple's 'Love Child' will spot at once, yet it's by no means an out and out thrash —Bolin worked in two of his best-loved quiet tracks, 'Mystery' and 'Alexis' to close each side of the album. On 'Alexis' he sang lead vocals or the first time on record. Bolin was justifiably proud of both songs and wanted 'Alexis' out as a single although the others over-ruled him. It was perhaps the first hint of discord.
Although the band kept Bolin busy touring, he still found time to jam with other groups. One such session, Bolin guestied alongside The Good Rats had them tackling a lengthy cover version of 'Stratus' from the Cobham album. It contains some of the most remarkable guitar I've heard from Bolin. Back in The James Gang, he soon became tired of the routine —it's clear the group were not a particularly close-knit outfit. Their second album to feature Tommy was 'Miami', issued in July 1974, and his lack of interest shows quite clearly as he contributes only two compositions of real merit: 'Spanish Lover' and 'Praylude'. His guitar work is good throughout, however, bringing forth a remark from a certain Ritchie Blackmore who commented that Bolin was one of the few American guitarists doing anything interesting. It was the last album he made with The James Gang, leaving in October 1974.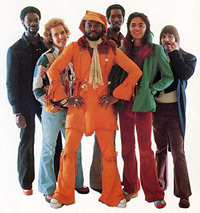 He returned to Los Angeles where he passed the next few months spending his James Gang royalties on "crazy stuff' and auditioning singers. He was anxious to make certain that his material would be done properly from that point on. The break didn't last long for in December he was contacted by jazz / rock drummer ALPHONSE MOUZON and the resulting album, 'Mind Transplant', came out the following year. Though the LP album really says little Cobham hadn't already said, Bolin's work, which appears on four tracks, is equally as good as that done for Spectrum, with some particularly sonic stuff on 'Snow Bound'.
Bolin did another album at this time for Dr. John (`The Night Tripper') but it was never issued. Finally Atlantic offered him a solo album deal. He had it all planned, one side vocal songs, one side instrumentals, but the project was shelved when Atlantic began to dictate to him about producers. As a result, he decided to record his own demo's and try and get a deal elsewhere. These were done at the Beach Boys studio and Bolin ended up doing the vocals himself on the advice some of the Boys, who helped with suggestions on technique etc. It was these demos, done with the aid of various friends from his Zephyr and Energy days, which Nemporer Records heard, offering Bolin a contract at once. It was April 1975, he got himself a manager and signed.
A few blocks away from where Bolin was living in LA, DEEP PURPLE were holed up searching for him. Blackmore had left the band and Coverdale had put forward Bolin's name as a possible replacement. After scouring the wrong side of America, one of Purple's roadie's located Bolin nearby and he was invited for an audition which landed him the job, along with a contract allowing him enough free time to pursue his own career. This he did at once, recording his first proper solo album that summer. In actual fact, he tried to get Purple to help him out but they were unable to do so for legal reasons (although Glenn Hughes didn't let that stop him from making a brief guest appearance on 'Dreamer', while Jon Lord has also mentioned that he played on one song), so he used an assortment of friends instead. His own LP done, he went into serious rehearsals with Deep Purple, who began preparing material for the new album, eventually recorded over in Munich in August 1975. With that done, Tommy dashed back to England to oversee the mixing of his LP in October and from there went to Hawaii for Deep Purple's final rehearsals prior to their world tour.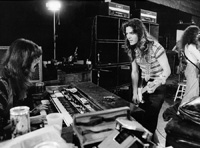 Deep Purple's 'Come Taste The Band' album, And Tommy Bolin's 'Teaser' (complete with a "guitarist of Deep Purple" sticker) both hit the shops in late 1975. Taken together they provide the bset showcase of Bolin's playing style and skills and, as he had a big hand in writing many of the cuts on the Purple album, they amply illustrate his abilities in this area too.
'Come Taste' was Purple's most energetic effort in years; it seems as if Bolin's own enthusiasm and talent had rubbed off on the others, injecting new life into the group. 'Comin' Home', 'Lady Luck' (a song from Bolin's days with Energy), and the brilliant Love Child all show this to be true.
'Teaser', by comparison is a quieter affair. Riff merchants will still find both the title track 'The Grind' and 'Homeward Strut' particularly appealing, though the less frantic 'Savannah Woman', 'Dreamer' (another song Bolin had saved up for the right album) and 'People People' are all well recommended. Also well demonstrated is the way Tommy managed to generate a special mood or feel to suit each individual track. This willingness and ability to experiment with so many emotions, and his refusal to force his songs into the same old rock formula is one of the main things to set him apart from most other guitarists.
It has to be said, however, if Deep Purple's album came as something of a shock to a system, then 'Teaser' itself (not aided by a particularly subtle press campaign) fared even worse, selling only to a hardcore of fans and those with enough spare cash to indulge their curiosity.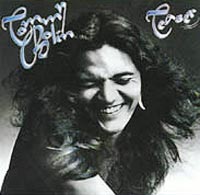 Deep Purple themselves were by now well into their world tour, with Tommy rocketed into the lifestyle of one of the world's biggest bands. They closed 1975 with dates in Japan before starting their American visit early in 1976. Reviews pointed to the often indifferent nature of the band's performance and for once though the papers were getting it right — by the end of the US dates Coverdale for one was all for cancelling a series of hastily arranged British gigs designed to keep things on the boil until a full European tour at the end of the year.
Whether things could have been put right by delaying we'll never know but the visit went ahead with disastrous results. Bolin inevitably copped most of the blame, though his failure to come to terms with audiences here was by no means the only problem: the shows also featured too much old material, the performance lacked precision, the solos rambled on needlessly and the whole lot was pushed out the PA at a ridiculous volume.
Things came to a head when the band introduced Tommy Bolin's solo spot and walked off the stage leaving him to it - he just dried up. A couple of loud echoplex runs then silence. He repeated the trick and just stood there. I sat in the stalls at Liverpool and watched what had been, up to that point, a reasonably satisfied crowd slowly taking him apart. Bolin countered with some feeble bursts but by then it was too late and the others came back on stage to save the day.
Quite what prompted him to act this way I don't know (Jon Lord later claimed that Tommy insisted on his nightly solo spot) but it was clear things couldn't carry on much longer. Coverdale handed in his notice as soon as the tour was over and that was effectively that as far as Deep Purple were concerned. Bolin returned to America where by May he was back on the road with THE TOMMY BOLIN BAND, headlining smaller venues supported by Sailor. He'd assembled a good line-up - Narada Michael Walden on drums, Reggie McBride on bass, Norma Bell on Saxophone, Mark Stein on keyboards and himself on vocals / guitar (there was talk of Robert Plant joining but this never came to anything) — but his performances continued to vary. With a set based around the 'Teaser' LP, he'd slay the crowd one night and have them leaving in droves the next.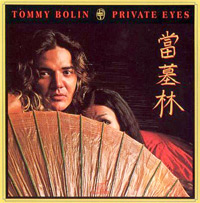 Reportedly very depressed by the departure of a long­standing girlfriend Bolin hit the bottle and the last few dates of the tour were cancelled when he lost his voice altogether. The Deep Purple split was made official in July and Bolin promptly disappeared into the studio to begin work on his next album although according to other musicians present, he was often completely out of it. His elaborate plans for a double album with new material, some re-recorded versions of older songs like 'Alexis' and a batch of live tracks from the June tour was eventually scrapped and when 'PRIVATE EYES' finally came out in September 1976 it was just a single LP of new tracks.
Given Bolin's condition, however, it's a remarkably good album, with the material covering a wide range of styles, from the gentle love song `Hello Again' to the lengthy fuzzed-rifling of 'Post Toastee' — reportedly edited down from a take almost twice as long and ironically telling about the dangers of lifestyle he himself was fast succumbing to. One can only guess at how good the album might have been had he tackled it as thoroughly as his first.
With the release, Bolin reassembled his band, at one point changing the line-up to include his brother Johnnie on drums. The set now took in both albums but it seems that the erratic performances continued and, due to the high cost of running the group he also began to have financial difficulties. He was still in demand for sessions, though, and in early November he and Billy Cobham patched up their differences and began to work on a new album along the lines of 'Spectrum' but leaning more towards funk/rock. He also had talks with Glenn Hughes with a view to forming a band.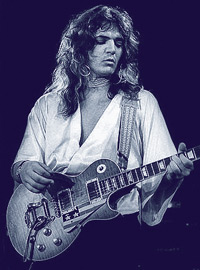 Meanwhile Bolin returned to his own band for another burst of live work designed to last through till Christmas. To ease some of his problems he went out supporting established acts and, with his drug problems at least partly sorted out, the shows were reportedly much better than on previous tours. At the start of December, however, the band found themselves with a few days break in Miami and Bolin, unable to resist temptation, overdosed on just about everything he could get his hands on. He came out of it for the show, a supporting slot to Jeff Beck at the Jai Alai Fronton Hall on December 3, and his band played a great set, ending with a storming version of `Post Toastee'. Backstage he and Beck posed for cameras after which Bolin returned to the Newport Resort hotel on Miami Beach with his girlfriend.
Late that night he passed out. Fearful of adverse publicity no doctor was called and, as he seemed to recover, roadies simply put him to bed. Around 8am. on Saturday Dec 4 his girlfriend saw that he was looking much worse and finally an ambulance was called - he was dead before it arrived. Cause of death was multiple drug intoxication. He was 25.
The news came over the radio as I walked down a rainy Manchester street. Since the Deep Purple tour almost nothing of his career had been reported here; it felt to me as if he'd died on that stage in Liverpool back in March. Over in Japan Ritchie dedicated 'Mistreated' to his memory. Six days later Tommy Bolin was buried back in Sioux City. His old girlfriend flew over from England to place on his finger a ring she'd been saving for him, a present from a roadie. It had been on Jimi Hendrix's hand the day he died.
Simon Robinson, 1982 (with thanks to Coln Hesketh and Howard Kehl)
Tommy Bolin with Deep Purple, album discography
All of the above are available to either buy or order from the dpas online store.