The return of the spotted shirt, as we noticed that Blackmore chose to wear a spotted shirt every decade, and were able to illustrate this on the cover. Inside however I was apologising for the delay. After years of student digs, living with parents or in rented accommodation, I was thrown into the joys of DIY for the first time, and began to wrestle with Yorkshire Fittings and copper pipe, as the plumbing (and much else) in the new house turned out to be falling apart.

We'd upped the quality of the mag once more thanks to the printers, with some decent quality photographs again. We used these facilities to the full to cover Rainbows first UK tour in two years; decent venues too although our backs were up after we (and many others) arrived for the extra show in Nottingham only to find that it had been pulled, and the group were rehearsing in Liverpool instead! It's generally reckoned by the powers that be that we rubbished everything Ritchie ever did after Rising, but the reviews here give the lie to that myth and we enjoyed much about the Liverpool shows we saw. The second Nottingham show went ahead but was fraught with sound problems, and Ritchie left half way through (a group of fans near us started singing "Ritchie's thrown a wobbler" to the tune of Hava Nagila, so you can tell that by now people were getting used to Rainbow shows!). Whitesnake decided to regain some lost ground by headlining the Donnington festival in a blaze of publicity but personnel problems were still present; Lord's future seemed uncertain and Micky Moody walked. As for me, I had a huge dollop of nostalgia by catching a special screening of the 1972 Copenhagen video which had been rescued and was being held at former Deep Purple manager Tony Edward's London office pending release as a video. We were thrilled to see the footage, and though we felt commercial release was unlikely because it was only monochrome and there were still some contractural problems, we promised to badger Tony to see what could be done.

If video seemed unlikely, the vinyl flood continued, with five packed pages of reviews, including Bent Out Of Shape, new singles from Whitesnake, and Sabbath's LP finally out (we also covered their first live dates, including a near riot at the show in Spain). With some archive reprints (including a nice two page spread from Rave magazine), and Glover's production list for collectors, plenty to read in a 28 page issue - which also made available once more reprints of the very first five newsletters.

ISSUE 28: DIGEST & INDEX

RAINBOW

NEWS :Touring & Recording

RAINBOW

LIVE REVIEW : Whitley Bay Ice Rink

RAINBOW

RECORD REVIEW : Bent Out Of Shape

RAINBOW

RECORD REVIEWS : Street Of Dreams & Can't Let You Go (7")

WHITESNAKE

LIVE / VIDEO REVIEW : 'Monsters Of Rock', Donnington

WHITESNAKE

NEWS : Moody & Hodgkinson Depart

WHITESNAKE

RECORD REVIEWS : Guilty Of Love & Give Me More Time (7")

GARY MOORE (with Ian Paice)

RECORD REVIEW : Rockin' Every Night

BLACK SABBATH (with Ian Gillan)

LIVE REVIEW: Drammenshallen, Oslo

BLACK SABBATH (with Ian Gillan)

RECORD REVIEW : Born Again

Touring & Recording- News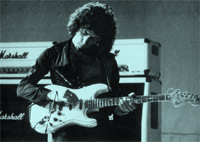 Manager Bruce Payne says former Rainbow drummer Bobby Rondinelli wasn't consistent during gigs, speeding up and slowing down. His replacement is Chuck Burgi, a guy mainly active on the session front with Hall & Oates etc. The band spent some time writing in a chalet in Vermont; later at Sweet Silence Studios a lot of the prepared material was dropped and new stuff composed. They did a few live dates in Scandinavia to work in the new line-up, initial feelings after these shows were that this was indeed the one to break it in the USA - although we've been hearing that since 1976 but still. The new album hit the streets on the second night of the tour.
Whitley Bay Ice Rink, 8th September 1983 - Live Review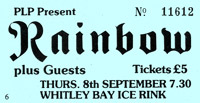 "Whitley Bay. What a lousy place. An ice rink covered in tarpaulin, wooden boards and people, and more people. The cost of merchandise astounds me. I gently work my way right to the front and the show starts around 9.25. It's a blinder. Ritchie is in amazing form. He controls the band with numerous gestures, obviously all that American touring has tightened them up no end. Between songs Turner is so loud that everything he says is lost apart from exhortations to go out and buy the new album. Roger was on fine form too but it was Ritchie's night. The whole show lasted over two hours. It's almost impossible to pick out the best bits as it was all so good, but the first part of 'Stargazer' was welcome. For me the bluesy bit before Beethoven probably topped the rest. It's the best I've seen them since 1977. When he plays that way I can see why we put up with so much from the studio and the long wait in between tours. For the first time to me they looked like a band - Ritchie's band, but a band nevertheless" Brian Jackson
Bent Out Of Shape - Album Review
Whereas Straight Between The Eyes provoked very few letters either strongly for or against, Rainbow's latest certainly has. A roughly 50/50 balance between those who reckon it is terrible, to the rest who rate it as the best thing they've done since Rainbow Rising.
"Firedance; Wondrous; A contender for the best Rainbow track ever. Complex rifting, inspired playing and singing. Notably this is the only track Roger gets a credit for. Anybody There: what can I say ? When he plays like this I can forgive all previous transgressions. Desperate Heart: Ritchie's playing saves what would other-wise be an ordinary tune. Drinking With The Devil: ugh. What a disappointment. Nothing truely offensive up until now. This horrible ditty really lets the side down. Snowman: stunning!; Keyboards and guitar blend to create an effective piece of music, making stuff like the previous track even worse by comparison. Make Your Move: is an ordinary AOR item punctuated once more with great guitar. Verdict is a fine album with some of the best guitar in years from Blackmore. The blend is now ideally suited for America, though more in the vein of Firedance and Snowman would please me. What a rotten cover though!" Mark Bulldeath
Street Of Dreams & Can't Let You Go - Single Reviews
A/ Street Of Dreams B/ Anybody There. Polydor POSP 631 - UK - 7"- p/s - August 1983
A/ Street Of Dreams B/ Power (live). Polydor POSPX 631 - UK - 12" p/s
The 7" and 12" had different sleeves probably shot during the making of the promo video. The half-baked live b-side is from the Live Between The Eyes video soundtrack.
A/ Can't Let You Go B/ All Night Long (live). Polydor POSP 654 - UK - 7"- October 1983
A/ Can't Let You Go B/ All Night Long & Stranded (live). Polydor POSPX 654 - UK - 12"-p/s
The photo on the front of the cover was taken at Whitley Bay. It's another stab at the charts. The live b-sides must be the most powerful Rainbow ever recorded - so energetic I can't believe it. Our guess is that they taped them at a soundcheck. It's a pity Ritchie didn't put Stranded out as the a-side. Even All Night Long sounds fairly good!
---
Castle Donnington - Live Review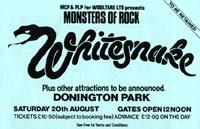 "For the first five numbers Whitesnake were marvellous. However (isn't there always a however with this band?) after that the solo spots began, and the momentum and excitement they'd generated began to disappear. Moody began it all with 'that' solo in Lovehunter which was mind-numbingly tedious despite the use of quad effects. Next, Jon contributed a strangely lack-lustre five minute effort, almost all of it at the piano. Very disappointing from the master, but this monotony was easily topped by Cozy Powell. Second rate pyrotechnics and hovering helicopters couldn't pull 655 and 1812 out of the mire. The majority of the crowd thought it was superb. The overall verdict is that whilst Coverdale's voice gets better, the band get worse. Moody needs pensioning off, Lord should devote his talents to something worthwhile and Cozy should stage his events on the Falklands. Furthermore if I hear Ain't No Love one more time I'll scream. Unless the band get their act together soon I don't see much future for them."
Mark Bulldeath.
Castle Donnington - Video Review
"They launch into Walking In The Shadow Of The Blues which is magic with some good close-ups of Mr Powell. They then move straight into Rough & Ready which is superb, especially Mr Powell's gatling gun bit. The highlight is Mistreated and Soldier Of Fortune which are pure magic and worth the price alone. The video finishes with Fool For Your Loving and closes on a still shot of David with the fireworks exploding in a strategic position. Don't tell me it wasn't deliberate either!" Diana from Flixton
The only tracks missing are encores, but there has been some editing to cut down Coverdale's swearing. Lord's solo has also been taken out which is a bugger, and Cozy's has been pruned so I'm told.
Micky Moody & Colin Hodgkinson Leave - News
After Donnington Whitesnake also appeared at Basle, Switzerland and at the German Monsters Of Rock festival in Dortmund. Micky Moody then took a look at the band's workload for 1984 and decided enough was enough. Rumours about Jon Lord's future in the group also spread, his manager aims to retire him in 4-5 years for him to move into the theme music area!
As we go to press news reaches us that Neil Murray has rejoined the band after his brief sojourn with Gary Moore's outfit.
Guilty Of Love & Give Me More Time - Single Reviews
A/ Guilty Of Love B/ Gambler. Liberty BP420. UK - 7"- p/s - August 1983
& - Liberty BPP420. UK - shaped pic disc
Sneak preview of the album, which got put back after Coverdale collapsed from exhaustion in the studio. He was also reportedly disappointed with producer Eddie Kramer's work. Guilty Of Love isn't too sparkling, with the crashing guitar chords dominating a rather ordinary tune. Coverdale is too far down in the mix, while Jon is there but you need your head inside the speakers to hear him. The flip is more promising, organ rather than guitar based.
A/ Give Me More Time B/ Need Your Love So Bad - Liberty BP422. UK - 7" & 12"- 3rd January 1984

Another hefty wallop which hasn't anything really special to make it a hit, but is a well crafted effort save for a limp guitar solo. For the b-side he's chosen an old 1968 Fleetwood Mac blues single. It's good to hear David deviating from the Whitesnake norm.
---
Rockin' Every Night - Album Review
Gatefold sleeve has just a few nice Paicey shots on, while musically it's reminiscent of the old 'Snake beat, due to Paice and Murray laying it down the line, and very well too. Beyond that it doesn't hold a lot of interest, they left off the drum solo which is a drag, and the weakest point is the vocal area, totally lacking in punch. I'm not a Moore fan and nothing here has altered that opinion - he just seems to go from one end of the scale to the other in the fastest possible time. Ah, White Knuckles. That's what we kept hearing through the walls of the hall on that Whitesnake tour ages back. Powerful beat but little else.
---
IAN GILLAN (with Black Sabbath)
Drammenshallen, Norway, 18th August 1983 - Live Review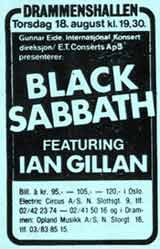 "The lights went out and hundreds of lighter flames lit the place. It was great to see lan but I was very disappointed, the sound was too dominated by the bass which was heavily distorted, and lan seemed uncertain and incapable of getting through the wall of sound. How fast he improved though. He raised his voice, becoming the most.audible part of it all. He really stole the show. They played tracks I remember from my youth, such as Iron Man, Black Sabbath, and War Pigs. The rest of the group didn't impress me much, apart from the drummer. The audience demanded an encore, and yes - they came back on with Smoke On The Water - undoubtably the most popular track of the evening - Paranoid came as an anti climax after it. All in all a decent debut for the new Sabbath and a great show from lan." Magne Granmar
On the 19th they played Stockholm, and on the 23rd the Olympen, Lund, after which they hotfooted it over to headline at Reading on the 27th. "Funny lot Sabbath fans, Gillan's screaming in War Pigs annoyed them, and when Iommi played the Smoke.. riff my mates went mental, swearing and all. Overall I enjoyed the show, though I've yet to find anyone else who did." Kevin Dixon
Born Again - Album Review
Judging by the press reaction to them at Reading this album will get slagged too.
"Trashed is a good opener, more like Gillan than the Sabs though. Zero The Hero is very Sabbath-like and as such it drags on far too long. Digital Bitch is my favourite, nice heavy guitar and first class singing from Ian. If only he'd sung like this on the Magic material. I do miss Towns's keyboards but on the whole that's compensated for by Ian's singing. There's nothing that really blows me away, but it's better than a fair proportion of the stuff the Gillan band put out." Mike Burnett
---
also in the magazine...Rainbow 1983 UK Tour Reviews....Whitesnake Monsters of Rock reviews....
.... Deep Purple, Copenhagen 1972 Video Report (click here to read it in full)....1976 interviews with Martin Birch, Glenn Hughes & Rob Cooksey.....Deep Purple, Quadraphonic Machine Head Review....Rainbow & Whitesnake bootleg reviews....Deep Purple, Live In Offenbach bootleg review....Roger Glover production list.....Black Sabbath World Tour reviews...Questions & Answers...and much more...
---
the magazine can be purchased from the
dpas online store
© 2002 DPAS/Darker Than Blue.
Not to be replicated, reproduced, stored and/or distributed in any way without prior written permission