Never mind about JFK - where were you when the reunion announcement was made via the Tommy Vance programme on April 27th 1984? Needless to say a fair number of the dpas members were tuned in to his Friday evening radio show, and were probably surprised - as I was when a couple of notes into Blackmore's solo single we realised something was up...

We spent the next couple of months grinning like lunatics and working on the new magazine with a new sense of purpose. David Coverdale had been earmarked for the cover but that went out the window and we opted for a blow-up of the very first press confirmation (which came in the Evening Standard that same night as the Vance show went out).

Six more pages of reunion news followed, along with all the press reports from the preceding eight years. "Let's enjoy it while we can..." were my sage words of advice. Little did any of us imagine that the reunion would last over twice as long as the original era. Needless to say the rest of the magazine seemed something of an anticlimax; Whitesnake has just finished a tour but there was disappointment at Lord's seeming disinterest (now we knew why!) and that he was so hard to hear anyway. We caught a couple of shows and David seemed to be up and down with some magic moments, but some rather cliched stuff as well. Paicey was biding his time with Gary Moore - who was also talking of recording with Glenn. Gillan had gone out with his final Sabbath shows on a real high note according to reviews we had in, while Blackmore had indulged himself in some orchestral shows with Rainbow in Japan - shows which twenty years on he still won't authorise for release anywhere else!

Elsewhere in the magazine my fascination with Episode Six found me making a first attempt to chart the history of this pre-Purple band in detail over five packed pages. At that point nobody had reissued any of the band's singles officially, and I little imagined I'd be working on a rarities collection two decades on. A couple of pages of vinyl and it was all over for another issue.

I note I'd made several fruitless attempts to contact Bruce Payne for some official word on events, but had no success. And at transatlantic rates I wasn't really in a situation to keep trying. As for the club, well the reunion meant a total reshuffle of the magazine which held it up a bit. Strapped for cash I was also learning loads of new skills like plumbing and wiring to help the new house along (we'd bought it off a divorced couple - and they'd split with the house only partially refurbished!). As I write this I've just been doing the same under the kitchen floor of our new place! A three month bus dispute locally over forthcoming plans to privatise them had also made life difficult (we were 100% behind the action but being carless it even forced us to miss a couple of gigs). We'd also gone and taken out a PO Box Number to stop our new letter box creaking under the strain. I also notice a rave review of a Whitesnake gig from a young Dave Browne from Northern Ireland... I wonder where he got to?

ISSUE 29: DIGEST & INDEX

DEEP PURPLE

NEWS : Deep Purple Mk2 Reform

WHITESNAKE

RECORD REVIEW : Slide It In

WHITESNAKE

LIVE REVIEW : Liverpool Royal Court

WHITESNAKE

NEWS : Sykes In, Galley Injured, Lord Out

WHITESNAKE

RECORD NEWS : Slide It In (US Mix)

GARY MOORE (with Ian Paice)

LIVE REVIEW : Hammersmith Odeon

BLACK SABBATH (with Ian Gillan)

LIVE REVIEW : Toledo Sports Arena

RAINBOW

NEWS : Live With An Orchestra

JON LORD

RECORD REVIEW : The Country Diary Of An Edwardian Lady

GLENN HUGHES

NEWS : Hughes Thrall

Deep Purple Mk2 Reform - News
That we should get so many people writing and asking us if it was true is an indication of the frequency at which the Deep Purple to reform stories have been and gone over the years; so much so that when it did happen, people still thought it was another rumour.
At the end of 1982 the Mk 2 reunion got within a hair's breadth of coming off. The plans were for a new album, some warm-up dates in South America then a world tour. One European promoter had provisionally booked the venues, and for the UK Glasgow, Manchester and London were singled out. Of the main protagonists Blackmore and Glover were free to jack Rainbow in as they wished. lan Paice had landed a "temporary permanent position" with Gary Moore. Jon was still with Whitesnake but his contributions were becoming less and less audible with each album and tour. lan Gillan, well lan had dropped himself in it. Half way through the winter 82 Gillan tour the news broke that he had been advised to quit singing for six months or risk permanent damage to his throat. He disbanded Gillan but amidst pointed accusations from some members as to his real motives. The reunion fell through for reasons never really explained, and the plans were dropped, or more likely simply postponed. There was only one news report to reach us, from Sweden's daily newspaper in Jan 83 which gave the reunion dates as the summer of 1984 pending Jon's agreement. With hindsight this turned out to be something of a scoop, though at the time it simply got filed with all the other reports.
On or around April 18th 1984 the five members of Deep Purple Mk 2 met up at the offices of Thames Talent over in New York, and a contract was signed for the band to reform. The news broke in the London Evening Standard on Friday April 27th and later that evening on BBC Radio One. It was about 11.30 pm. and Tommy Vance started rambling on about how he had some news about a band who had been very very (about 12 very's) very big in the 70's... "I'm going to play four records which featured the members of this band before the group was formed". A split second after the first note I knew it had to be...Ritchie's solo single. We were left to ponder the enormity of the task they'd set themselves and try to get some sleep. The album will have to be superhuman to even come close to living up to the legend they've become.
---
Slide It In - Record Review
Liberty LBG 2400001 UK:Feb 1984
Leave it out. Mr. Coverdale finds more ways to recycle the same old phrases yet again. All in all nothing much has changed; can you honestly find much difference between this and the Snakebite EP six years back? (Quiet those who say sure, that was better!). 'Slide It In', tatty chorus / hook with a vocal leer at the end which makes me shudder. 'Standing In The Shadow' has but a very brief low key vocal bit near the end to recommend it, while 'Give Me More Time' highlights the vocal problems which are very much in evidence, something which hasn't been a problem in the past ( and to be fair may well be something to do with the strained circumstances under which they were taped). The high register work sounds really strained. 'Love Ain't No Stranger', shows promise, though for me the track is ruined by being taken at twice the speed it ought to have been. Another ethereal Lordy intro opens 'Slow & Easy' , but I don't find Coverdale at all convincing . The Zepplinesque feel is no great worry, Plant's not got much of a voice anyway, but Zepp could write and knew when to lay off - I'm talking of that drum barrage repeated over and over til it loses all it's impact. We close with 'Guilty Of Love', which like 'Gambler' seems to have lost a lot of the bite which it had on 45, which wasn't that much. I can't understand how bands with far less talent can come out with incredibly powerful studio sounds when here Cozy sounds like he's playing a cardboard box.
Royal Court, Liverpool - Live Review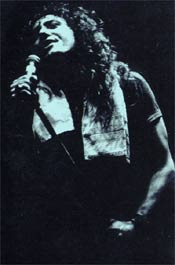 Coverdale's performance wavered from the incredibly good ('Love Ain't No Stranger' for example) to sounding very strained. I don't get any fun out of 'Ain't No Love..' which could be phased out to no great loss, but I did find 'Fool For Your Loving' has regained some of its early power. Shivers down the spine moment was as usual 'Soldier Of Fortune', seemed to go on for ever....
The group apart from David appear to be well under his control, all given shares of the spotlight etc with Sykes wheeled out every so often to try and impress us (this feeling was even more pronounced where we were as half the band were hidden behind the enormous PA giving the effect that members were hiding in the wings!), and it doesn't really make for much freedom of expression. Jon's solo wasn't up to much but he made up for this on the next night with a lovely ramble around the Hammond without resorting to any Purple bits at all.
Right now the band don't seem quite certain which way to head. Half the time they seem to want to hang on to the Moody / Marsden era, and at other times they seem to be just hanging back from the edge of something good.
Sykes In, Galley Injured, Lord Out - News
Following the UK tour the band crossed into Europe where the dates came to an abrupt end after Mel Galley suffered a crushed arm. They did a couple of shows as a five piece and returned home, only to say good-bye to Jon. This threw the plans for concentrated US dates into confusion. Geffen had mailed back the Slide It In LP marked unsuitable, so it was remixed and partly retaped to include Sykes & Murray, and this was to be heavily plugged in a market where the band have had little success so far.
John Sykes' confirmation came in December 83, and they were in the studios for a photo session on Jan 4th 1984. He's a veteran of Thin Lizzy and has done some solo stuff too, but don't expect too much coverage in the mag. Neil Murray slipped back into the band as if he'd never been away. However he still seems to get ignored on stage, the 40 second romp with Jon being his "solo"; but his playing cut through well at Nottingham. The band aim to be back in action headlining some Jap festivals during the summer, possibly using an off-stage keyboard player rather than a proper replacement.
Slide It In (US Mix) - Record News
Geffen GHS 4018: USA: 1984
"Murray's work doesn't seem that different, so it's mainly Sykes and the mix which need noting. 'Slow & Easy; has a very different sound, crisper, and more echo. 'Love Ain't No Stranger' has a clean jingly sound, while 'All or Nothing' is dirty sounding, heavy too, the direction they seem to be moving in general. The 'Spit It Out' riff is sharper and cleaner. 'Give Me More Time' has a different guitar solo which goes nowhere quickly. Moody is also missed in the slower passages of 'Standing In The Shadow' where he was more fluid." Brian Jackson

back to the top
---
Hammersmith Odeon - Live Review
"I can't remember the order of the tracks, but highlights for me were 'Shapes Of Things', 'Wishing Well' and 'Empty Rooms'. Although Gary Moore's guitar playing was breathtaking at times, tracks tended to be spoilt by his singing, which at best is second rate. Barry Manilow clone Neil Carter sang much better. Craig Gruber seemed a little uninspired, standing very still while Moore and Carter jumped around like a couple of fairies! Paice's drum solo was their best I've ever seen, and he got the biggest applause of the evening. An enjoyable concert bar the vocals." Philip Hobson
Ian Paice is not on the 'Live At The Marquee' album issued in Japan. It comes from a 1981 show with Tommy Aldridge on drums. There will be a new live album out in the autumn, many of the UK shows being taped specially for this. The band also managed plenty of UK TV coverage; with half an hour on 'Sight & Sound In Concert' (no drum solo) and two tracks on 'The Tube'. The TV sound was dire for 'Sight & Sound..'
---
IAN GILLAN (with Black Sabbath)
Toledo Sports Arena, 25th February 1984 - Live Review
"This couldn't be the same Ian Gillan I saw two months ago in Detroit. That Gillan couldn't hit the simplest notes without cracking to a mere croak. Tonight he was a new man, reaching highs I thought were lost forever. There was one problem, a power failure of five minutes during the last song of the set - 'Children Of The Grave'. They came back to bring the house down with 'Smoke On The Water'; it's thrilling to see the crowd react like that to an old Deep Purple song." John Barnes
The Sabs did a touring blitz of the States in October/November, followed by more dates in January and February. Ian handed his notice in after the tour, with the news reaching the English press in mid March.
---
Live In Tokyo With Orchestra - News
It was difficult to attach great significance to the Rainbow wind-down which took place after the US shows in November, when reports of less than wonderful ticket sales leading to the cancellation of some shows reached us. Stories of the band being 'put on ice' appeared, but when the Japanese dates went ahead in March we didn't pay them much heed. These were at the Castle Hall in Osaka on March 11th, and at the Budokan in Tokyo on 13th & 14th (the latter with a 25 piece orchestra during Difficult To Cure). The show on 14th was filmed for the (Japan only) video cassette.
---
The Country Diary Of An Edwardian Lady - Single Review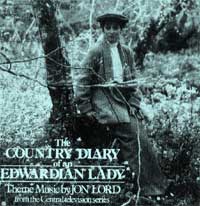 CENTRAL CONCERT ORCHESTRA
Main Theme / Love Theme
Safari SAFE 60 : March 1984: PS
(Music For Granada TV Series)
Well, he sure kept this one very quiet. Two attractive themes (with just a hint of ideas first heard on The Concerto), showing there's still life in him yet. The writing has certainly matured a lot since then. Obviously being purely orchestral he doesn't get to bash the old Hammond about, but it's worth trying to find. The album features incidental music written by the orchestra's conductor, plus Jon's two single cuts. Beware an LP of the same name on the Warwick label too, spoken extracts from the book!
---
Hughes Thrall - News
The Hughes Thrall unit is back in action once more. They began work at once on a title track for a film called 'Ghost Business'. They were then due to start work on a new HughesThrall album in March, with a planned summer release. Both are itching to some real touring and seem almost certain to play Europe later this year, though this could fall through as they were penciled in to do both Reading and Donnington last year. Glenn's other plans include an LP with Gary Moore.
also in the magazine...Looking Back Over 8 Years Of Deep Purple Reunion Rumours....Reaction To The Deep Purple Reunion.....Whitesnake 1984 UK Tour Reviews.....Ian Paice / Gary Moore Band Line-Ups.....Gary Moore 1984 UK Tour Reviews.....Episode Six History & UK Discography....Deep Purple Reel-To-Reel Tapes....Whitesnake & Rainbow Bootleg Reviews.....Deep Purple HM Photo Book Review.....plus much more.
---
the magazine can be purchased from the
dpas online store
© 2003 DPAS/Darker Than Blue.
Not to be replicated, reproduced, stored and/or distributed in any way without prior written permission