Issue 26 November 1982

Issue 26 followed quite quickly, and began to see our page count creeping up - 22 pages this time. Again this issue was given free to older members to help make up for the swindle Concert Publishing had tried to pull on them. Glossy paper throughout and even a bit of spot-colour on a couple of pages. The downside of getting it done at a bargain price at the printers though was having to wait for machine time - still, it enabled me to add an extra two pages! Just for fun we even reprinted a reduced version of our first issue inside too. We were also facing eviction from our flat, it had been condemned by the housing authorities. Grotty it may have been, but it was home. Yes it had a spring in the front cellar but water features were in even back then! Confidence in living next door to a Police station was dented only once by a burglary (the CID spent most of their time chatting about Black Night and asking if I could get them any dope). Our Rachman landlord was apparently supposed to offer us alternate accommodation but we didn't know this, and feared the worst. Perhaps it was time to see if we dare put a foot on the next rung of the property ladder?

Between issues, Kerrang had asked me to do a Tommy Bolin story for them, and we were expressing our amazement at the response this had attracted. Sometimes I feel I should have tried to do more in the way of outside journalism, but I found it very hard to write about subjects I wasn't interested in. I still get people commenting kindly on the Bolin feature two decades on, more so than on anything else I've penned for the press. Talking of writing, there was also news of the first book on Purple which was about to get underway. It was annoying to find that the publishers were ones who'd turned down the idea when we suggested it the year before, but still good news that something was on the cards at last.

The cover of Issue 26 reflected a two page feature on Purple Records inside, detailing the label's full singles schedule from 1971 to 1978, and was followed by the conclusion of the lengthy Mk 3 story. As for the bands, Rainbow were giving it large across America touring the Straight Between The Eyes album, and doing quite well with it by all accounts. The UK wasn't included, though as the album was fairly poor, interest, at least in DPAS towers, was waning. HM rivals Whitesnake were about to launch their new album, half taped with the previous lineup, but were facing a struggle after over a year off the road. Lord wasn't happy with the situation while Paicey had already cleared off and was biding his time with Gary Moore. I couldn't stand the records, so passed on the chance to see him with them live. Another five pages of new and rare vinyl were topped by the most serious reunion stories so far. Despite the lack of official news, we felt we ought to piece together what we'd found out. Gillan had announced a break from touring to let his throat heal after surgery, and it looked like this was in preparation for a full-blown reunion in mid-1983. In the end this was held up for a year and Gillan took the gig with Sabbath to keep himself busy.

It's strange to look back twenty years and realise we've been risking the wrath of band and managers now for so long! Our policy has been that if we're certain news is correct, isn't breaking any confidences and isn't commercially sensitive, then we think people should be told. We've always come from the fans side on this and always will.

ISSUE 26: DIGEST & INDEX

RAINBOW

NEWS :Tour News

RAINBOW

LIVE REVIEW : Allentown Fairgrounds, USA

GILLAN

RECORD REVIEW : Living For The City & Long Gone (singles)

GILLAN

RECORD REVIEW : Magic

GILLAN

LIVE REVIEW : Castle Donnington

GILLAN

NEWS : Band To Be Put On Hold

WHITESNAKE

NEWS : New Line Up

WHITESNAKE

RECORD NEWS : Saints & Sinners

JON LORD

RECORD REVIEW : Before I Forget

DEEP PURPLE

NEWS : Reunion Rumours

USA, Canada & Japan - Tour News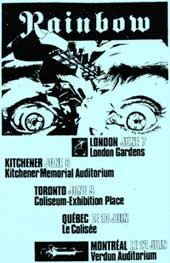 So what's the "axe wielding dictator" up to these days? While it's been very quiet in Britain, Rainbow have been finally cracking it in America. Janis Soper saw them up in Canada on June 7th - "The Scorpions came on around 9 and put on a good show, but I think Rainbow were better. Turner looked like your typical HM singer but Glover surprised me decked out in a white suit and hat, like a southern yankie gentleman. He looked rather silly; Blackmore (in black) looked extremely bored during the first song, hung around the drums and didn't take his eyes off the floor. Behind the band was a canvas sheet with eyes painted on and lights flashing on it. In all honesty it looked pretty terrible." Commercials for one show featured a snippet from an interview with a NATO guy kidnapped by the Red Brigade, telling how he was tortured by having to listen to hours of Rainbow! After the US Tour the band hopped across to Japan. They opened at the Osaka Festival Hall for three nights on October 12, and ended with a two night stint at the Tokyo Budokan on October 22nd. Nonnie Hirochi reports a set consisting of Spotlight Kid, Miss Mistreated, I Surrender, Can't Happen Here, Tearin' Out My Heart, All Night Long, Stone Cold, Power, Difficult To Cure, Long Live Rock'n'Roll / Hey Joe,
& Smoke On The Water.
Allentown Fairgrounds, June 15th 1982 - Live Review
Rainbow did a smallish (12/15 thousand) outdoor festival at the Allentown Fairgrounds on June 15th, supported by The Scorpions plus Riot. Lori Galloway called in sick at work and saw the show there - "They played well but not brilliantly, solos kept very short. Tracks were Spotlight Kid, Miss Mistreated, I Surrender, Can't Happen Here, Stone Cold, Tearin' Out My Heart, Beethoven's 9th, All Night Long, Power, Long Live & Smoke On The Water for an encore with all guitars kept intact.
On June 25th the same bill were playing Providence Rhode Island, at the Civic Centre. What inspired me to drive 500 miles there I dunno (lies - ed), but the show was better than Allentown although the crowd was young and uneducated. Ritchie must have known as he didn't have to try too hard to please them. Two huge swiveling eyes with spotlights that shone out of them came down during Spotlight Kid, and there was also a backdrop of the sleeve with eyes glowing during Stone Cold. They used a fair number of fireworks up too, and Ritchie left out Beethoven. Ritchie attempted to bust his guitar but after the neck came off he couldn't dent the body. After the show I booked into a hotel nearby which turned out to be the one the band had chosen. I saw Ritchie later in the bar looking bored. I though he'd fallen asleep at one point until I saw he was after a bowl of peanuts which he lined up on the edge of the table and proceeded to flick at passers by."
---
Living For The City / Long Gone - Singles Reviews
GILLAN: Living For The City / Breaking Chains. Virgin VS 519: Aug 20th 1982 UK: pic sleeve
First taster for the new album was this cover of a Stevie Wonder song. Quite a powerful rendition too, though it lacks a little sparkle to lift it above the ordinary. The cover has a painting of Ian's head looking over a city.
GILLAN: Living For The City / Purple Sky. Virgin VS 519: Aug 1982 UK pic disc
Probably pushed out to try and give the a-side a little extra chart clout, with a pic disc copied from the other 7" sleeve, adding another non-album b-side. 'Purple Sky' is a better track than 'Breaking Chains', with one or two interesting passages in it, but nothing really stunning.
GILLAN: Long Gone / Fiji. Virgin VS 537: Oct 1982 UK: pic sleeve
The a-side (from the LP) I really like. An even bigger surprise was the quality of the b-side, the third non-LP flip, and an excellent track. Very simple but instantly likeable. The sleeve is an elaborate gatefold affair with a cut out hand shape on one edge.
Magic - Album Review
GILLAN: Magic. Virgin V2238 : Sept 1982 : UK
"I've got the new Gillan album and it's all left me pretty fed up. The first song - 'What's The Matter' works well as a set opener. 'Bluesy Blue Sea' has grown on me so that it's OK rather than rubbish but it'll be a pain live. 'Caught In A Trap' has a great start from lan and Colin. lan's lyrics are head and shoulders above anyone else's in this field. Colin's solo too is exciting and different. 'Driving Me Wild' starts like a Foreigner song and seems pretty uninspired for a Gillan/Towns composition, until they reach the "what can you do" bit where things get a bit meatier with another good keyboard solo. The lyrics to 'Demon Driver' put me off before I'd even heard it. A good heavy beginning leads into some typical Gillan style music - the ending I can't stand. 'Living A Lie' confuses me, sort of an up tempo 'When A Blind Man Cries' but I really miss lan's soft vocals - which would have suited this. Overall maybe I expected too much with all those credits for Gillan/Towns tracks." Mike Bumett.
Castle Donnington, 21st August 1982 - Live Review
"The opener ('What's The Matter') was just another Gillan opener. You know the stuff, no real tune just 'Unchain Your Brain' with different lyrics. The band started up alone then lan strode on in his navy strides and t-shirt topped with his sawn off Sgt. Pepper patched levis. For the third song lan introduced an "oldie we've never done before but which you might recognise" - 'Black Night'. I couldn't believe it at first and cringed, but then I really enjoyed it. They did it well but why? They're rapidly becoming our best band on vinyl but blow it live by a lousy choice of songs. 'No Laughing In Heaven' is a goodie but the joke is wearing a bit thin. No complaints with 'Born To Kill' and 'M.A.D' was excellent. Problem is this was followed by Janick Gers' solo. I won't harp on about how annoying the guy is to watch but once again he ruined the show for me. Gillan were the only group to get two encores, the first was excellent - Towns on stage alone inciting 40,000 people to clap along to his boogie piano before turning it into 'No Easy Way' (followed by a storming 'Lucille') was great. Not a bad end to a mixed set, but they had to come back and do 'Smoke..'. Still I look forward to the tour, and hopefully the chance to stand behind someone/thing big enough to obscure my view of the guitarist; " Neil Jeffries
Gillan (The Band) To Be Put On Hold - News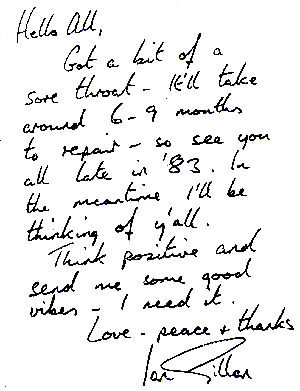 As we go to press Ian has just confirmed that the current UK tour will be his last for some time. He has had a throat problem diagnosed which needs a complete rest otherwise his voice could be permanently affected. In fact he was advised to cancel the UK tour but decided not to. The band will take a break for around a year after which he'll see how things are.
I had a brief chat with lan after the Gillan show in Sheffield, and he agreed to write out a little note to explain the current situation himself (reproduced here).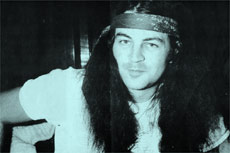 ---
New Lineup - News
After the best part of a year Whitesnake should be getting themselves back on the road about now. The Daily Mirror announced that he Jimmy Page had joined, along with Cozy Powell. As we didn't even know Paicey had left this came as a shock. This latter part was soon confirmed, both Paice and Murray finding their role with Gary Moore more than just another session. Back on the guitar side Jon let slip that the new guitarist was someone so good they didn't need to audition. Was this a reference to Page, or the fact that they weren't having a new guy in but merely an old one returning to the fold? Micky Moody did the honours, to be joined by Mel Galley. This was a turn up, and could be quite interesting as he's a somewhat heavier player than Marsden judging by his Trapeze work. The bass spot was filled by Colin Hodgkinson, a similar player to Neil Murray in some ways. The new album, 'Saints & Sinners' has just appeared. The sleeve gives little away, but the basic tracks are those done with the old line up. Coverdale re-did the vocals more recently with some help from Galley. It might have been more honest to hang on and do a new one, but there'd be nothing to tie in with the tour then.
Murray and Paice debuted with Moore at the Marquee Club back in August just prior to the Reading Festival, two tracks from which were issued on a free EP issued inside the album. Bemie Marsden's SOS have been opening sets with Shadow Of The Blues and closing with Come On, without a single song off his solo albums!
Saints & Sinners - Album Details
WHITESNAKE: Saints & Sinners. Liberty LBG 30354: November 1982 : UK
"Recorded October 1981 & summer 1982 at Rock City, Shepperton and Clearwell. Vocals and mixing were done at Battery Studio in September 1982.
The band ground to a halt during recording, Coverdale feeling that the others were not giving him enough support. He put the band on ice to rethink. Marsden left to form SOS, and was replaced by Galley who overdubbed some guitar. Moody left but returned. During the lay-off Paice and Murray did Gary Moore's LP and left, their work on the album remained untouched. Cozy Powell and Colin Hodgkinson replaced them by the time it came out."
info from The DPAS Discography Vol.2, (still available from the online store)
---
Before I Forget - Album Review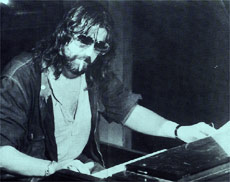 "'Chance On A Feeling' is a lovely song, all about Jon stealing Glenn's girlfriend during Mk 4 Purple days. 'Bach Onto This' is what Jon refers to as a piece of eight minute madness -the old Hammond swirling and letting rip. Great Stuff. 'Before I Forget' is the best track off the album, and one of the best things any member of Purple has ever done I think. 'Say It's Alright' sounds like a combination of every Radio 2 ballad I've ever heard. 'Burntwood' is very like Aria off Sarabande. Overall a good album, with some lovely piano on the last track to finish with, and very Ashton like vocals from Elmer Gantry". Richard Poustie.
photo:Olympic Rock & Blues Circus 1981,Thomas Meyer
---
Reunion Rumours - News
Maybe we're making fools of ourselves but there's something going on. The most obvious point of interest is Ritchie's conditional blessing for such an event. The conditions being no recording and no band-waggoners, because lets face it it's every ligger's dream. Anyway Jon Lord recently zoomed across to Europe to chat with Ritchle and Roger on the subject, while one European promoter who has handled Rainbow and Whitesnake in the past has seen fit to provisionally book one or two large venues - Denmark, Sweden, Germany etc. The planned route would also take in Australia, Japan, America and this country. Now, all this is pieced together from bits & pieces various people have picked up and it's obviously speculative. lan declined to comment when I asked him if he wanted to say anything, but it could well be that he has to rest his voice, and prepare himself, for what...?
It all gets just a little scary when you think it might come off after all this time, and it'll be little short of pandemoneum too. Anyway, we'll just settle down and see what develops.
---
also in the magazine...The Purple Records Story + Numerical Singles List...The Mk3 Story Part Three,
Stormbringer + the 1974-75 Tours...Tommy Bolin News...Rainbow 1982 US & Canadian Tour Reviews....
Archive Vinyl Discoveries....Colin Towns 'Making Faces' Review....Deep Purple 'Truckin' (Gothenburg 1973)
Bootleg Review....Deep Purple 'Unreleased & Live[ Bootleg Review....Question & Answer Column.....
Glenn Hughes' Bass Guitars....Nic Simper News.... .Questions & Answers....Video Column...
Letters Page....plus more...
---
the magazine can be purchased from the
dpas online store
© 2002 DPAS/Darker Than Blue.
Not to be replicated, reproduced, stored and/or distributed in any way without prior written permission