Issue 25 July 1982

If you've read about the Concert Publishing debacle, you'll understand why there was a longer than normal gap between Issue 24 and 25 of Stargazer.

Once we'd decided to get back to our own magazine, I assembled most of the contents and artwork for Issue 25 as before, but the entire magazine was printed offset litho for the first time at the printers where I was now working part-time. So rather than just chucking it all at the Xerox copy bureau, I actually shot all the artwork onto film myself, planned it up and made the printing plates. I'd worked at a printers before so had a grasp of the process, but it was still exciting to be able to see it progress right the way through to the printing machine, and watch it roll off the press. As I was doing all the origination myself, and doing other work for them, the printer cut us a deal so the magazine didn't cost much more than it had done before. Once the individual pages were printed, I got a lift home (it was a bus and train journey to the printers) and they were assembled in our front room, using an electric stapler borrowed from work - sod a new Hoover, this was what we were aspiring to at the time!

Thanks also to working at the printers, we were able to move forward to complete our mammoth 100+ page Deep Purple discography. Originally it had been planned to do it on two types of paper - glossy for the sleeves, and cheaper matt for the text, which is why the pictures stayed at either end. However we got a good price for a pallet of paper so it went ahead as a proper glossy paperback. The book was assembled at the printers although the thickness proved to be a bit too much for their antiquated folding and stapling machine at times! It was a very well received publication too and it amazes me twenty years on when I find people at record fairs still carrying a well thumbed copy full of numerous biro notes! My own one remaining copy gets a fair amount of use too. I have begun work on the update which we want to get out within the next year.

In the magazine itself I was pleased to have notched up my 100th Deep Purple pic sleeve, and to find Roger Glover shared a liking for my favourite band of the time, Talking Heads. On the archive front we were speculating on a live version of "The Gypsy" if we could track down the "Made In Europe tapes. This was to take rather longer than getting my second 100 picture sleeves... Much was also made of the impending release of "Live In London", with some of the original sleeve sketches etc. This was a frustrating release in many ways. EMI made changes to the artwork, while the cover image lacked punch - as nobody seemed to have any good slides (and picture research time was very limited). Amazingly someone in the fan-club then sent me half a dozen slides which he'd found in the street in London (literally), one of which was then used on the cover! The budget wouldn't run to a gatefold but we were allowed an inner bag which was originally to be in full colour - only when it came out did I learn they'd downgraded it to monochrome. As for the tacky corner flash which appeared from nowhere...

The release also tied in nicely with another six or so pages of the Mk 3 story, this time covering the UK leg of the 1974 tour in detail. With talk of a Deep Purple reunion rife throughout 1982, we were somewhat taken aback when Gillan raised the subject with us backstage after the band's first show of their UK tour, when we'd studiously avoided all mention of it. Whitesnake were still in disarray, with all sorts of comings and goings within the band. Also playing musical chairs were members of Rainbow, with Don Airey on the way out, and rumours about Rondinelli and Glover's future surfacing in American papers. For collectors it was the era of the triple vinyl bootleg album, with monster offerings from Whitesnake and Rainbow causing major financial hardship for fans, as most releases came from Japan with attendant high prices. I managed to get a commission from Kerrang to write them a lengthy Rainbow story, which helped pay for a couple of the better titles! The vinyl collectors market was really at a peak around this time, with more and more rarities surfacing, both old and new, as the number of successful ex-members bands generated huge interest in all such releases for a whole generation of fans, and the record companies pushed coloured vinyl, 12" singles and picture discs by all the bands. Video was also starting to become more widely available as a new format too, with the Cal Jam finally getting proper UK distribution, a short-lived release for the Butterfly Ball movie, and even talk of the Danish show from 1972 being cleaned up for release.

We rounded off the magazine with an attempt to catalogue all Purple's American singles, and slapped a dramatic picture of Glenn across the front, and then it was time to start licking envelopes - self adhesive were ruled out on cost grounds for the moment!

ISSUE 25: DIGEST & INDEX

DEEP PURPLE

RECORD NEWS & REVIEW: Live In London

DEEP PURPLE

VIDEO REVIEW : Rock Flashback, The California Jam

GILLAN

RECORD REVIEW : Double Trouble

GILLAN

RECORD REVIEW : Nightmare & Restless (singles)

GILLAN

NEWS :Tour News

GILLAN

LIVE REVIEW : Ipswich Gaumont

WHITESNAKE

NEWS : Line-Up Changes

JON LORD

NEWS : The Olympic Rock & Blues Circus

RAINBOW

RECORD REVIEW : Stone Cold (single)

RAINBOW

NEWS : Don Airey Quits

RAINBOW

RECORD REVIEW : Straight Between The Eyes

ROGER GLOVER

VIDEO REVIEW : Butterfly Ball

Live In London - Album News & Review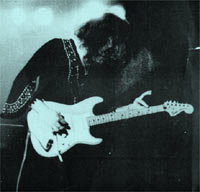 As most of you probably know, Deep Purple were taped live by the BBC at the Kilbum Gaumont on May 22nd 1974. They aired it as an In Concert special on June 6th, lasting 90 minutes, and containing the whole show minus the encore. A couple of edits were made to keep it to this length. Later on that year they repeated the show, cutting out 'Space Trucking' to get it down to the normal one hour In Concert length. A single album is wanted, choosing from the following: 'Burn' is a good version, they storm into it,'Might Just Take Your Life' is a little bit of a plodding version I feel, but 'Lay Down Stay Down' is a lot better. 'Mistreated' has a great intro, and is more together than the available live version. 'Smoke On The Water' has a nice intro from Ritchie, 'Lazy' and all, but is marred by Hughes at the end. 'You Fool No One' scores over 'Space Truckin' by being exactly the right length, and much more together. The encore was not broadcast, and I don't know if this is even on the BBC tapes still - they may have wiped it. Pics from the gig are easily identified as Ritchie ditched his normal black shiny top in favour of a snazzy black embroidered kaftan type thing!
DEEP PURPLE: Live In London Harvest:UK:August 1982
Since I wrote the details above, this album has been finalised. In the end, unable to agree about 'Smoke On The Water', Tony Edwards got onto EMI with the outcome that they'll be using special cutting techniques to give us nearly 60 minutes of music. The running order will follow that of the actual concert - 1) Burn / Might Just Take Your Life / Lay Down Stay Down / Mistreated 2) Smoke On The Water / You Fool No One. The tapes sound really good; the original BBC broadcast was an experiment in quadraphonic, and was mixed in just two weeks, so quite a lot was lost when aired.
The California Jam - Video Review
Deep Purple: Rock Flashback BBC Video BBCV 5000: Aug 1981: UK
Overall quite an acceptable result, considering the problems involved. The filming is a bit poor at times,with annoying footage of Ritchie's back etc. Musically it's not brilliant. Stand-out track to me was 'You Fool No One' which had me sat on the edge of the chair glued to the screen transfixed. The final demolition seems a little staged watching it cold, I'd have liked to have seen them beef it up by zooming in & moving about a little more. That's a real stack going up by the way, not an empty shell! For some reason 'Lay Down Stay Down' has been edited out of the tape - it was done at the gig and has been shown on US TV. I don't think they had time to do an encore as ELP had to follow them on.
---
Double Trouble - Album Review
GILLAN: Double Trouble. Virgin VGD 3506: UK: Oct 1981
Some of it has grown on me, and what seemed initially like a non-starter bar one track now rates somewhat higher. 'I'll Rip Your Spine Out' is one of my favourites, let down only by the rather predictable synth tone in the solo. It's 'Men Of War' which really slays me, and has done from the first play. The vocals soaring in and out, growling and screaming - magnificent. The guitar works well, but again I find the keyboards somewhat ordinary. The album ends with the only two Gillan/Towns compositions, of which I think I prefer 'Life Goes On'. A marked change in style instrumentally, and some good vocals. We even get some of the Mary Longs sneaking in near the end, with a nice dramatic close. Which is more than you can say for 'Born To Kill'. it fizzles out after such a good build up through all the different tempos etc. Certainly good stuff, Colin playing well, and I feel I'd go for it more had they not done it so well live. At times I do find myself missing the Gillan "thrash" of yore, and the mix isn't anything to shout about, but the album certainly has more going for it than the last poor effort. Gers slots in well, only two Blackmoresque solos throughout.
The bonus live LP is a real duffer, and a poor recording (mostly from the Reading festival 1981). The sleeve artwork is crummy. Enough, what about the singles?....
Nightmare / Restless - Single Reviews
Nightmare / Bite The Bullet (live). Virgin VS441: October 1981: UK
Single off the latest album, which sounded good on the radio and did well in the charts. The b-side is live from Reading 1981, not from the bonus live LP, but suffering from the same problems.
Restless / On The Rocks (live). Virgin VSY 465: January 1982: UK
Single also off the latest album, available in three formats: fold out poster sleeve with disc slipped inside, picture disc and normal picture sleeve version. We were all well exposed to 'Restless' c/o the radio, I find the vocals during the verses attractive but the 'Jimmy Jimmy' bit turns me off. The b-side is yet another Reading leftover.
Touring The World - News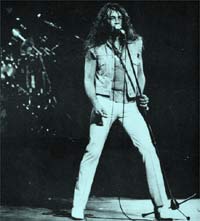 Still one of the busiest bands around, Gillan played a handful of Japanese dates at the beginning of October 1981, followed by a low-key pub tour of Australia about which our roving reporter Howard Kehl sent word."We arrived at Thebarton Town Hall to hear Janick knocking out the riff to 'Mistreated' of all things. The hall isn't a rock venue at all; judging by the way the caretaker was running around with his fingers in his ears!"
The group were back in Nottingham on Oct 5th for what must be the longest tour by any Purple person ever. The return to our climate brought the usual throat problems, and the second show at Manchester was cancelled; the tour then kicked off proper in Sheffield instead. lan told us later he'd been really nervous prior to that show, but this just gave it that extra edge to make it something special, while the man himself was in magnificent form. The first couple of tracks saw them getting the feel of things, and it wasn't until a rousing 'Hadeley Bop Bop' that things really got going, but it was the live UK debut of 'Bom To Kill' which really took the roof off.
There was quite a bit of TV exposure during the tour, including Top Of The Pops (using up a year's supply of flashbombs in the process!) There was a special studio session for BBC Radio's Friday Rock Show aired on May 8th 1982 consisting of five tracks_ MAD / No Laughing.. / Vengeance / Born To Kill / Hadeley Bop Bop.
Ipswich Gaumont, 22nd November 1981 - Live Review
"Excellent, thought support act Nightwing were crap and Budgie never appeared. Starting with 'Second Sight' they crashed into 'Unchain Your Brain', sounding better and clearer than Torme versions. The piece de resistance was 'Born To Kill', brilliant - though slight problems rhythm-wise I think. I'd just about given up hearing anything from Mr.Universe whwn we got a full version of 'Vengeance'. I thought the encore of 'No Easy Way' sounded better than some of the previous line-up's jumbled efforts." Pascal Conan
---
Line-Up Changes - News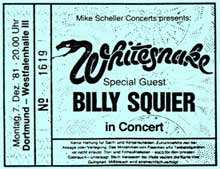 On August 28th 1981 Bernie Marsden recorded a solo BBC session, with help from Neil Murray, Don Airey, and David Coverdale. Whitesnakel band began their new studio album in October 1981. It was partly completed before they over for a headline tour of Germany in December, quickly dubbed 'The Black Ice 81 Tour'. Crowds were kept away by the terrible weather, though sales had been slow anyway. The set didn't contain anything new. To cap it all Paicey got mumps off his son, and the last few gigs had to be cancelled.
The band gathered in the new year to finish the album, but right at the end of January Coverdale called a meeting and put them all on extended leave. Since then press have had a field day! In the third week of April Bernie Marsden's departure was announced, he went off to form a band called SOS. Hearts fell when it was also announced that Ian Paice and Neil Murray would be teaming up with Gary Moore.
Right now we're promised a return to form towards the end of 1982, plus the new album and some new faces. Maybe we can look forward to some studio material which sounds as good as their live shows?
The Olympic Rock & Blues Circus - News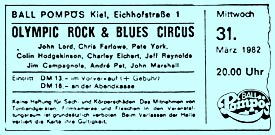 The project evolved over the winter of 1981 from an album being made by drummers Pete York and Charlie Eichert. They decided to tour involving the people who had helped them record the album. Apart from themselves, there was Chris Farlowe on vocals, John Marshall on guitar, Jon Lord on keyboards and Colin Hodgkinson on bass. I should say that these last two hadn't been on the album; Brian Auger had done the keyboard work and Steve Richardson the bass. However neither were available to tour.
It was a ten date tour covering mainly small halls and clubs - starting in Kamen on March 22nd and ending in Freiburg on April 4th. The music was a mixture of jazz and blues type numbers, and must have been in many ways like Jon's days in The Artwoods. The shows began with Ravel's 'Bolero', just a couple of the group on-stage at first, the others coming on to join in. The set proper then covered 'Watch The River Flow', 'Whiter Shade Of Pale', 'Mississippi Delta Blues', 'Sincussion' and 'Compared To What'. After that there was a 15 minute interval after which they all returned to do 'Take Me On The Road', Aretha Franklin's 'Never Loved A Woman', 'What's The Record' (with a ten minute drum solo from York), 'Everything's Wrong', 'It's Gonna Rain Today' and 'With A Little Help From My Friends'. Jon then really harked back with a version of 'Walk On The Wild Side', a number The Artwoods recorded back in 1966, followed by a medley of Spencer Davis number). 'Stormy Monday Blues' ended the set. You can get quite an idea of the music if you know any of the songs. My thanks to Thomas Meyer, without his little news item and reviews we wouldn't even have known of the tour.
---
Stone Cold - Single Review
Issued as a 7" or 12" with a fairly rough looking photo of the band on the front. Just an album taster, not strong enough to do any more than scratch the charts here. Seems to be striving for the REO Speedwagon market, but tends to plod rather than soar. Hefty keyboard sound, ok guitar, but it does very little for me. Quite a lot of people have taken to it judging from the letters, though everyone complains of the Foreigner influence.
Don Airey Departs - News
After Don Airey's yawnsville solos on the 1981 UK tour, his departure from Rainbow after their dates in Japan wasn't much of a surprise (though his stated reasons of boredom at doing the sane old numbers were!). When the rest of the band arrived at the Lee Studios in Montreal late in November half a dozen young hopefuls were lined up waiting to audition, the job going to Dave Rosenthal. Judging by the 'Stone Cold' single he seems a reasonable player too and his classical background was obviously a big point in his favour.
Our US reporter sent dates which began up in Canada on May 10th, lasting about a month. At the same time news of four dates over in Germany at the end of May appeared, with Ritchie flying over for a week's holiday there beforehand. One of the shows was to be recorded and shown on TV there a few days later. It seems that at the last moment Rainbow pulled out however.
Straight Between The Eyes - Album Review
"The album rockets off to a powerful and frantic start with 'Death Alley Driver', set firmly in the Highway Star tradition including the final solo from Ritchie. 'Bring On The Night' is pleasant, and a possible catchy follow up 45. 'Tearing Out My Heart' smacks of Foreigner, but has some fine singing from Turner especially at the end where his high scream on the guitar souds great. Side two opens with a kind of AC/DC type riff, but 'Power' develops into quite a good song (great headbanging stuff - yuk). 'Miss Mistreated' is straight out of the Whitesnake songbook, thumping bass, background keyboards etc, and is probably the worst track on the album. The last track, 'Eyes Of Fir'e is weird. At first it seems like a dreary endless noise, a bit like an attempt to recreate '77 era Rainbow. I haven't made up my mind if it's duff or a gem yet. So what have we got? A good album but hardly one which demands to be played over and over. The line up is strong, Joe Lynn is superb, and the new guy fits in well, so why aren't they as good as they ought to be? I think the answer lies with RB & RG. I don't like Roger's production, and Blackmore just frustrates me with his instistence on sticking to the same style and sound, very sad when you think what he can and has done in the past." Mark Putterford.
The Butterfly Ball - Video Review
This video has begun to appear in various ads recently. Roger Glover recorded an album called 'The Butterfly back in 1974, based on a book of the same name. To give it a boost they held a one-off live concert, which took place in October 1975, and featured most of the guests who had helped on the album. It proved something of a weak show, spoilt by too long a break in between each number, but did have a few highlights - most notably Gillan's return to the live stage, a really emotional moment it was too. Glover did one number playing bass (he was on synth most of the time). The show was filmed, and released the following year. Distribution was rather limited - one day in Manchester! It has now turned up on video. The main problem was / and is the ridiculous insertion at random intervals of tatty live action footage showing gits dressed in animal costumes poncing around a park. Near the end they also used the cartoon made to accompany 'Love Is All'.
(footnote, the video was removed from sale very soon after release, and has never been reissued)
---
also in the magazine...Deep Purple US Singles List....Deep Purple 'Live In London' Feature...
The Mk3 Story Part Two, the 1974 UK Tour.. 1974 US Tour Interview (NME)...Gillan UK Tour Reviews....
Question & Answer Column..... Glenn Hughes News....Rainbow & Whitesnake bootleg album reviews.....
Best Of Rainbow album review.... Deep Purple 'Live In Sweden' 1975 bootleg review....
Deep Purple 'Collection' album review.. .Jon Lord 'Bach Onto This' single review....
Deep Purple 'Shadows' acetate review.... Zephyr 'Zephyr' and 'Going Back To Colorado' album reviews...
... ..plus more...

---
the magazine can be purchased from the
dpas online store
© 2002 DPAS/Darker Than Blue.
Not to be replicated, reproduced, stored and/or distributed in any way without prior written permission