Issue 24 June 1981

23 pages this time, with the start of our exhaustive Mk 3 story taking up the cover and the first five inside pages, including a look back at "Burn". This was part of a shift in emphasis as, with fan-clubs now running for all the spin off bands, most of which had more access to news than we did, there was less reason to try and cover everyone in great detail. So I was preparing to concentrate more on Deep Purple's history. As for the big three, RAINBOW were now back as a five piece with unknown (to) us Joe Lynn Turner fronting them and a lengthy US tour co-headlining with Pat Travers getting a rave review, with the promise of the first UK shows by the new line-up in July. "Difficult To Cure" was now out but getting the thumbs down in the reviews pages, even the sleeve was nicked from one by Voyager. We did have a three page Glover interview that covered a lot of ground and news that he was starting work on his second solo album.

GILLAN was catching up with the others in the charts, with some excellent singles, particularly MAD. Very busy on the road, a handful of UK shows seemed a little unfair, but were only a prelude to a 43 date tour they were booking for the end of the year! The band were also doing lots of radio and TV slots. WHITESNAKE had been off the road again, this time after Coverdale broke his leg. Some consolation shows in Britain got a mixed reaction. A record six nights at the Hammersmith Odeon was a good move, but elsewhere they followed Rainbow into the huge arenas, and we had to brave the Queens Hall in Leeds, where leaking oil from the gear trucks spread across the floor and ruined everyone's shoes. It was a powerful show but they weren't pushing themselves too hard.

As for the vinyl, the foreign collectors items continued to appear in ever greater numbers thanks to the success the bands were having abroad. Rainbow turned up on the Castle Donnington collection, albeit only a part of their set. If you wanted the full gig the Japanese obliged with a double bootleg LP audience recording of the show (with a jet plane ruining the start of one song!). If you weren't careful, you risked getting stung by a home made UK bootleg which appeared at the same time, and which comprised the 25 minutes of the set aired on UK TV, complete with the sound of the microphone being moved in front of the TV speakers... Some interesting sessions were turning up as well. Blackmore fans had a nice solo on the Jack Green album, or could buy a new reissue of the Green Bullfrog album (albeit with erroneous guests listed). Glenn Hughes fans could also read about a newly discovered album called "Four On The Floor", a rare outing for Glenn who was still mired in Cocaine addiction. There was a good new Purple bootleg about as well, "Bedlam In A Bed Sit", although a debate about which show it came from took some time to sort out. Still that's what the fan-club was all about.

We'd invested in a new electric typewriter too, which gave a much cleaner look. It's amazing to look back now and think that there was no way of editing the text once we'd done it, other than to start all over again and retype it. We were still resorting to handwriting and tracing text to give us the headings for many of the news items. Issue 24 was also the last Stargazer for over a year. Shortly after it came out, we were approached by an outside company called Concert Publishing (who did tour merchandise) with an offer to co-produce a properly printed, typeset magazine, with colour pictures. This was the very first Darker Than Blue, but it was the start of a nightmare which took us twelve months or more to break out of. !

ISSUE 24: DIGEST & INDEX

RAINBOW

RECORD REVIEW : Difficult To Cure

RAINBOW

RECORD REVIEW : I Surrender (Single)

RAINBOW

LIVE REVIEW : Tower Theatre, Boston

GILLAN

LIVE REVIEW : The Fast Lane, Asbury Park

GILLAN

NEWS :Touring & Appearing On TV!

GILLAN

RECORD REVIEW : M.A.D. (Single)

GILLAN

RECORD REVIEW : New Orleans (Single)

GILLAN

RECORD REVIEW : Future Shock

WHITESNAKE

NEWS : Touring & Recording

WHITESNAKE

RECORD REVIEW : Don't Break My Heart.. (7")

WHITESNAKE

RECORD REVIEW : Come An' Get It

WHITESNAKE

LIVE REVIEW : Hammersmith Odeon, London

Difficult To Cure - Album Review
Joe Lynn Turner was the singer in Fandango, a group people have been confusing with Nick Simper's Fandango. It does look like Graham Bonnet left, rather than being told to leave. He made his mind up during the initial sessions for the new album....
What makes it so difficult for me to say anything about the album is the sheer quantity of out and out steals. From old Purple tracks to old Rainbow tracks - from Bad Co. to Led Zeppelin. A couple of solos cut it; that in 'Spotlight Kid' (one of the best tracks apart from the lyrics) and the work in the title track (which is otherwise terrible). Art directors dream of a sleeve concept, but it's boring for most fans.
"A bit disappointed in Blackmore's guitaristics; not many of those slashing fretboard runs. 'I Surrender': love it, pity they didn't write it. 'Spotlight Kid' uses 'Kill The King' solo ideas, nice driving number. 'Can't Happen Here' blew me away when I first heard it, 'Black Sheep..' feel to it. The title track has the Taurus bass-pedals, some nice ad-lib soloing, controlled but good, and Don Airey surfaces at last, too late my son, the boat's gone!" Ernie Tull.
I Surrender - Single Review
Was there any doubt it would be a smash hit?! It didn't seem as catchy at first, but a few radio plays soon put me right. Some lovely guitar during the fade-out is the only notable feature, unless you like the song itself. The B-side 'Maybe Next Time' doesn't quite work the same magic on me that 'Weiss Heim' did, though it is growing on me slowly.
Tower Theater, Philadelphia, May 9th 1981 - Live Review
The world tour commenced in Canada on March 10th. Seven weeks of US dates followed, then the European leg began on June 3rd. The US dates were supported by Pat Travers, though on the tickets the two were given equal billing. Lori Galloway had a chance to see the band:
"Their Tower shows were hot! Don't worry about hating the album, the stuff they did from it live..phenomenal! Ritchie was galloping around stage, I've never seen him so lively, even doing a half minuet with himself, very strange! Joe is far superior to ol' Graham Bonnet, no 'my shorts are in a knot' screaming. Bobby is a good replacement for Cozy, I never missed him. They got an encore naturally_ Ritchie started off with a 'Lazy' teaser, then the 'Woman From Tokyo' riff, the band then kicked in for a full 'Smoke On The Water'!"
---
The Fast Lane, Asbury Park, New Jersey. December 10th 1980 - Live Review
"The Fast Lane is a small club, holds about 150 people when full, but for Gillan there were maybe 50. It was midweek, under-publicised, and they weren't due on until after midnight. The set was as their recent UK shows, kicking off with 'Unchain You Brain', 'No Easy Way' including a piano solo from Colin (who looked disinterested all night), as did Mick. Ian announced 'Trouble' as their latest single - not here it isn't! Give Bernie a break by the way, I can't tell from you maligning him in Stargazer whether he has just improved a lot, or if you folks are just wet! I'd like to hear the band again, once my ears have stopped ringing!" Jeff Rinscheid
Touring & Appearing on TV! - News
Ian's merry men have been so active recently that it's been hard to keep up with them! The band did a short set for Scottish TV on Feb.5th just after their return from America, before an invited audience in Edinburgh. BBC's Rock Goes To College was filmed live at Oxford Poly on Feb.18th. Ian wasn't in brilliant vocal form, but round about 'MAD' he pulled himself into overdrive and gave a good performance of that and 'On The Rocks'. The band then celebrated the completion of their album with a few UK dates. The Rainbow Theatre gig on March 5th was taped, it ended with only Gillan and Underwood on stage! McCoy trashed his gear, Bernie's too, and Towns just walked off. Gillan was suffering with bronchitis, but didn't want to cancel and disappoint people. In Liverpool Ian collapsed backstage 40 minutes into the set. The band's schedule kicked off again with a 14 date European tour in May/June.
Mutually Assured Destruction - Single Review
Not so much a picture sleeve as a free booklet. The cover drawing is awful, but inside are the lyrics, a short CND type play, and colour photos of the band on-stage. It saw the record straight into the charts and Top of the Pops, but dropped straight back out again. Me, I thought it was great, mainly for the superb quiet vocals. And still I get letters saying he can't sing like he used to. Everyone has off nights, though I think I've seen Ian suffering from colds etc. on more UK tours than anyone else!
New Orleans - Single Review
This oldie (originally by Gary US Bonds) was sufficiently catchy to get the radio airplay, and became their most successful single to date. It's ok I guess, though I'd have been happier to see MAD make it. The b-side ('Take A Hold Of Yourself') is nothing outstanding either, though it has yet more vocal experiments midway.
Future Shock - Album Review
The outer sleeve is chronic, there are very few artists in the sci-fi field doing anything decent, and Gillan used the best, Chris Foss, for 'Clear Air Turbulence'. The album itself didn't live up to expectations. There seems to be a lack of musical ideas, reusing from previous albums, which are wearing a bit thin. 'Ballad Of The Lucitania Express' is the worst example. Much of the album sounds too rushed, which is a pity because the enthusiasm is there - one snatch of 'No Laughing In Heaven' shows that. Some of the tracks sound like Ian was suffering when he recorded them; such as on 'If I Sing Softly' and 'Don't Want The Truth', both of which have a lot going for them. For my money the best cut of all is the last; 'For Your Dreams'. It has a much more thought out feel to it, and begins to bring together Colin's ideas and Ian's vocal range successfully. Overall I feel Ian has let the album run away with itself, and 'Glory Road' seems (especially the American version with rearranged track order) much stronger.
---
Touring And Recording - News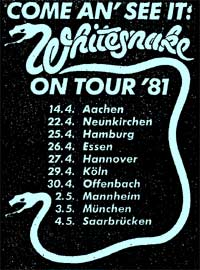 As mentioned last issue, Whitesnake had to pull out of a November / December 1980 German Tour when Coverdale sprained his leg(!), so in April and early May the band returned to play more dates in Germany. Prior to that they were putting their latest album together & finishing it off. There was trouble in Copenhagen, where the band were due to play on May 11th, but arrived to find the PA couldn't be set up as the stage was old and in danger of collapse! The band arranged a shortish UK jaunt in May, ending it with a record (for any Purple band) six nights at the Hammersmith Odeon. It does seem a long way from The Rafters Club in 1978! The show I caught at Leeds was much like last time, with less new numbers than expected.
Regarding the recent live album, it has come out as a single LP in both the USA and Japan. The American one has tracks from both the 1978 & 1980 shows, the Japanese one must be all 1980. Ian Paice has done a session for Ken Hensley, while Jon Lord will be featured on Graham Bonnet's solo album.
Don't Break My Heart Again - Single Review
Another romp in the steps of 'Fool For Your Loving', and although it took a while to bite, it may well rate higher than that track now. The lack of initial appeal has meant a slower climb up the charts, and despite an immaculate promo video. Mindful of last time, when the single proved to be the best album cut, I have so far avoided buying the new LP, once bitten....
Come An' Get It - Album Review
Time to pick someone's review, though we've not had any really favourable ones_" 'Don't Break My Heart Again' is excellent, and could be a real treat live. 'Child of Babylon' starts off just like 'Ghost Story' by PAL, and could be ok live. 'Would I Lie To You' is your normal tempo track and reminds me of half a dozen others, but a nice slow bit in the middle. 'Girl' - excellent, nice guitar riff. 'Hit An' Run' is adequate. Overall an ok album, but nothing outstanding apart, perhaps, for the single. The studio by the way, Tittenhurst Park, was the one owned by John Lennon, and seen in the 'Imagine' promo film." Gary Critcher
Hammersmith Odeon, 29th May 1981- Live Review
"They only played the two singles ("Don't Break My Heart Again" and "Would I Lie To You") and two others off the new album, and were on stage for 1 hour and 45 minutes. Despite the awful LPs they are very enjoyable to see live, which is just as important. They opened with 'Walking In The Shadow Of The Blues'. Coverdale put everything into it, which left him a little breathless for the next few songs. During the opening tracks, three cameras had been filming the band, but they soon disappeared after Coverdale yelled "get these f*$@ing cameras out of the way!" They were also taping the show, but I doubt they'll get much out of it, as David kept missing the words. Also, the mikes failed towards the end of the show. 'Belgian Tom's Hatrick' was sandwiched between Lord and Paice's solos. I loved the runs on electric piano, and at one point there was just Lord, Paice and Murray playing, which was a good idea. The band enjoyed themselves, and so did the crowd - probably all fans as it was the first night to be announced." Keith Dyce
---
also in the magazine...Deep Purple, The Mk3 Story, Part One....Questions & Answers...Jack Green 'Humanesque' Blackmore Session....Green Bullfrog, Ecy Street Reissue... Glenn Hughes 'Four On The Floor' Review..
Rainbow , Castle Donnington 1980 bootleg reviews....Deep Purple 'Bedlam In a Bedsit' Bootleg Review....
DPAS Roger Glover Interview.... ....plus more...

---
the magazine can be purchased from the
dpas online store
© 2002 DPAS/Darker Than Blue.
Not to be replicated, reproduced, stored and/or distributed in any way without prior written permission