AN EDITOR REMEMBERS......... Issue 23 January 1981

Issue 23 was twenty page issue, though the pages weren't numbered, as we had half of them litho printed separately. A long gap between magazines too but there was a reason - we'd spent all our spare time working on the "In Concert 70/72" album for EMI! I'd been able to do most of the artwork and oversee the package. It was also my first experience of dealing with a major label, and learning of the difficulties inherent in such work, but we were very pleased with the result. One immediate spin-off was a trip to the vaults, and though we left empty handed (honest) it was the start of my interest in delving through old tapes, getting material suitable for release and packaging them properly, which was to grow over the next few years (and eventually see me involved in setting up our own label). Both these events were reported in detail but there was also lots of spin-off activity. RAINBOW lost another key member with the departure of Cozy Powell, as well as the bigger surprise, Bonnet leaving. We reviewed their last gig at Donnington and the speculation about what would happen next, plus we had an exclusive interview with Glover, and if that wasn't enough, a handwriting expert tackled Blackmore's writing!

GILLAN were moving into top gear, with some powerful tracks on "Glory Road" and a big UK tour which was turning the band into a major act to match Rainbow and Whitesnake. The latter were having a bit of a difficult patch, the new album was still a way off, their first proper American shows (supporting Jethro Tull) weren't getting as much response as they'd hoped, and they were now having to go out as support in Germany to AC/DC. They further angered a lot of fans by issuing the Japanese Hammersmith album in the UK, after loads had bought it on import.

Stargazer also covered the Rod Evans bogus Deep Purple American shows in detail, with eye-witness reports, press adverts and the counter adverts placed by the band to warn people off. The dawn of the home video format was at last becoming a reality and the BBC were working on a release of the California Jam for VHS and Beta, although it was a very expensive buy at first. The DPAS individual discographies were selling well thanks to a plug in Sounds. I'd started using facilities at my new job to scan sleeves and add a bit of typesetting. Though a small company they had invested in one of the early phototypesetters which allowed you to have about a paragraph of text on screen. It worked by storing the text on discs, and outputting this by shining a light through an alphabet stored on a strip of film onto photographic bromide paper! If you wanted a different font you had to load in a new reel of film. I thus produced A5 printed card covers for the discographies, and stapled the contents inside.

DEEP PURPLE

RECORD REVIEW : In Concert 1970 1972

DEEP PURPLE

RECORD REVIEW : New Live & Rare Vol.3 (EP)

ROD EVANS

LIVE REVIEW : Celebrity Theater, Phoenix

ROD EVANS

NEWS : Rod Evans 'Deep Purple' Reunion

RAINBOW

LIVE REVIEW : Castle Donnington

RAINBOW (+others)

RECORD REVIEW : Monsters Of Rock

GILLAN

RECORD REVIEW : Glory Road / For Gillan Fans..

GILLAN

RECORD REVIEW : Trouble (Double Single)

GILLAN

LIVE REVIEW : Hammersmith Odeon

WHITESNAKE

RECORD REVIEW : Live In The Heart Of The City

WHITESNAKE

NEWS : Reading Festival & First US Tour

BBC In Concert 1970 1972 - Album Review
Soon after last issue, EMI decided to go ahead and issue the BBC In Concert material. Our source at the BBC reports that there was one more track recorded in the 1970 show, but it was scrapped in 1975 along with the masters. The engineers at EMI have done an excellent job on the surviving tapes. They've brought out a really good live sound, which has given the stuff its own atmosphere, something which the original broadcasts tended to lack, because the BBC like a nice level sound to avoid overloads etc. The duffest thing has to be 'Child In Time'. Something just isn't working and the whole band seem to falter. Not that that'll be much consolation to Ian Gillan!
New Live & Rare Vol.3 - EP Review
Music-wise it had to be someting EMI had heard of for the A-side, ie. 'Smoke On The Water', but at least we got a new version out (from the 1972 BBC In Concert). It treads a nice line between the studio and 'Made In Japan' versions. The applause is faked, because they had to edit off the DJ chat. The BBC session version of 'Bird has Flown' is fantastic, the guitar at the end is immaculate. 'Grabsplatter' is an interesting item, though obviously not finished.
---
'DEEP PURPLE' featuring ROD EVANS
Celebrity Theatre, Phoenix, June 29th 1980 - Live Review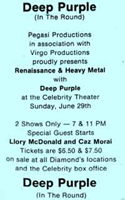 "Is this legal? The band is led by none other than Rod Evans, who looks just awful, and his voice is so weak and sounds like it's on a slower speed. The guitarist is a Blackmore clone. He can't play the guitar at all though. The keyboard player, who must have been playing all of two weeks, has captured Jon Lord's actions well. The drummer is pretty good and did the synth work in 'Space Trucking'. The bassist isn't much good. This show is DISGUSTING. They did 'Smoke..', 'Burn', 'Might Just Take Your Life', 'Hush' and more.I just don't see how they can get away with it." Julie Lewis (left, Phoenix gig ad, click to enlarge)
A couple of weeks later we got a phone call from Rod Evans' lawyers, who were anxious to get some unbiased information on Purple's early history - clearly out to build some sort of defence case. I told them we regarded it as a complete rip-off.
Deep Purple 'Reunion' - News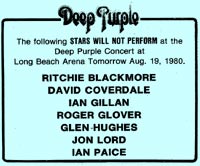 Slowly the story got picked up by daily papers in America, and people realised they were being conned. By the time they were set to play the Long Beach Arena in August, Deep Purple Overseas Ltd decided that to counterract the adverts, they would place an ad on the same page telling the public who would not be taking part! (click right to enlarge) They were forced to do this after several injunctions against Evans & co were turned down, leaving them free to play until the court case came up. When it did, HEC Enterprises (Deep Purple's original management) won outright.
The band consisted of Rod Evans, Tony Flynn - guitar, Jeff Emery - keyboards, Dick Jurgens - drums, and Tom DeRiviera - bass. All unknowns except for Rod. Their managers also sponsor other 'reunion' acts, showing it up for the swindle it was.
---
Castle Donnington, August 16th 1980- Live Reviews
"Most of the bands were crap, after which an hour and a half's wait for Rainbow. 'Since You Been Gone' and 'Over The Rainbow' were spoilt by a bloody plane flying over - quite funny seeing several thousand people lobbing cans at a plane half a mile up!! Encore, Blackmore bashes one strat, then one of his stacks goes up in flames - incredible!" Dave Stevenson
A half hour film of the show, part of BBC2's Rock Week, made Ritchie's set piece demolition look very calculated, which of course it is. The stack was a complete fake and obviously so!
"Festivals, aren't they super fun? One ruined pair of shoes, ditto boots, a sunburmt nose, the worst cold I've ever had, and crushed ribs! Rainbow though were superb. Blackmore sped around like a man possessed. My friend summed it up when I asked him 'did you see those fingers' and he answered 'no, I didn't'." Mark Bulldeath
Moving with unusual speed, Polydor got this out in October, with several bands recorded live at the Donnington festival. Rainbow, being headliners, merit two tracks. 'All Night Long' is close to the single, but with the added extra of Graham Bonnet making a complete idiot of himself. Ritchie might well try to make amends with a nifty little blues right at the end. 'Stargazer' follows the format of the old Dio versions - though Bonnet can't handle it all that well, shouting rather than singing.
---
Glory Road / For Gillan Fans Only - Album Review
Very workmanlike, somewhat unadventurous too, with many cuts taking a similar style and level. 'Unchain Your Brain' is a case in point, nothing too brilliant, but enjoyable. 'Are You Sure' is great. The track is less cluttered than many on the album, and Ian really seems to be enjoying it. 'Running White Face City Boy' is another which I like, very similar to many Gillan band tracks, but has as a little more drive to it than most. 'Nervous' seems quite adventurous, and Ian's throaty scream suits the track.
The extra 'For Gillan Fans Only' album is a rag-bag collection of items mostly unavailable before. 'Your Mother Was Right' is a lengthy out-take which seems a bit unfinished, but interesting ideas abound all the way through. 'Abbey Of Thelema' includes the flute solo which was done live, while 'Trying To Get To You' is an oldie from Ian's shelved 1974-75 solo album. It has the intro edited off for some reason. Colin Towns' 'Dragon's Tongue' is great, he'll never be out of work with stuff like this! On the whole, Glory Road and 'son of' have things to pick up on, but still lack the sheer impact of the Japanese Gillan album.
Trouble - Double Single Review
'Trouble' was specially recorded, rather than an album left-over. I can't say it made a good single, despite a Top Of The Pops appearance and an initial leap into the charts due to an extra free single. The freebie contains three items recorded by the BBC at The Reading Festival on August 22nd this year, ran at 33.3rpm, and lasted over 20 mins. It is also the worst thing from the band so far, three really bitty performances, obviously not a good night!
Hammersmith Odeon, 14th October 1980 - Live Review
The UK tour lasted though most of October. Capital Radio in London recorded the Hammersmith Odeon show on October 14th, which according to Ian & Robert Sunter was a superb gig....
"Opening a usual was 'Second Sight', which led into 'Unchain Your Brain' - a logical replacement for 'Secret Of The Dance', rattling along at a similar pace. 'On The Rocks' included a flute solo, which although well done was not very effective. McCoy's solo was visually good, if not musically. The last song was predictably 'Smoke..' (we had hoped for 'Fighting Man' or 'Abbey of Thelema' instead). They encored with 'Sleeping On The Job', which has the energy lacking in the studio version; then 'Lucille', which needs no comment!"
---
Live... In The Heart of The City - Album Review
A double which uses the live recordings done on the last tour at the Hammersmith Odeon, plus the 1978 Hammersmith show already issued in Japan. It is a rotten trick, after the Japanese album has had so long to tempt fans over here. The 1978 stuff we've covered already (In Issue 22), of the 1980 stuff I wish they'd taped 1979 shows, when the band were new and the material fresh. As it is, it just comes across as professional. The bass and drums are right up front throughout, however the guitars are way down, and Lordy might as well not have been there, which is sad. He eventually surfaces during 'Sweet Talker' before a nifty guitar solo from Micky Moody. 'Lovehunter' flows along like the rest, a kind of Whitesnake tidal wave. 'Take Me WithYou' belts along well, and really adds something to the studio cut, but it's over all too soon.
Touring & Recording - News
Whitesnake headlined Reading in August, set-wise it was identical to the UK tour (which annoyed quite a few people!) Micky and Bernie were seen there sporting their latest t-shirts.."No I Wasn't In Deep *%@#ing Purple" Why not change your mag to "The Coverdale Times" says Rob Sharrock - adding something about Whitesnake being as commercial as ITV! The band toured the USA in October, supporting Jethro Tull, an uphill struggle most of the way. Lori Galloway caught a show: "I was the only person cheering for them! Very embarrassing in a venue holding 19,500 people." In November / December they supported AC/DC in Europe.
---
also in the magazine..a visit to the Deep Purple tape vaults..Ian Gillan 'Candy Horizon' book review...more Rod Evans' 'Deep Purple' news & reviews....video round up... Gillan 'No Easy Way' single review..
Rainbow & Whitesnake bootleg reviews....Roger Glover interview....Rainbow 1975-80 set-lists....
Gillan UK Tour Reviews..1972 Tommy Bolin / Energy live radio show review....plus more...

---
the magazine can now be purchased from the
dpas online store
© 2002 DPAS/Darker Than Blue.
Not to be replicated, reproduced, stored and/or distributed in any way without prior written permission