Just over a month after Deep Purple Mk4 played their final show in Liverpool, Tommy Bolin was debuting his new solo band to tour the US in support of his 1975 solo album 'Teaser'. They began with two shows at the 385 seater La Paloma Theatre in Encinitas, California on 28th April 1976. The performances were later released as 'First Time Live' by the Tommy Bolin Archive label (see the discography below).
The band featured a crack selection of rock and fusion talent, with ex-Mahavishnu Orchestra drummer Narada Michael Walden, ex-Frank Zappa saxophonist Norma Jean Bell, ex-Vanilla Fudge keyboard player Mark Stein, and Stevie Wonder's bassist Reggie McBride. Stein had attended Deep Purple's 'Foxbat' show at Long Beach Arena on 26th February, and was more than happy to help Tommy assemble his touring outfit. As well as being a showcase for 'Teaser', Stein alleviated the strain on Tommy having to take lead vocals throughout the hour long sets by singing his solo composition "I Fell In Love", while Narada Michael Walden performed "Delightful" from his late 1976 solo album 'Garden of Love Light'. Initial excitement within the band was clouded by Tommy's heroin problem which caused erratic stage performances, just as it had done in Deep Purple. His May 1976 show at Ebbets Field - released as 'Live at Ebbets Field 1976' fell below the heights of his exceptional 1974 performances at the same venue. When the band reached the East Coast in May 1976, a strong show at My Father's Place on 22nd was followed four days later by a disastrous appearance at The Bottom Line in New York during which Tommy almost fell off the stage, and reportedly had to lean against a post throughout the show in order to stay upright. The performance lead to him being dropped by record label Nemperor and was also the final straw for Walden, who quit immediately afterwards - a real blow for the band.

Walden was quickly replaced by Bobby Berge, who had previously played with Tommy in Energy, and had also helped record 'Teaser' in 1975. He was in place to record its follow up 'Private Eyes' along with the rest of the Mk2 line-up. Percussionist Bobbye Hall and drummer Carmine Appice also played on the album, which was recorded shortly after news of Deep Purple's split became public.
The band went on the road to promote 'Private Eyes' in July, but Berge had left by the end of the month, along with Reggie McBride. Tommy was reportedly very depressed by the departure of a long­standing girlfriend and the last few dates of the tour were cancelled when he lost his voice altogether.


Following Bobby Berge's departure, Tommy had a ready-made replacement available in his own brother Johnnie, while Mark Stein was once again able to help with recruitment, bringing onboard young bassist Jimmy Haslip.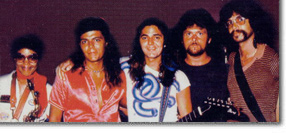 The new line-up debuted at Mile High Stadium in Denver on 29th August 1976, as part of a bill supporting Peter Frampton (whose bassist Stanley Sheldon was an old band mate of Tommy's from his Energy days). New record label Columbia were keen to promote The Tommy Bolin Band by getting them support slots on other artists' tours, and it was in that position that their following two shows in Albany, New York with Blue Oyster Cult were recorded, and later released as 'Live 9/19/76' and 'Albany NY 9-20-76'. Parallel to the move into larger venues the band were adopting a more straightforward rock style, helped by the two new recruits. Johnnie Bolin however felt that he wasn't fitting in musically and decided to leave after a show in St Louis on 10th October. He was followed by Mark Stein, who felt that he was fighting a losing battle in trying to help Tommy combat his drug and alcohol use.
Typically of the support showed by Mark Stein to Tommy, he helped audition the band's new drummer before departing. Mark Craney (fresh from playing with ex-Mahavishnu Orchestra violinist Jean-Luc Ponty) proved a superb addition to the band, as did new keyboard player Max Gronenthal (another ex-Energy player).
Selections from the band's 16th November show at Jazz City Studios, New Orleans were later released as bonus tracks on 'Albany NY 9-20-76', and showed that Tommy was still capable of putting in strong performances both on guitar and vocals, backed by his powerful new line-up. One week later Tommy visited his home town, during which time he jammed with other Sioux City musicians, including his brother Johnnie and Mark Craney. Around the same time Tommy was also beginning work on a new album with drummer Billy Cobham, and discussing the possibilities of working once again with Glenn Hughes.
The upward turn in Tommy's live performances continued with what would sadly be his last show, supporting Jeff Beck at the Jai Alai Fronton, Miami, which ended with a storming version of "Post Toastee". Backstage he and Beck posed for cameras, after which Bolin returned to the Newport Resort hotel on Miami Beach. Late that night he passed out. Fearful of adverse publicity no doctor was called and, as he seemed to recover, roadies simply put him to bed. Around 8am. on Saturday 4th December his girlfriend saw that he was looking much worse and finally an ambulance was called - he was dead before it arrived. Cause of death was multiple drug intoxication. He was 25.
Of the rest of his band, Norma Jean Bell made a name for herself in the 1990s with a very successful foray into dance music (primarily as a producer), and set up the Detroit based Pandamonium label in the noughties. Jimmy Haslip formed respected jazz rock outfit The Yellowjackets, Max Gronenthal found success as a session player and songwriter, while Mark Craney had spells with Jethro Tull and jazz singer Gino Vannelli. He died in 2005.
.... Tommy Bolin studio album discography 1976 ....
private eyes




Nov 1976 (UK) - studio album




The only post-Deep Purple album released in Tommy's life-time. Largely recorded by the Mk2 version of the Tommy Bolin Band.


DPAS ONLINE STORE

Completing the collection




A number of Tommy's solo demos were released posthumously by the Tommy Bolin Archive, including tracks which ended up on 'Private Eyes'. "Someday We'll Bring Our Love Home" is on "From the Archives Volume Two", "Post Toastee" is on 'Naked Vol.I', and "Sweet Burgundy" on 'Naked Vol.II'. Other 1976 demos are collected on the 'Naked Vols I & II' and 'Snapshot' compilations. The CDs are now deleted.

.... Notable post 1976 Tommy Bolin live releases ....
first time live




2000 - Tommy Bolin Archive, live album




Double CD with the Mk1 Tommy Bolin Band's first two shows, from Encinitas, 28/29 April 1976. Originally recorded by the KBG-FM radio station.

LIVE AT EBBETS FIELD 1976


1997 - Tommy Bolin Archive, live album




Mk1 Tommy Bolin Band recorded by radio. Not the best performance from Tommy, and the recording mix buries a lot of the vocals and guitar.

ALIVE ON LONG ISLAND




2003 - Tommy Bolin Archive, live album




Mk1 Tommy Bolin Band, FM recording from My Father's Place on 22 May 1976.

LIVE 9/19/76




2001 - Tommy Bolin Archive, live album




The Mk2 Tommy Bolin Band's second show, recorded on a support slot with Blue Oyster Cult by the King Biscuit radio show. A rare surviving multi-track recording of the band.

ALBANY, NY SEPTEMBER 20, 1976




2004 - Tommy Bolin Archive, live album




The second night supporting BOC in Albany. The disc includes three bonus tracks recorded live by the Mk4 line-up at Jazz City Studios, New Orleans.

LIVE AT NORTHERN LIGHTS
1997 - Tommy Bolin Archive, live album
Mk3 Tommy Bolin Band live promo concert recorded by WBCN-FM at the Northern Lights Recording Studios, Maynard, Massachusetts on 22 September 1976.

live at the jet bar




2004 - Tommy Bolin Archive, live album




Tommy Bolin, with brother Johnnie and other local musicians jamming in front of a crowd of 100 or so at the Jet Bar in Sioux City, 22 November 1976. Taken from an audience recording.

Completing the collection
In addition to the live releases listed, the Tommy Bolin Archive also released an incomplete audience recording of Tommy's last show as 'Live In Miami At Jai Alai - The Final Show'. TBA releases are now deleted on CD. A 3 x CD compilation 'The Ultimate Redux' on Friday Music pulls together a selection from the archive's studio and live releases.

DPAS Online

has very limited stock of the following deleted Tommy Bolin cds:




•

From The Archives Vol. 1

, rare RPM (UK) collection from 1996
•

Snapshot

. 1999 TBA archives collection of studio demos, jams and live tracks




•

Snapshot

. 1999 TBA archives collection of studio demos, jams and live tracks




DPAS Online

has stock of the following Tommy Bolin cds:




•

Whips & Roses

, excellent collection concentrating on 'Teaser' demos and out-takes
•

Whips & Roses Vol.2

, follow-up collection, with more 'Teaser' out-takes and long jams.




•

'The Ultimate Redux',

three CD collection from the 1996-2004 Tommy Bolin Archive releases