The genesis of Rainbow dates back to 1974. While making the "Stormbringer" album in 1974, Deep Purple had refused to record a cover version of "Black Sheep Of The Family" (which Blackmore had heard on the first Quatermass album in 1970). Blackmore decided to go ahead and do it anyway when he could find the time. With a few days off during Deep Purple's American tour in late 1974 Blackmore booked time in a studio and, with Ronnie Dio and other musicians, laid down the track as a single. Dio's band Elf had been supporting Deep Purple on tour after Ian Paice and Roger Glover produced the band's debut album in 1972 (Glover went on to produce their second and third albums as well). Blackmore, watching Elf live, had been impressed with Dio's singing; hence the invite.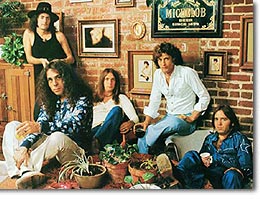 The single (especially the b-side which Blackmore and Dio wrote together very quickly) turned out so well that he decided to make an album.
"Ritchie Blackmore's Rainbow" was cut at Musicland Studios in Munich during February and March 1975. As well as Ronnie Dio, to make life easier, they used the rest of his group Elf on the record. Blackmore then made up his mind to quit Deep Purple, a decision announced to the public in early April (only a few days after Deep Purple had found out).
Before Rainbow could begin touring, there was the tricky question of whether Elf were up to the task. Blackmore felt not so he and Dio assembled a new group. (photo: Ritchie Blackmore, Ronnie Dio, Craig Gruber, Mickey Lee Soule, Gary Driscoll)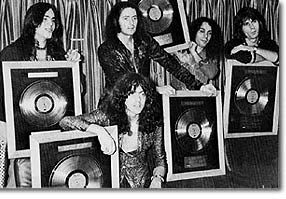 Cozy was flown over to LA for the auditions, Blackmore having admired him from his days with Jeff Beck. Bain was recruited from a Scottish band called Harlot, while Carey was in an American band called Blessings who were rehearsing in the next studio to Rainbow.
Rainbow made their live debut in America in November 1975 with a string of shows. There were technical problems caused by a huge electric rainbow which spanned the stage. It looked spectacular, with 3,000 bulbs, but generated a lot of interference with the amplifiers and guitars. After the American tour, Rainbow began work on their second album in February 1976. They'd already done a lot of rehearsing and writing before the first tour, so the album sessions (again in Musicland) went very smoothly. The album was cut inside ten days. "Rainbow Rising" is generally regarded as their best album overall, and set the bench-mark for heavy, intense and dynamic hard rock. With a better production job (again courtesy of Martin Birch), it was streets ahead of the first album.
The first world tour began in America in June 1976, with the group performing tracks from both albums, including "Stargazer" and "Light In The Black". The costs of touring as a headliner were enormous so in one or two places they opened up for better known acts like Jethro Tull. Rainbow made their European debut in late August '76, selling out just about every show, before flying on to Australia in November, followed by Japan in December 1976. Blackmore's near total control gave him a freedom on stage he'd never had before, and while the set list remained constant throughout 1976, he was able to change and develop the structure of the individual tracks as he wished. The result was guitar playing which reached new heights, running the spectrum of emotions from gentle runs to intense heavy riffing. Rainbow took a break over Christmas 1976 but fans were shocked early in 1977 to learn that bassist Jimmy Bain and keyboard player Tony Carey had been fired from the group. The music press were told that the pair were not "complimenting the founder members' style of playing and their musical direction". Unable to find another player, Carey was rehired to play on the album on a session basis, and Mark Clarke was hired to play bass. (photo: Tony Carey, Ritchie Blackmore, Ronnie Dio, Cozy Powell, & (front) Jimmy Bain)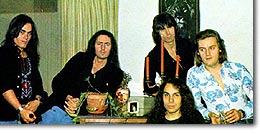 Rainbow began recording their third album in March in a Chateau south of Paris. It later emerged that Carey had been less deferential than he should have been off-stage, while Bain hadn't been fast enough for Blackmore. Clarke had a background in groups with a jazzier style - Tempest and Coliseum - and was at the time fronting his own band Natural Gas. To cover the delay a live album was prepared from recordings of German and Japanese shows, released worldwide in July 1977. "On Stage" was very short for a double, some of the tracks were edited and, astonishingly, the climactic "Stargazer" was left off. Back in Le Chateau Mark Clarke was paid off after a few weeks and Blackmore recorded most of the bass himself (they tried rehiring Bain, who said no). Then Carey left in the middle of the sessions, fed-up of the practical joking of which he was often the recipient. They contacted David Stone (after Blackmore heard him in Symphonic Slam on the radio) and auditioned Bob Daisley on bass, free after Widowmaker had split up. (photo: Tony Carey, Ritchie Blackmore, Cozy Powell, Ronnie Dio, & Mark Clarke)

.... 1975-77 UK Rainbow Discography ....
UK singles
Man On The Silver Mountain / Snake Charmer: 1975
Kill The King /Man On The Silver Mountain / Mistreated: EP, 1977
(edits from On Stage)
Completing the collection
A 2 x CD 'deluxe' edition of 'Rising' is being prepared for release in 2011, including a bonus disc of studio out-takes.
.... Notable Post 1977 Rainbow Mk1-3 Releases ....
.... Rainbow Mk1-3, Further Reading ....