Joe Satriani's short spell in Deep Purple is often overlooked as a bona-fide line-up of the band, partly because no studio work was done, and also as the temporary nature of his tenure was often emphasised by both parties, particularly afterwards. But, there can be no doubt that Joe contributed a great deal to the revitalisation of the band, and helped pave the way for the following ten years.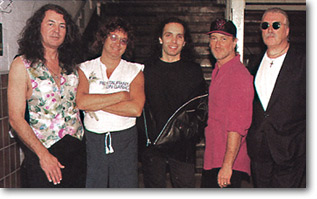 Ian Gillan, Ian Paice, Joe Satriani, Roger Glover, Jon Lord
The immediate success of what looked a virtually impossible venture was a testament to Joe's position as a guitarist's guitarist. Only 2,000 out of 80,000 tickets sold for the band's December 1993 Japanese tour were returned (fans there expecting Blackmore had been told of the change and offered a refund). Although presented with a recording of an October 1993 Stuttgart show in order to learn his parts, Joe chose to refer back to the original Machine Head album, subsequently pulling off every note impeccably. The others took their post-Blackmore freedom to introduce other Machine Head tracks to the set, including 'When A Blind Man Cries', 'Pictures Of Home' and 'Maybe I'm A Leo'.
Deep Purple Timeline

1993
December 2nd: Joe Satriani's first show with Deep Purple: Nagoya, Japan.

1994
July 5th: Mk 6's European Tour comes to a close. The final show, in Kapfenberg, Austria, is Satriani's last with the band.

November: Steve Morse is asked to play a short Mexican tour, with a view to joining the band full-time.
The buzz created by the Japanese tour led to a recording from it being earmarked for release in 1994, at least until it was nixed by Satriani due to his unhappiness with the recording's quality. Instead, the Stuttgart show featuring Ritchie Blackmore appeared in November 1994 as 'Come Hell Or High Water', by which time Joe was no longer with the band.
He was asked to continue as a permanent member, but was prevented by a combination of his solo contract (which made him unable to tour the USA with Deep Purple - and has prevented any subsequent releases of live material from this era), and by his own solo career which left him with less time than he felt was necessary to contribute fully to Purple.
A tour of Australia and New Zealand (which subsequently fell through anyway) was lined up for October 1994. When it transpired that Joe's other commitments meant he would be unable to play, the search was on for a new guitarist. He stayed on for a well received European tour in the summer of 1994, and played his last show with Deep Purple in Austria on July 5th.
Since then Joe has jammed onstage with Deep Purple on their 2002 US Tour, and was a support act on their August / September 2004 American jaunt. His replacement, Steve Morse, is still a fixture in the group, which has only seen one change of personnel since 1994.
.... Deep Purple Mk 6 Discography ....
| | |
| --- | --- |
| | |
| There isn't one! No newly written songs were performed live, although Joe Satriani included 'Satch's Boogie' in his solo spot, a track from his "Surfing With The Alien" album. Swiss radio recorded and broadcast a Mk 6 show in St Gallen, Switzerland, 1994. Two live tracks from a show in Gent, Belgium, 1994 were included on the DVD side of Ian Gillan's 'Gillan's Inn' release in 2006. They were taken from an extremely ropey quality bootleg video shot from the audience. | |
| | |

....Deep Purple Mk 6, Further Reading....