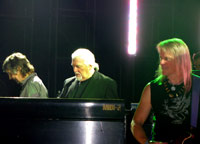 Jon has appeared at many concerts for charities and causes. One of his first gigs after leaving Deep Purple was a countryside support do at the Royal Albert Hall in October 2002, featuring well known actors and musicians (including Robert Hardy, Sir John Mortimer, and Roger Waters.) Aitch McRobbie (who was among the backing singers at the Albert Hall Concerto shows in 1999) sang "Wait a While" from "Pictured WIthin", with Jon on the piano and Paul Mann conducting the Royal Philharmonic Concert Orchestra.
In 2006 Jon took part in the first (now annual) "Sunflower Jam" all-star charity gig in London, organised by Ian Paice's wife Jackie. He appeared on a guest list including ex-Deep Purple band mates Don Airey and Ian Paice. For the 25th September 2008 show Jon stepped on stage with Deep Purple - dipping in and out of the set, swapping places with Don Airey. Jon also played some tunes with the house band, including a version of Whitesnake's "Walking In The Shadow Of The Blues". The June 2009 "ChildLine Rocks" charity show (also in London) saw a different Deep Purple reunion, with Jon performing "You Keep on Moving" with Glenn Hughes on bass and vocals. The same show saw Jon tackle "Child In Time", with vocals handled by his touring band vocalist Steve Balsamo. The show was given a limited CD release. Concert Live brought out an instant live CD on the night, and then an improved 2xCD mail-order only set which appeared shortly afterwards.
Another event was "Armed Forces Day" in Fawley Hill, 27th June 2009, which featured a band including Jon, bassist Nick Fyffe (who temporarily replaced Roger Glover in Deep Purple for a few shows in 2011), Sam Brown, Aitch McRobbie, Micky Moody, and Steve Balsamo. They played a set of rock and blues standards. Jon's live appearances in 2009 were as frequent as they were varied. In January, selections from his solo and Deep Purple work were performed at two shows in Switzerland - including "Concerto for Group & Orchestra", "Child In Time", and excerpts from the Durham Concerto, Sarabande, Pictured WIthin and Beyond The Notes. The musicians included Coverdale Page bassist Guy Pratt, who later played on the studio recording of Concerto for Group & Orchestra, and Gotthard singer Steve Lee. "Child In Time" from the 2009 Zurich show was issued in January 2011 on a limited edition of the album "Stay Tuned" by Bernhard Welz. Some proceeds from the CD were destined for a children's cancer charity.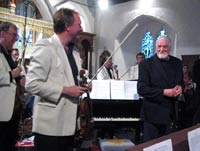 On 5th July 2009 a new piece, titled "To Notice Such Things" was premiered at St. Andrew's Church, Nuthurst, in the south of England. It was performed by Jon on piano, with flute and a 17-piece string orchestra. The music was inspired by Jon's friend the barrister and author.Sir John Mortimer, who had died in January 2009. "To Notice Such Things" was also performed at Lichfield Cathedral on 17th July, along with other music from Jon's career, including Deep Purple's "Soldier Of Fortune". Vocals for the night were provided by Jon's two regulars: Steve Balsamo and Kasia Laska. "To Notice Such Things" was recorded in September 2009 for a new studio album, using the Royal Liverpool Philharmonic. It was released in March 2010. The full breadth of Jon's live work was illustrated when the new album was played at the Nidarosdomen Cathedral, Trondheim, on Sunday 23rd May with Jon joined by the Trondheim Soloists, the Trondheim Symphonic Orchestra and members of metal group Opeth. Deep Purple music was also performed at the show. Similar shows were played in Russia during 2011, with Hungarian Deep Purple tribute group Cry Free handling the rock instrumentation.The band had previously backed Jon for some shows in 2009.

In 2010 Jon reprised his role in ad-hoc r&b group Daddy and the Steamers for this first time in decades, to perform at the Lahrstein blues festival in September. Players included Maggie Bell (with whom he and Paice worked in the late 70s) and other familiar names - Zoot Money, Miller Anderson, Colin Hodgkinson and organiser Pete York. The same group surfaced again in 2011 as the Jon Lord Blues Project., kicking off on 7th April with a show at the "Rother Bluestage" festival in Germany. Other dates have been lined up throughout 2011.
Jon spent time in late 2010 jamming with classical violinist Anna Phoebe with a view to touring a Hammond-based 5 or 6-piece band with vocals, bass, drums and second keyboards. Anna played during Jon's 2011 Russian tour.


... Jon Lord album discography 2009-2011 ...

childline rocks 2009




2009 - live album


Various artists. Live charity performance from June 2009. Dodgy sound quality. 2xCDs of music. Jon with Glenn Hughes on two tracks. Bonus CD containing photos of the audience.
DPAS review

to notice such things


2010 - studio album


Jon Lord solo album. The title piece is a multi-faceted work based on the life of Sr John Mortimer. Other tracks are "For Example" and "Air on a Blue String".
DPAS ONLINE STORE

Jon Lord Blues Project Live




2011 - live album




Jon Lord Blues Project. Live album recorded at Rottweil Jazzfestival on 14 May 2011. Merchandise recording, sold at Blues Project gigs.

Other notable releases
The Smith Quartet : "Dance", Jan. 2011. A new Jon Lord commission included on classical CD. "Zarabanda Solitaria" is a short piece for string quartet. Jon doesn't perform on the record. Bernhard Welz : "Stay Tuned", Dec. 2010. Solo album by Austrian drummer. The first 1000 copies included a live Jon Lord performance of "Child In Time" from Zürich, Switzerland January 2009. Featuring the late Steve Lee on vocals.