Deep Purple struggled to follow up The House Of Blue Light. As he wasn't needed for a while, Ian Gillan returned to the UK. He wanted to play a few low-key shows so with the help of Liverpool based DJ Phil Easton, he teamed up with three members of rock group Export to form Garth Rockett & The Moonshiners (named after one of Ian's pre-Episode Six outfits).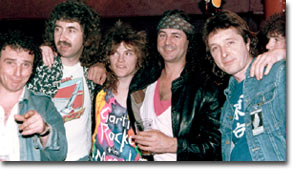 They played a low-key show at Southport Floral Hall on February 18th 1989, followed by a few one-nighters. When Ian was sacked from Deep Purple in May, they set out on a UK tour. A Manchester date on May 16th 1989 was filmed and released in 1989 as a live video, then in 2000 as a CD (by Purple Records). They played a mix of tracks; Gillan/Glover album tracks, old Gillan Band favourites, and two new songs which later appeared on Ian's solo album.
Ian decided to end the project to get something more permanent together. Ian's main recorded output of 1989 was ironically a leaden version of 'Smoke On The Water' for the Rock Aid Armenia charity single, with musicians including Ritchie Blackmore (who did his solo on a different day), Dave Gilmour and Brian May.
(photo, left to right: Keith Mulholland, Steve Morris, Mark Buckle, Ian Gillan, Harry Shaw, Lou Rosenthal)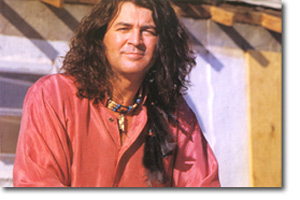 When it came to launching his solo career Ian worked on material with Moonshiners guitarist and writing collaborator Steve Morris (as well as briefly with their keyboard player Mark Buckle), then used highly experienced session musicians to record his first solo album 'Naked Thunder'. Before it was released he formed a touring group with Morris; the ex-Sensational Alex Harvey Band rhythm section of Chris Glenn and Ted McKenna; ex-Gary Moore keyboard player Tommy Eyre; Mick O'Donoghue (ex Grand Prix) on second guitar, and Dave Lloyd (ex Nutz / Rage) on second vocals. They debuted on May 15th 1990 in the USSR (the first appearances by a Deep Purple musician in that territory) before some highly successful shows in Brazil.

Gillan then beat Deep Purple Mk 5 to the punch when 'Naked Thunder' was released in July 1990. Despite sounding surprisingly commercial, it was not a sales success, only reaching #63 in the UK charts. In response, Ian retraced steps he had taken back in 1978; the band was pared back, a more uncompromisingly heavy approach was adopted, and the name was tightened to 'Gillan'.

The new, in yer face band (the first without a keyboard player which Ian had been involved with in thirty years) retained only Steve Morris (for now). To inject fresh, manic energy ex-Starship bassist Brett Bloomfield came in, with Y&T's Leonard Haze on drums. The new album, 1991's aptly titled 'Toolbox', was as heavy as anything Ian had produced, but disappeared without trace thanks largely to record company problems. The world tour showed that the band had plenty to offer, but the decision was still reached to replace Morris with the more dynamic ex-T'Pau guitarist Dean Howard.

(* despite having the same name, the new 'GIllan' was never intended as a continuation of the 1978-82 band, and only played one of their tracks live)

Debuting in Argentina, Ian Gillan's new four-piece band serial toured around the world, visiting countries such as Bolivia and Venezuela, neither of which had previously been graced by any Deep Purple family band.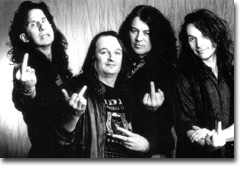 The fresh energy generated by new guitarist Dean Howard lead to increasingly powerful live performances as well as new songs such as 'Hard On You' and 'A Day Late And A Dollar Short'. However in mid-1992 they found themselves without a record deal and lacked the resources to relaunch themselves under their new name 'Repo Depo'.
In late August 1992 Ian Gillan was asked to rejoin Deep Purple, and felt unable to say anything except yes. Gillan's own band played their final, manic, show at an outdoor festival in Bucharest, Romania on September 13th 1992. He thought the Deep Purple spell would be short lived and planned to rejoin Repo Depo, but Deep Purple soon unexpectedly found new life and new personnel.
Of the unreleased songs, two were eventually recorded (albeit nowhere near the power of the live versions) for Ian's 1997 'Dreamcatcher' solo album. As well as collaborating on 'Dreamcatcher', Steve Morris also played two songs on Ian's solo segment at the 1999 Albert Hall Concerto shows and in the encore of 'Smoke On The Water', and continues to record with his band Heartland. Both Dean Howard (in the Dean Howard Project) and Leonard Haze (with Y&T) have played support on Deep Purple shows. Brett Bloomfield rejoined a version of Starship soon after Gillan folded. (photo, left to right: Brett Bloomfield, Leonard Haze, Ian Gillan, Dean Howard)
.... 1989-92 UK Ian Gillan Discography ....
UK singles
ROCK AID ARMENIA: Smoke On The Water / Paranoid * (*original Black Sabbath version) : 1989 ,
also: 12" remix.
IAN GILLAN: No Good Luck / Love Gun - Rock & Roll Girls* (*non-album B-side)


| | |
| --- | --- |
| | |
| Completing the collection : 'I'll Rip Your Spine Out' and 'No Laughing In Heaven' from The Moonshiners' Ritz show first appeared on a 12" vinyl picture disc in 1990 called 'Chris Tetley Presents The Garth Rockett Story', together with a lengthy interview with the DJ in question. The songs were later released as part of the Purple Records live CD. The Rock Aid Armenia album consisted of 'Smoke On The Water', plus a collection of previously released tracks by various artists. The 12" edition of Ian Gillan's 1990 UK solo single 'No Good Luck' first appeared in a cover based on In Rock, which was withdrawn at Ian's request. The German single featured B-side 'Hole In My Vest', unavailable elsewhere. Two tracks from Gillan's final show (a festival in Bucharest, 1992) were released on vinyl in Romania only as part of a live compilation album from the event. The tracks were 'Smoke On The Water' and 'When A Blind Man Cries'. Ian appeared on a few sessions between 1989 and 1992, including The Bolland Brothers' 1992 'Darwin The Evolution' concept album (pictured left) on which he contributed some vocals and provided the between song narration. | |
| | |
.... 1989-92 Ian Gillan, On PAL Video / DVD ....
Completing the collection :
The 'Smoke On The Water' promo from Rock Aid Armenia was released on a VHS compilation in 1989 called 'Smoke On The Water - The Video Collection'. The release also included Deep Purple's 'Perfect Strangers' promo. VHS video magazine Hard N Heavy Vol 5 (1989) included a five minute report on the recording of the Live Aid Armenia single. Ian Gillan's September 24th 1990 Nottingham show was issued on DVD in 2001 by Classic Rock Legends, minus 'Sweet Lolita' from the VHS original. The label has since used tracks from the show on various compilation DVDs.
.... 1989-92 Ian Gillan, Further Reading ....
with thanks to Jose Galvan & Nigel Young