Deep Purple
'Perks & Tit.. Live In San Diego 74'
[click on the red song titles in the review to play mp3 clips]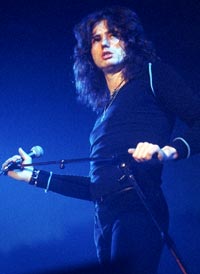 'This is the last gig of our tour, so it's going to be a bastard, ok?' announced David Coverdale. Yes David, we believe you.
Even when only available on hiss and pop filled bootlegs with titles such as 'Perks & Tit',' the recording of the last show of Deep Purple's 1974 US tour still made a huge impression on the lucky fans who came across it.
'This one's not being taped, so we say and do what we want,' says Glenn gleefully at one point, raising ironic chuckles in 2003. Little did he know that the night's soundboard recording (including his comment) would be officially released for fans to enjoy almost thirty years down the line, one of the band's wildest and most downright vicious live recordings. It's rather like being musically (and almost physically) assaulted by the mk3 line-up. The California Jam show, performed only three days earlier, is mild by comparison.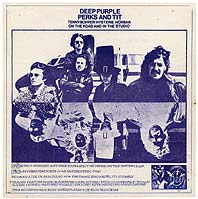 Even the pre-show tuning up offers a strong hint of what is about to ensue, with Blackmore energetically skipping up and down the frets while Paice hyperactively flies around his kit. The build up is longer than on any bootleg version, and the sound quality is clearer and more 'in yer face', while retaining the same slightly odd feel caused by the balance of the instruments. The guitar dominates, and considering that the man is in Strat mangling form throughout....well, great!
Blackmore attacks Burn with such aggression that it seems as if he's about to spontaneously combust on the spot. His guitar is forced into incredible growls and screams, with the feedback usually kept (only just) under control. With the track being dragged along at an improper speed, and nearly coming off the rails entirely at times, the rest of the band are left to just try and keep up and somehow hold it all together.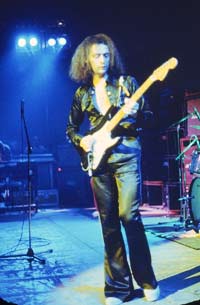 Glenn is certainly up for the task, and by the time Might Just Take Your Life comes along, the others have caught on and help kick the song violently along for its 4 minute duration.
Lay Down Stay Down continues the charge, and rather than giving any respite, Mistreated is introduced with the most awe inspiring of Blackmore guitar barrages. The San Diego Smoke On The Water only surfaced (in incomplete form) on a vinyl bootleg in the early 80s. It's a tremendous version, with every element of the track pushed to its very limit.
In many mk3 shows what had gone on up to this point was only a foretaste of things to come in You Fool No One & Space Truckin', but here it is very hard to imagine there could possibly be another, even higher gear for the band to slip into. Sadly, as those tracks are lost we only have a foretaste in the shape of Lord's five minute organ introduction, which is every bit as stretched out, manic, unpredictable and thrilling as the rest of this incredible set. To say it leaves you longing for more is a huge understatement. Pardon me while I go and play it all again...
review: David Browne,
photos: Deep Purple Overseas Ltd
Purple Records'
official "Sonic Zoom" series makes available live recordings of Deep Purple between 1968 and 1976 to the collector. The CDs are available to everyone, but only via mail-order. The Deep Purple Appreciation Society is the official outlet through
dpas online
and their mail-order catalogue. DPAS members are also eligible for a discount.
Deep Purple live at the San Diego Sports Arena, April 9th 1974.
This is taken from the original soundboard tape, and was remastered with the instruction to capture the sonic attack of the vinyl bootleg versions. It includes all of the in between song chat and song beginnings / endings missing from existing bootleg versions, as well as Jon Lord's five minute introduction to You Fool No One. Only the first 50 minutes of the recording are known to have survived.