GMT • 'DNE' Wakefield West Yorkshire 10th July 2009
Last Friday night saw Guy-McCoy-Torme play the newish 'DNE' club at Wakefield in West Yorkshire here in the UK.
No fewer than 3 support acts were in evidence before GMT hit the stage at around 10.40 pm and began to rock the joint. Songs from their 2 studio albums filled most of the set with 'Cannonball' proving to be a great opening number and the sublime blues of 'Perfumed Garden' - introduced by Bernie as 'An old Hippie song' - particularly showing off Torme's guitar virtuosity. I think it was during this song that I was somehow reminded of BT's fellow countryman guitarist, the late Rory Gallagher : both share the playing-just-for-the-joy-of-it vibe, seemingly indifferent to success or the trappings of fame. Indeed, the 3-man dynamo that is GMT seemed to be having a ball as they blasted their way through the set, the scratch-plate of Bernie's guitar was streaked with sweat from his forehead after only a couple of numbers.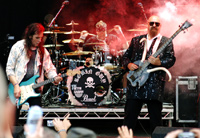 A rousing 'New Orleans' harked back to the Gillan glory days, as did a cover of 'Smoke on the Water' - sadly during the latter, the PA blew up! The microphones went first, leaving the crowd to sing all the words after the first chorus (if it was going to happen, the PA chose the best track to expire in, as the crowd knew all the lyrics).
Unfortunately, no PA meant no encore - and I noticed from the set-list that we had been due to get 'Mr Crowley' – much as it pains me that Bernie seems to be more well known in the wider rock community for his very brief tenure in Ozzy Osbourne's band than for his much longer spell with Gillan, I would have loved to have seen him tear into the 'Crowley' guitar refrain...still, I didn't feel short-changed at all as it had been a great night of rock music played just for the fun of it by a band clearly enjoying themselves.
Robin Guy is a permanently grinning energy-filled powerhouse of a drummer; McCoy prowls the stage like a caged bear (throttling the hapless roadie who came on-stage to replace the microphone which big John had knocked from its stand with a swipe of his bass!); and Bernie Torme is just a great guitar player, peeling great chunks of guitar from his vintage strats with seeming ease (and on occasion looking disappointed with himself after performing what seemed like a great solo to me!). In these somewhat sad times of corporate rock gigs in faceless concrete stadia, it's often easy to forget from Block HH, sipping on a £5 cup of cola what it's all about : GMT gave a lesson in how rock ought to played - (barely) controlled chaos crossed with FUN. And it was loud!! (my ears have only just stopped ringing...)
Catch 'em if you can!
review: Tim Summers
Setlist: Cannonball / Bullet in the Brain / Wheel of Fortune / Can't Beat Rock n Roll / Perfumed Garden / Evil Twin / Ball & Chain / You Can't Hold Me / Bass Solo / Punko Rocco / Down To Here / Drum Solo / Rocky Road / Guitar Solo / Longer Than Tomorrow / New Orleans / Smoke on the Water