Ever since I first discovered the wonderful music of the Gillan band in the late 70s, I have always had a keen sense of anticipation and excitement when news reaches me of a new Gillan offering. I had followed the internet hype surrounding the release of Gillan's Inn, especially as it promised so much - a genuine career retrospective of a man who has influenced my life and provided such wonderful music, either leading his own band or as the lead singer of my favourite band - Deep Purple.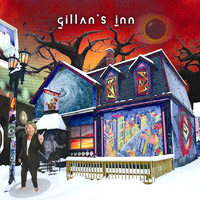 As usual, I did not rush into the shops on the day of release but toddled along in the middle of the second week to make my purchase. I headed to my nearest HMV superstore to find they had not stocked a single copy! Next door, a Borders Books store had one copy in but they couldn't find it, so in the end I waited a further three days for my copy to arrive from Amazon which I had ordered "on line". I really hope they have overcome the distribution problems, otherwise it will have little chance of charting in the UK.
The dual disc is also hit and miss. The DVD side which has the 5.1 surround sound simply will not play on my 2005 Toshiba DVD player, around which my main hi-fi system is based. This is a real shame. I do have a back up DVD which is a very early multi region DVD from 2000 and this plays the disc fine and luckily it the CD side also plays in my car, so some success.
What of the music? Without going through a track by track analysis, I found the album very enjoyable overall. The trick for die hard Purple or Gillan fans is not to compare the material to the originals, otherwise you will be disappointed. If you accept that these are new recordings of original songs essentially done with a house band and a host of famous guests, recorded in what seems like a party atmosphere, then you will enjoy the album. Yes, I wanted to hear an album with more extremes and subtleties, such as careful re-workings of Garden of Gethsemane, Mutually Assured Destruction, Fiji, Fighting Man and go on then - Spanish Archer but alas we have Smoke On The Water with a choice of guitar solos. You get my drift. Fans will always debate the choice of material, but I am sure Ian has missed a chance to really deliver a full retrospective of his career here. Having said that I really have enjoyed this album - simply by lowering my expectations and accepting it for what it is - a bit of fun.
Do not expect too much though. The guest vocalists are inaudible to my ears and the mix is weird - too much going on at times making it a touch overproduced. On a cautionary note, the two bootleg videos of Deep Purple with Joe Satriani are truly awful. I simply can't watch this material which is a shame. Overall, its not bad album with some great vocals. Go out and buy it. There is no one else making such unique music at the age of 60!
review: Meurig Thomas
TRACK DETAILS
CD Side:
01: Unchain Your Brain – Feat. Joe Satriani (guitar), Michael Lee (drums)
02: Bluesy Blue Sea – Feat. Jamick Gers (guitar), Michael Lee (drums)
03. A Day Late And A Dollar Short – Feat. Uli Jon Roth (guitar),
Ronnie James Dio (vocals)
04. Hang Me Out To Dry – Feat. Joe Satriani (guitar), Michael Lee (drums)
05. Men Of War – Feat. Steve Morse (guitar), John Rzeznik (guitar)
06. When A Blind Man Cries – Feat. Jeff Healy (guitar), Jon Lord (organ)
07. Sugar Plum – Feat. Roger Glover (bass), Ian Paice (drums)
08. Trashed – Feat. (Tony Iommi (guitar), Roger Glover (bass), Ian Paice (drums)
09. No Worries
10. Smoke On The Water – Feat. Steve Morse (guitar), John Rzeznik (guitar)., Jon Lord (organ), Ian Paice (drums)
11. No Laughing In Heaven – Feat. Roger Glover (bass), Ian Paice (drums)
12. Speed King – Feat. Joe Satriani (guitar), Michael Lee (drums)
13. Loving On Borrowed Time – Feat. Steve Morse (guitar), Uli Jon Roth (guitar)
14. I'll Be Your Baby Tonight – Feat. Joe Elliott (vocals)
DVD Side:
• Complete album in 5.1 surround sound
• Making Of Gillan's Inn video
• Track by track audio commentary by Ian Gillan
• Special "Select the Soloist for Smoke On the Water" section
(choose from Jeff Healy, Joe Satriani, Steve Morse, Tony Iommi, Uli Jon Roth and more)
• Rare performance videos of Ian fronting Deep Purple and Black Sabbath
• Demon's Eye – DVD side only – Feat. Jeff Healy (guitar), Jon Lord (organ)
• Special DVD Rom bonus track – Can I Get A Witness?
(Cliff Bennett (singing), Ronnie James Dio (backing vocals), Mickey Lee Soule (keyboards)
• Photo Gallery
• Lyrics