"Alright boys! Mmmmm..... good sound this one!"
(Chris Grant, c/o Chris Grant's Tasty Pop Sundae, BBC Radio 1, July 1969)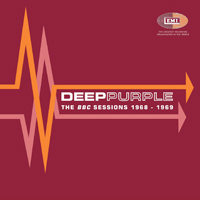 At last, after over a quarter of a century on the back-burner, Deep Purple's known surviving BBC studio sessions have been collected together to make a fabulous history in music between 1968 and 1970. Listen to the CDs, presented in chronological order, and no words need be said about the band's development. Well, except here, just to help me recommend that you go and grab this collection as soon as it appears.
Disc one covers the 1968-69 Deep Purple Mk1 sessions. To begin with, some stats: the disc contains fourteen music tracks plus a BBC Transcription Service interview with Rod Evans (discussing the whittling of the US "River Deep. Mountain High" single). Of the fourteen music tracks, seven are previously unreleased, and only three of the seven have reached collectors' ears via bootleg tapes and discs. And none of those in good quality. Rest assured the sound quality on these new discs is very good to excellent, with one exception - and that certainly earns its place. The CDs have received sonic makeovers at Abbey Road, while superior source material has apparently been found for at least one or two of the previously released tracks.
Deep Purple's first ever BBC session was recorded on 18 June 1968 for John Peel's "Top Gear" show. And it is here in its entirety, thought lost then rediscovered in 2010. It fully justifies the conclusion of the BBC's production panel at the time; "Polished commercial group. Enthusiastic, unanimous pass." "Hush", "One More Rainy Day" and "Help" all have a similar feel to "Shades Of Deep Purple" probably because "Shades.." producer Derek Lawrence assisted with the session. The vocals feel at times as if they're too far in the background, but the sound seems cleaner and brighter than the album. "Help" is probably the best of the three, with a great instrumental section, even if the guitar solo is surprisingly close to the strangulated 'Blackmore does Hendrix' feel of the original. From here onwards it's all Blackmore as himself..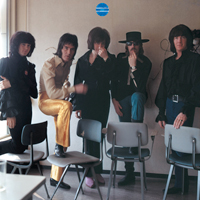 "And The Address" is another unreleased 1968 session, possibly from July. It's a middling quality off-air recording of two minutes from the middle of the track. However, it sounds better than the bootleg tape on which it turned up in the mid-eighties, and it's inclusion is fully merited. This is a step beyond "Shades..", with the band really cutting loose. Blackmore's guitar work is particularly aggressive and urgent.
Fast forward six months to February 1969 and the band were back for another visit to John Peel's "Top Gear". All of the five tracks were added to the 2000 Mk1 album reissues, but sound much more at home in this context. "Hey Boppa Be Bop" (a prototype of "The Painter") is all choppy guitar and improv lyrics, and sports a guitar solo which I must admit hadn't really hit home during its previous life as a bonus track. "Hey Joe", "Wring That Neck", and "Emmaretta" are all improvements on their album and single versions, while "It's All Over" first appeared on the "Book Of Taliesyn" CD reissue. "Hey Joe" by the way is the Transcription edit without the "Three Cornered Hat" introduction. An off-air recording of the latter was apparently not deemed up to scratch.
"Lalena" and "The Painter" from 24 June 1969 were bonus tracks on the 2000 "Deep Purple" reissue. "The Painter" is noticeably beefier than the embryonic "Hey Boppa Be Bop". Still, even it pales in comparison to a version recorded one week later for Deep Purple Mk1's final (and until now unreleased) BBC session. Aired on "Chris Grant's Tasty Pop Sundae" in early July, it has Chris enthusing over a particularly frenetic opening blast, during which Ritchie's poor old wah-wah pedal and tremolo arm take an almighty pummeling. Luckily the treatment is repeated in the solo. it's a very special inclusion, showing the band already in the process of stepping up another gear. "I'm So Glad" is my personal highlight of the entire collection. The tune is closer to Cream's take on the song, and is given a three minute rollicking similar in feel to Mk2's version of "Bird Has Flown". The guitar solo is simply great. The disc is rounded off (as it began) with "Hush". The difference in the performance is fairly extreme, with this one taken at a frenetic pace and peppered with pounding guitar runs. Great stuff. The version may be familiar to collectors, as a poor off-air tape appeared in the eighties with a different DJ voice-over. "The Painter" surfaced unofficially in the early 1990s, in poor quality on the abominable "Odd Ditties" bootleg CD. The session as a whole could well be the best Deep Purple Mk1 to be released.
"This is the heavy guitar sound of Ritchie Blackmore leading into a rocker called Living Wreck!" (Brian Matthew, Top of The Pops, September 1970)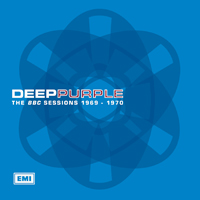 The Deep Purple Mk2 sessions disc includes eleven music tracks plus a short interview with Jon Lord about the making of "Black Night". All of the music tracks were previously included on the now deleted "Listen, Learn, Read On" box set. As with disc one, the music benefits hugely from being grouped together and set in context.
The first Mk2 session is a perfect crossover between the line-ups. Recorded some six weeks after Mk1 bowed out we have a magnificently potent version of "Bird Has Flown", with another great guitar solo pounding around the lower strings, and "Ricochet" - a very early prototype of "Speed King" with improvised lyrics. "Speed King" itself follows, recorded and broadcast in November 1969, months before "In Rock" appeared. It is close to the demo "piano version" which first appeared on "Singles A's & B's", and sounds wonderful. Another leap forward for the band. Joining it is "John Stew", a studio knockabout with the "Green Bullfrog" riff and improvised lyrics. A non BBC instrumental take, called "Jon's Stew" was a bonus track on the 1995 "In Rock" anniversary CD.
On to April 1970, still pre "In Rock", and three tracks due for the album but not the live set. "Hard Loving Man" is a let -down, fading out just as Jon Lord begins to crank up the big instrumental passage. (A lo-fi off-air recording survives which does get as far as the guitar section, but even it cuts out before the climax.). "Living Wreck" is preceded by Brian Mathew introducing "the heavy guitar sound of Ritchie Blackmore", one year after describing his guitar sound as "great and groovy" before ""Hey Boppa Be Bop". "Living Wreck" comes from a Transcription disc source, and unlike the original broadcast (which only survives in poor quality) it suffered an edit - missing a verse. It still sounds great though, as does a bludgeoning "Bloodsucker",. Like many of the tracks on the collection it only survived in releasable condition thanks to the Transcription Service. An earlier version of "Living Wreck" is missing presumed gone.
To round off the collection we have a session which was recorded especially for the Transcription Service in September 1970. A solid "Black Night" is preceded by Jon talking of how the track was conceived. Also included is "Into The Fire", the studio jam "Grabsplatter" - which soon transmogrified into "I'm Alone" - and an excellent "Child In Time" with Jon Lord leading off the instrumental passage. A great way to round off the journey from 1968 to 1970.
review: David Browne

Deep Purple, The BBC Sessions 1968/70 can be ordered from the DPAS / Darker Than Blue online store, both as a two CD set, and a limited edition two CD plus two vinyl album box set. Both editions come with an informative (and very attractive) booklet written by Simon. If you are able to place an order with the DPAS please do!
DPAS jukebox : mp3 clips from Deep Purple, The BBC Sessions 1968/70
Deep Purple, The BBC Sessions 1968/70 on the Darker Than Blue Blog

"Well this is absolutely the first time that I get a Deep Purple set just in time after release. It´s really nice to see all of this songs packaged and arranged properly in the usually fantastic way that the Darker Than Blue boys have offered us in the past , and now Deep Purple´s BBC sessions can match the ones of Hendrix, The Beatles, Led Zeppelin, and other acts of the time.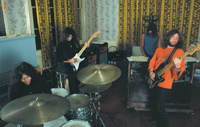 Enough has been said about Deep Purple Mk I: they vary from super heavy (with Blackers in great form throughout this whole set) as in Help, Hey Joe and the Painter, to a poppy 60´s band as in the track One more rainy day. The highlight of Mk I´s set is actually the interesting evolution of the track The Painter, since the Mk I remasters had few extra material. Sound quality varies a lot for the first part of this set.
Then we get into MK II´s set and there we step into a completely different world. The sound is much better, and the band by 1970 had already become a tight, heavy and powerful rockin machine. My favorite tracks are Bloodsucker and Living Wreck. A shame that there are still some missing sessions, but waiting for them to magically appear, would have signified that this beautiful set would have had to wait still for a long time."

review: Daniel Falaschi
send your Deep Purple, The BBC Sessions 1968/70 reviews to the d-p.net mailbox