Vinyl / 7" Single
Singles normally have one track per side, usually an A-side (sometimes marked as such) and a B-side. Double A-sides were sometimes used as a marketing ploy. Sound quality is never particularly good, as poor quality vinyl was commonly used. Running times are typically 3-4 minutes per side, any longer and the sound quality suffers. Although musically there is nothing by Deep Purple on single which cannot now be found on CD, many fans like to assemble a collection of singles from their own country. The format has almost entirely died out in recent years, though is still popular with new indie bands.

Vinyl / 7" EP (Extended Play)
Normally have two tracks per side. EPs were popular during the fifties and sixties as they were more affordable than albums, and came in laminated card sleeves. The format died out in the early seventies but was revived for limited editions at the end of the decade. Speed was normally 45 rpm but sometimes 33 1/3 rpm. Some nice Deep Purple EPs were issued in the UK after the band split. With cramminga lot of material into a small area, the sound level can be quite low.
Picture / Art Sleeve singles / EPs
In the UK and America singles were normally issued in paper bags carrying only record company label graphics as a cost cutting measure. In Japan and Europe however special sleeves with photographs of the artists (pic sleeve) or a graphic (art sleeve). Pic sleeves emerged in the UK in the mid-seventies (before this short runs or promotional editions sometimes had sleeves) after being made popular via the punk scene. Pic sleeves are still collected (though not so widely as before) and early or rare sleeves fetch high prices (£100 / $150 or more) especially if in good condition. The first Deep Purple single was 'Hush' and this carried a limited edition pic sleeve in America and also in the UK but only on promotional copies.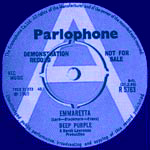 Promo / demo singles
Most single releases were preceded by a promotional edition, which carried the words 'Promotional Release', 'Demonstration Use' or something similar on the label. The Aside would be marked clearly and sometimes the date of release would be given. The label might be a different colour too. These releases would be in limited quantities and are sought after by collectors. In America mono / stereo couplings of the same track were issued for radio use as promotional items and most of the classic Deep Purple releases were available like this. The price of promos is dictated by rarity rather than content, so the edited Concerto tracks issued on a single in 1969 are of little musical value but the promo single will cost you a lot to buy.
Vinyl / 12" singles
Devised for use in discos in the mid seventies, the 12" single could carry a wider, and therefore louder, signal. Due to changes in chart regulations, labels began to issue 12" singles by most acts to help boost sales. In America special 12" promotional singles became popular for all pop and rock genres. They usually had special label graphics and often sleeves as well - either with centre holes to show the label, or regular album style covers. Deep Purple 12" releases from the first era are rare (there was a 'disco' version of 'Child In Tme' in Holland - just the normal studio take - and a 12" version of the 'New Live & Rare' EP in Italy), but more were issued from the first few reunion albums. Dance music still continues to use the format. The last Deep Purple 12" single was 'Love Conquers All' back in 1991.
Acetates.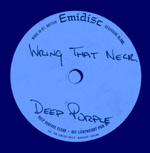 Acetate singles are metal discs with a layer of acetate each side, into which the track is cut directly. They usually have a purple, almost black, colour and the metal might be visible at the disc edge. They were made to test the pressing in the studio or to enable musicians to hear the recording outside a studio. Acetates are very soft and wear out if played too often. Labels are usually generic record company designs, with the titles to be handwritten or typed. As acetates were cut at all stages of recording, some contain material either unreleased or different to retail releases and are very collectable. Pre Deep Purple releases on acetate are about and much prized. The most valuable acetate is probably the one cut by Deep Purple in 1968 with 'Shadows' and an instrumental version of 'Love Help Me' on, prior to them doing their first album. (both tracks now available on the Shades.. cd remaster). Most acetates are normal 7" size but they can be ten inch discs, single sided discs etc.
Vinyl 12" LP / Long Playing 33 1/3 rpm
Normal albums of around twenty minutes playing time per side, stretched much beyond that and the sound quality goes down hill. The format was launched in 1948 in America, 1950 in the UK and lasted through until around 1990 (the last Deep Purple vinyl album was 'The Battle Rages On'), although the format is still used for short runs of some new albums and reissues - the remastered 'Machine Head' was done as a 2,000 run double vinyl set. Sleeves could be single or gatefold, and contain lyric sheets or printed record bags. Other gimmicks included posters and booklets. Collectors should look for original pressings when possible, which can be determined by matrix number, the quality of the vinyl, and even the name of the printer who did the sleeve. After a few years albums were often reissued in simplified sleeves to reduce production costs. Examples include the EMI 'Fame' series which reduced In Rock and Fireball from gatefold to single sleeves.
Stereo was launched in 1958 and both mono and stereo editions of albums were issued simultaneously until the end of the sixties. Deep Purple's first album came in both formats in the UK, the mono version is very rare. As well as the main Deep Purple albums, there are compilations (an album full of tracks from other full price albums) and samplers, albums which contain a variety of different artists with maybe one or two Deep Purple tracks.
Quadraphonic LPs

Designed to give a true four channel sound when decoded using a special amplifier with four speakers, this format was launched in the early seventies but take up was slow as many people had only just gone over to stereo. It found wider acceptance in America. Quad editions are popular as they were often mixed by engineers on their own, and could contain differences in the mix, and even the music. Several Deep Purple albums were issued in quad versions in Europe and America, and even a few related titles - The James Gang albums with Tommy Bolin for example. They do usually command a higher price than regular releases, and the quad format is collected in its own right.
Promo / demo albums
These were not as widely issued as singles. Where they do exist, promotional copies usually have white labels with black text. Later on they would be normal editions but with the words 'promotional use' stamped in gold on the sleeve or on a sticker. White labels are collectable, overprinted covers aren't. One nice promo edition was for the UK 'Shades', which came in a plain card sleeve with a sticker on.
Radio Albums
These are specially assembled albums made for DJs to play. They contain either existing material or sometimes otherwise unissued sessions or live concerts. Sometimes DJ chat is included, or commercials. The most valuable are original BBC 'transcription' discs, although many have been pirated. The format was continued on CD.

Interview Discs
Usually issued as promotional devices, featuring interviews with band members and a DJ. There were some done for the first two Deep Purple reunion albums while one made for 'Rainbow Rising', with interviews, music, promo pics and a biography is highly collectable.
Album test pressings / white labels
These can be either pressed on acetate (see for singles) or regular vinyl but with blank labels and handwritten information on, and were done in small numbers to test new titles, or sometimes used for promotional purposes. Vinyl white labels might sometimes be issued with uncut album sleeves wrapped round. In America white labels were issued with sheets giving label and track information for review purposes. Sometimes an album would be issued as two single sided test copies.
All the above are collectable to one degree or another.
Vinyl Picture Discs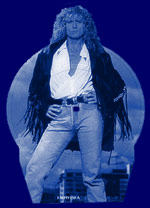 Although developed in the 1920s, the vinyl picture disc didn't really emerge in any quantity until the late seventies as a technique to boost sales to collectors. By the end of the decade many singles had an accompanying picture disc edition, often very limited (one or two of the Rainbow singles were only done in editions of 2,000). A further development was the shaped picture disc, with the normal 7" grooves pressed within a cut out shape. Picture disc albums were less widespread but still popular. Classic and reunion era Deep Purple album releases in this format exist as well as post-split titles. The actual picture was done on a printed sheet of paper, sandwiched between clear vinyl. It is not uncommon for test pressings of picture discs to be done using plain paper and some people find these collectable. Although it is tempting to frame picture discs up, as the image is on paper, they can fade or discolour in sunlight. The discs should not be purchased to play as the quality is markedly poorer than ordinary vinyl.
Colour vinyl
Again quite an old development, colour vinyl made a big comeback in the late seventies, and a number of older albums were reissued in different colours as limited editions. The French "Machine Head" is a good example. The rarest is a red vinyl issue of "Concerto" issued in Japan in early 1970. The
There are also colour vinyl 7" and 12" singles, while promo releases in colour vinyl are known - the U.S. 12" Rainbow promo of Stone Cold for example.
Box sets
A box set can take a number of formats. The idea originated in the classical world, where lengthy operas and single artist works were collected over several 78 or 33 1/3 rpm discs. Deep Purple vinyl boxes were issued with the albums in regular covers inside a cardboard box in Germany, while in Mexico there was a multi album Best Of box, where the albums came in plain paper bags inside a card box. In the CD age, box sets have taken the form of thin card slipcases holding a numbers of CDs in jewel cases, to proper card boxes holding miniature CD versions of the album sleeves, and on to major retrospectives like the Rhino and EMI sets. To remain collectable these sets need to be in their original packaging. Some dealers for example have been breaking up the EMI Singles box from 2002 and selling the discs individually.
Flexidiscs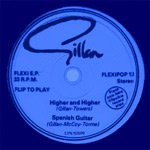 The flexi disc originated in the fifties, when it was discovered that record grooves could be pressed onto thin clear plastic sheets. These discs were then glued to printed card backings. Advances in plastic meant stronger flexi discs could be made to play as normal singles. Because they were cheap, they were exclusively used for giveaways and promotional purposes. Most were pressed by the Lyntone company near London. The earliest example of interest to Deep Purple fans is the rare Raleigh Bikes "Bike Beat" flexi which featured a jingle performed by The Outlaws. Examples also include a magazine called Flexi Pop which carried a free Gillan flexi disc on the cover with an otherwise unissued track on. In several communist countries, flexi discs were a way of distributing Western rock music cheaply. Russian examples are known while in Poland, postcard shaped flexis with discs pressed into the centre were pressed by the hundred. They have no label, just some basic info scratched into the plastic surface. They are of curiosity value only as they are in effect pirate releases.
Bootlegs / Pirate Vinyl