Deep Purple Mk1-2 compilation, 1968-1971. Included a number of tracks rare at the time, including the early take of Speed King

1: Hush, One More Rainy Day, Emmaretta, Wring That Neck, Hallelujah, April Pt 1
2; Black Night, Speed King (demo), Strange Kind Of Woman, I'm Alone, Demon's Eye, Fireball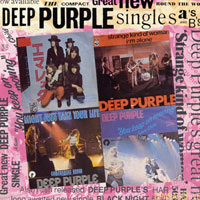 COMPACT DISC

GREAT BRITAIN : Harvest SHSM 2026 : October 1988
Straight copy of LP
THE DEEP PURPLE SINGLE'S A'S & B'S
Hush, One More Rainy Day, Kentucky Woman, Emmaretta, The Bird Has Flown (US vsn), Hallelujah, Black Night, Speed King (demo), Strange Kind Of Woman, I'm Alone, Demon's Eye, Fireball, Never Before, When A Blind Man Cries, Smoke On The Water, Black Night (live), Might Just Take Your Life, Coronarias Redig, You Keep On Moving, Love Child.
COMPACT DISC
GREAT BRITAIN : EMI 7 81009 2 : Jan 1993 (deleted 2008)
Revamped with 20 tracks and new detailed packaging.

This is available from the dpas online store (very limited stock)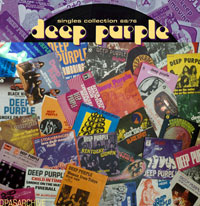 GREAT BRITAIN : EMI : April 2010 2CD
Revamp in new packaging, expanded to 2CD set including non-UK tracks and later EPs.
SINGLES & EP ANTHOLOGY 68-80
CD 1: Hush / One More Rainy Day / Kentucky Woman / Wring That Neck / Emmaretta / Help (French a-side) / The Bird Has Flown (US b-side) / Hallelujah / April Part 1 / Black Night / Speed King (Holland a-side, alternate version) / Living Wreck (German b-side) / Strange Kind Of Woman / I'm Alone / Fireball / Demon's Eye / Never Before / When A Blind Man Cries / Smoke On The Water (studio) (US a-side edit)
CD 2: Smoke On The Water (live) (US b-side edit) / Woman From Tokyo / Black Night (Live) (German b-side) / Lazy (Japanese b-side) / Might Just Take Your Life / Coronarias Redig / Burn (studio) (edit) (US / Japan 45) / Stormbringer (Italian a-side) / You Keep On Moving / Love Child / Gettin' Tighter (US a-side / Italian b-side) / Child In Time (live) / Painted Horse / Mistreated (live edit) / Bird Has Flown /
Grabsplatter
This is available from the dpas online store