Deep Purple History: It was at Hanwell Community Centre that Mk 2 began their rehearsals and wrote much of their hard rock masterpiece "Deep Purple In Rock".
The Details: Begun in 1856, the Central London District Poor Law School in Hanwell London housed and educated disadvantaged and orphaned children from Central London in the countryside (Charlie Chaplin was orphaned here as a child). In 1930, the place was taken over by London County Council, who closed the site, developed the surrounding land as a housing estate, and demolished the school until only the central block remained. In 1945 this was turned into the Hanwell Community Centre.
Local pop groups were able to rent rooms and when the members of Deep Purple were looking for somewhere to set up base in June 1969, Hanwell Community Centre was ideal. It was here that Deep Purple In Rock, was born. "It was always available, it was cheap, and it was close to where we were all living at the time," Ian Paice remembers. "It was the only place we could find where we could make a lot of noise," Roger Glover notes.
After Ian Gillan and Roger Glover were offered a job in Deep Purple, on June 16th 1969 they got a cab to Hanwell Community Centre for their first practise. The Hanwell sessions focussed Purple as Ian Paice recollected: "In a short space of maybe three or four weeks, we found that everything was possible, and it was all contained within ourselves. We didn't have to look outside, and that was really exciting."
Another local band called Spice also used the building to rehearse in, and were quick to borrow one or two ideas they'd heard coming through the wall. Three months later they became Uriah Heep. The origins of "Speed King" went back to Hanwell, as Roger recalls. "Ritchie had mentioned that he liked Hendrix's "Fire". I stood there in the huge echoey gym and apprehensively started playing the first thing that came into my head that would convey a similar feeling. My Fender Precision bass sounded lonely as the sound careered off the dirty, cream painted walls. They all joined in, making it sound great, and a jam ensued which would set the course of the song. It was exhilarating."
During rehearsals at Hanwell on July 15th, the band took a break. Roger: "There had been a lull in the jamming. Someone said "Do you remember that song "Bombay Calling" by It's A Beautiful Day? Jon started playing it for us. We all joined in, we slowed it down, Ian started singing something over it, and it sounded like it could be interesting." This quickly evolved into "Child In Time". "Hard Lovin' Man" came from another of the Hanwell jams.
The photos of Deep Purple shown opposite were all taken on July 17th 1969.
Today: Hanwell Community Centre stands proudly in what is left of the grounds, surrounded by estates. Some land has been left round the building as a park for local residents. The building is an impressive Victorian style edifice, with Italianate windows and columns on the front facade.
The room Deep Purple rented is situated on the ground floor, to the far left of the building as you look at the front, with two rounded sash windows. It is now used as a red cross room for the storage of wheelchairs.
There's a car-park right in front of the building and you can walk around the outside freely. It is still used as a community centre and you need permission to look inside. Roger mentions using the gym, it may be that on occasions the group took their gear through there, although mostly they played in the small rented room.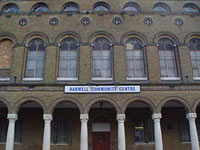 Hanwell is now a protected building which means it cannot be demolished or altered without permission. It is also used by film companies (the film Billy Elliott filmed in the gym). There is currently an application by developers to turn the building into luxury apartments, the local authority keen to rid themselves of responibility for the place. This will of course ruin the interior and mean all the local societies who use the place must leave.
Update, April 24th 2009:
The Hanwell development threat seems over. As a quick catch-up, The Hanwell Community Centre Ltd. is a charitable company which took over the day to day running of the centre in 1992 from the Hanwell Community Centre Association. It leases the building from the owner Ealing Council, but because of decades of lack of maintenance funding, the building deteriorated badly.
In 2003 Ealing Council put in a planning application for redevelopment into luxury apartments. This was ruled against by the Deputy Prime Minister. The following year Ealing Council instead put the Centre up for auction but after huge opposition withdrew it, but any sources of funding continued to be blighted by short leases. Finally in 2007 following a change of Council a pledge was made to put in £2.2 million to refurbish the building. This work has begun to make the building watertight, update the plumbing and electrics and refurbish parts of the building to accommodate Ealing Council's staff training department. September 2009 should see the work completed saying goodbye to drip buckets on rainy days and a smarter look. Inside, the function of most of the building should continue as before with its musical legacy continued.
They are also planning some display panels which will include a section on the Deep Purple connection which the DPAS is supplying as our small contribution. They have an open day planned for June 20th 2009 if anyone is in the area.

Getting there: By train - Castle Bar Park British Rail mainline station is close by. The nearest tube is Ealing Broadway, which connects to BR mainline - Castle Bar Park is two stations on down the line.
By Car - A40 runs from the M25 into London. Exit from either way onto the A4127 south. Drive south for half a mile and when you reach the main shopping area, take the first major left turn onto the B455. Travel about half a mile, and take the second right trun, just after the school, onto Cuckoo Avenue. Follow this tree lined road all the way up and Hanwell Community Centre is facing you at the top.
More information: Deep Purple In Rock CD reissue sleeve notes. Thanks to Hanwell Community Centre. Mike Wood's www.hanwell.biz.
photos copyright Darker Than Blue Ltd