Hallam FM Arena, Sheffield, 2nd May 2007 - live review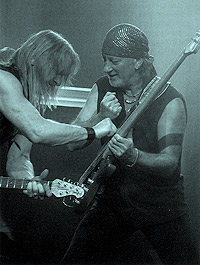 Since Deep Purple abandoned the regular gig circuit in Britain in 2002, moving over full time to the arenas (they did half and half on that tour), each visit has begun to seem like the one before. A few tweaks here and there, but whatever you say or do, nothing much changes. I find the only way to keep track of them is by remembering the support bands; the Darkness / Skynyrd tour, the Frampton tour and now the Lizzy / Styx tour.
Deep Purple came on and played it straight down the line. Hit after hit, riff after riff, much to the delight of four guys in front of me who could almost have been ticking them off on a check list as the tracks powered by. It was only during The Battle Rages On that the group began to properly come together, although the menace inherent in the track was rather spoilt by the cheesy Harpsichord effect on the keyboards. Once Don moved back to the Hammond it started to get a bit dirtier. His keyboard "solo" (more of an intro really) into it was good too; gone are the trite Star Wars references, replaced by some heavy noise-making which worked well. It's a great track, ruined by the production sound on the album (like others I just had to play it again after the show), but well worth revisiting.
Finally the set seemed to burst into life, with the trio of Space Truckin', Highway Star and Smoke On The Water all delivered with the familiar knock-out punch of Deep Purple at full throttle. But they sure left it late in the day. A certain amount of irony then that it was the old Machine Head cuts which once again came over best (much as they did at the last show here). The encores kept the momentum going, so at least on one level it delivered.
The band vibe on this tour was apparently that they feel the bill was a "mistake"... Der; somebody booked it, and it wasn't us. So next time, Deep Purple set aside a week from the endless routine of hits shows. They book a nice venue or two. They make sure fans can get tickets early. They come on and floor us with House Of Pain and Sun Goes Down, steam on into Almost Human and Seventh Heaven, chuck in some lesser (or never played) House Of Blue Light and Battle cuts, lighten the mood with a bit of Purpendicular, and then ride out with a 20 minute Space Truckin' and let the soloists have a ball. People would be flying in from all corners of the globe. 100% Guaranteed.
Live At Montreux 2006, They All Came Down To Montreux -
DVD / CD review
Live At Montreux 2006
EU : Eagle EREDV636 : June 2007
DVD 1 • 1) Pictures Of Home 2) Things I Never Said 3) Strange Kind Of Woman 4) Rapture Of The Deep 5) Wrong Man 6) The Well-Dressed Guitar 7) Kiss Tomorrow Goodbye 8) When A Blind Man Cries 9) Lazy 10) Keyboard Solo 11) Space Truckin' 12) Highway Star 13) Smoke On The Water 14) Hush 15) Too Much Fun 16) Black Night. Bonus interviews.
DVD 2 • .1) Fireball 2) I Got Your Number 3) Strange Kind Of Woman 4) Kiss Tomorrow Goodbye 5) Rapture Of The Deep 6) Wrong Man 7) Lazy 8) Perfect Strangers 9) Highway Star 10) Smoke On The Water.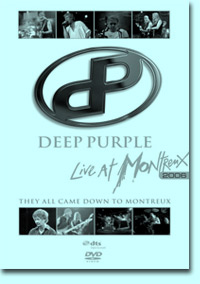 Another day, another Live In Montreux! The 2006 film from the 40th Montreux Festival is certainly a lot more professional looking than the 1996 and 2000 DVD and CD releases. Nice camera angles, following the action, plus a couple of those crane cameras flying over the stage and crowd. It's sharply edited too, and the image manages to keep up with what's going on - so if Roger has a short solo, the camera is on him. Lots of close-ups too, and some nice work of Roger Glover and Steve Morse in Too Much Fun near the end (a sort of jam track).
The performance is pretty hot, although Ian Gillan is a little hoarse at the start. He loosens up, although nothing like the form he showed on the UK tour in 2007. There's a feel of by-the-book about the sound, all a bit well, safe. Of course for most fans, it's the new songs which are worth having. Rapture Of The Deep lacks the majesty of some shows I've heard, but Wrong Man kicks up a damn good riff, though Ian Gillan seems to be struggling with it. Kiss Tomorrow Goodbye is the best of the bunch and I noticed Purpendicular echoes in it which I'd missed before. Great build up towards the end which makes you wish they'd taken it on a bit further, Paicey is kicking up a storm. Perfect Strangers is missing from the DVD. Alan Frizzell tells us "I have a copy of a broadcast of part of the concert. Towards the end of Perfect Strangers, the strobe lights did not work, leaving the band playing in the dark. Ian Gillan makes reference to it in his intro to Space Truckin', so it seems to be a technical glitch.
The bonus show (the audio from which was on the special tour edition of Rapture Of The Deep CD) from the London Hard Rock in October 2005 (to celebrate its re-opening and the launch of the band's new album) is a real contrast. A small club, cameras stuffed into awkward angles, and a much more exciting feel to it. And it has to be said it kicks off in far more convincing fashion that Montreux. Sadly the mix is pretty ropey, but it has a real authentic feel about it. The band are crammed onto a tiny stage, so an unusual look - with Don stage left and Steve in front. If you've heard the audio, trust me it's much better with the vision and I think most fans will really prefer it.
Eagle released a blu-ray DVD edition of this title in February 2008. Content is the same, but the picture is high definition. You will need a blue-ray enabled DVD player to access this format. The Hi Def battle continues to confuse, with Paramount (who had been issuing their films in both formats) suddenly jumping one way (supposedly with a hefty bribe from the HDVD format owners!) and others going the Blu Ray way, which seems to be coming out on top judging by the racks in our high-street stores. The audio also came out on CD:
They All Came Down To Montreux : EU : Eagle EAGCD3S6 : June 2007 1xCD
Live At Montreux 2006 - The Complete Version : Japan : TKCW-32181 : July 2007 2xCD
The Japanese edition included ALL the set on two discs, rather than the shorter single CD in Europe. Silly thing to do and annoying for collectors. The extra CD tracks are The Well-Dressed Guitar, Perfect Strangers and the encores (Hush, Too Much Fun and Black Night). Thanks to Neil Hunt, Martin Ashberry, Ian Green and Tim Summers for helping me unravel the various editions, 'cos Eagle certainly hadn't a flipping clue!
---
JON LORD
Durham Cathedral, 20th October 2007 -
live review
Lord has been working on the Durham Concerto since just before he left Deep Purple. Even more so than the rock world, the classical music scene books up many years in advance, but even so Lord admitted before the debut performance that he'd missed a number of self-imposed deadlines. It was finally recorded in Liverpool with The Royal Liverpool Symphony Orchestra around July 18 / 19 2007.
There was a full rehearsal during the late afternoon, which, having explored the town during the day and then wandered up the hill to the Cathedral to see what was going on, we naturally hung around to watch. To be able to stand so close and witness what was going on was fascinating, and fun when (perhaps in tribute to Blackmore at the NEC), one of the string players turned up late and had to try and sneak in and get up to speed. In effect we had more or less a full performance lasting about and hour and a half, with some false starts and reruns, though as they were under strict Musicians' Union rules, on the dot of 4 o'clock it ended almost mid-stave.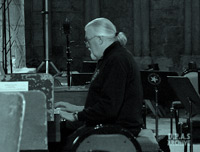 The Durham Concerto is in six movements, each inspired by an aspect of the town, people and the countryside around. This is certainly Jon's most overtly classical work to date, with only the slightly unconventional but very understandable inclusion of Northumbrian pipes and the Hammond organ to what would otherwise be the regular (and on this showing very top notch) Liverpool Philharmonic. So rock and roll it ain't. There is a progression through the work as a whole, with themes from the first movement echoed throughout and returned to in the closing passage. Some of the movements were very emotional indeed at times, with very subtle and skilful playing called for. At other points the writer had allowed himself to stray a little outside what might be expected in a classical piece, particularly in the Rags And Galas movement, which musically brought together elements of student life and the County Durham mining heritage. This saw Lord allowing himself to inject a little fun and humour to the mix, not so different to the sort of effect Malcolm Arnold went for when the situation allowed.
Unlike the Concerto performance/s, the evening was held under classical music conventions, so there was no applause until the very end (unlike the rehearsals which had elicited spontaneous applause at one point from the people who had gathered to watch). At the end the audience rose to give the soloists, conductor and the Orchestra a standing ovation which lasted for ages (although with everyone stood, it was impossible to see what we were actually clapping). I understand the convention of course, but it did feel a little restrictive at times, and a modicum of applause between movements would have lifted the event I think - where we were you could sense people wanting someone to be the first to put their hands together. There was no encore either.
The soloists were excellent. I'm reliably told that there is no better player of the Northumbrian pipes than Kathryn Tickell, and can well believe it, though it would have been interesting to try using the acoustics of the building to play with the dynamics of the instrument, as it did tend to dominate at times from where we were seated. In Hammond terms, Lord has been sparing in his own piece, and during the actual premier, his playing fitted into the overall sound so well that you couldn't always be sure when he was playing or not. Then he would suddenly emerge from the sound in dramatic fashion and bring a flash of drama to the moment. The performance was recorded by Classic FM (who part-sponsor the Liverpool Philharmonic) and broadcast by them on November 4th 2007. There was some camcorder footage being taken by University staff for their own web site use, but this was single camera, hand-held material and not a complete film.and enough of the old centre remains to enjoy.
Boom Of The Tingling Strings
- album review
Boom of the Tingling Strings; Disguises EU : EMI Classics 390 5282 : 24 March 2008 CD
Hot on the heels of the Durham Concerto came two more symphonic works by Jon Lord; a new Piano Concerto, Boom of the Tingling Strings, performed by Nelson Goerner with the Odense Symfoniorkester under conductor Paul Mann, and Lord's Suite for String Orchestra, Disguises.The album was issued to tie in with Jon Lord's Liverpool concert. We've already covered this work in the magazine and last issue, so we'll add a little from the press information which Lord supplied for the album: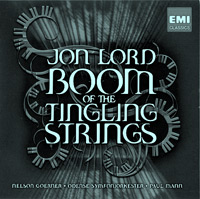 "After a few aborted attempts to begin writing while touring the world, in 1998 I came across a poem by D.H. Lawrence called simply Piano, and its effect on me was immediate and profound. The 'I' of the poem seemed to be me. I recognised the childhood that Lawrence described, for it seemed to mirror my own, and the idea of using his images to paint pictures from my own experiences was a persuasive one. I immediately began to jot down ideas. The experience was made more resonant for me by that marvellous phrase "the boom of the tingling strings" and I decided then and there, that would be the title."
Disguises is a suite in three movements, each a portrait of someone who has inspired the composer. Lord originally conceived the work for string quartet but later expanded it for string orchestra. The first movement, M.A.s.q.u.e., is a portrait of Sir Malcolm Arnold, a seminal influence on Jon Lord's musical life. The second, Music for Miriam, is a portrait of the composer's late mother (reworked from the Beyond The Notes album). The final movement, IL BUFFONE (G.C.) is for an old friend, a big bustling man who brings Lord 'occasional benign madness and hilarity when I most need it, but whose joviality can disguise a certain wistfulness.' When Disguises was completed in 2006, Jon Lord decided to dedicate it to Sir Malcolm Arnold, and received word that the great English composer, delighted to be the dedicatee, looked forward to hearing the work. Sadly, Sir Malcolm never heard it as he died four days later.
The work got a really strong review in the long established classical review magazine Gramophone, which concluded that it had "... a barnstorming, virtuoso finale that has Proms Favourite written all over it." Now there's a thought somebody!
---
WHITESNAKE
Good To Be Bad
- album review
Good To Be Bad
EU : SPY Records : April 18. 2008, 1CD - SPVG2BB • 2CD Ltd Ed-SPVG2BBLE • 2LP Ltd Ed-SPV98131
Regular tracks: 01 Best Years 5:16 / 02 Can You Hear The Wind Blow 5:02 / 03 Call On Me 5:01 /04 All I Want A111 Need 5:42 / 05 Good To Be Bad 5:13 / 06 All for Love 5:14 / 07 Summer Rain 6:15 / 08 Lay Down Your Love 6:01 / 09 A Fool In Love 5:14 / 10. Got What You Need 4:14 / 1 I. ' Til The End Of Time 5:32. Europe bonus tracks : Summer Rain (acoustic version), All I Want All I Need (radio edit), Take Me With You (live version), Ready To Rock (video).
Take a deep breath! The European limited edition 2a) is in a special varnished hot foil card box. It includes the jewel case version of the CD, a bonus CD (in card sleeve) with 3 audio tracks and I enhanced video, plus a poster, photocard and sticker .
The vinyl edition has all 11 regular CD tracks, comes in a double gatefold version with printed inner sleeves and the bonus live track Take Me with You from Live In The Shadow Of The Blues.
NOTE • The North American limited edition 2CD (not covered here) is slightly different. The regular album is the same but the bonus CD with 7 live tracks from Live In The Shadow Of The Blues (which hasn't yet come out there) and a video. Release date: April 22 2008.
01 Burn-Stormbringer 8:38 / 02 Give Me all Your Love Tonight 4:21 / 03 Walking In The Shadow.... 5:10 / 04 The Deeper The Love 4:31 / 05 Ready & Willing 5:41 / 06 Don't Break My Heart Again &.08 / 07 Ready To Rock (enhanced video) 4:19
"11 new, slamming WHITESNAKE songs which are guaranteed to take their place alongside their multi-million selling catalog." Press release.
Well in view of the fact that this charted at number 5 in the UK, there's not much one can take issue with in the press statement. Maybe it's just Whitesnake's turn again, who knows how the fates decide these things. Mind you, the long long wait for this has probably helped stoke up demand, and we are in the midst of an 80s revival / nostalgia fest at the moment, an era when Whitesnake were at their commercial peak. And you can't knock the press build up; it's never an easy task with today's narrowly focused editors, getting a singer of Coverdale's vintage into the media - never mind onto daytime TV chat shows!
The hurried announcement of the limited editions also sparked more interest, far more in fact than the rather lacklustre contents of the 'hot foil' box deserved (just what the hell is an enhanced video anyway, and how does it differ from the one you've been able to download for free off the label website for weeks?). Still it was a treat to get the vinyl (shown on this page).
As for the music though, well I kind of expected a little bit more after a ten year wait. What DC is saying is that even writing just one song a year, he still wasn't able to really take Whitesnake on any further than they were at on the 1987 album. For as this album trundled by, the more it seemed almost like out-takes from that period, so heavy were the cribs / borrows / lendings. The musicianship displayed a singular lack of soul, and it was not until it all suddenly came back to earth with the soulful album closer that my ears pricked up. "A few more like that would have helped," I thought, until someone rightly pointed out that when DC did a whole album along these lines - namely Into The Light, back in 2000 - nobody paid much attention (except for EMI's bean counters, who promptly let his contract lapse). Well those bean counters, if they've not been summarily dismissed by the new bean counters who bought the company out last year, will surely be kicking themselves now. But the fact remains that Into The Light was possibly Coverdale's finest studio performance in years. All it lacked was a little more depth in the melody department.
Good To Be Bad album and tour
- news
Whitesnake have finally delivered their first new studio album in a decade, and got behind it with a big tour. It's taken Coverdale quite a while to get back into a position to deliver this, but a steady reissue programme over the past few years (with yet another one from EMI to coincide with the UK tour) has delivered a profile rise, and sales of the live DVD were very good, enabling him to hit the road.
They have a new drummer, Chris Frazier (who has worked with Steve Vai, Carole King and Edgar Winter), who played on the album and takes over from Tommy Aldridge. He was approached in May 2007. The rest of the band remain; Doug Aldrich / guitar, who also co-wrote and co-produced the album with David Coverdale and Michael McIntyre; Timothy Drury / keyboards; Uriah Duffy / bass and Reb Beach / guitar. Coverdale and Aldrich played an eight track acoustic set on April 10 2008 to an invitation only audience at The Cutting Room in New York City to promote the new album. According to the Piercing Metal website, during the show Coverdale mused that it was probably odd to do all this new music that nobody had heard before but recalled how Deep Purple had done almost the entire new album Burn before it came out and the audience didn't seem to mind.
Whitesnake's German based record label hoped for a top forty UK placing for Good To Be Bad, but it quickly went to No. 6 in the UK and was selling so well at one point that they thought it could be a number one album. Sadly for them, Mariah Carey kept it from climbing much further and it peaked at Number 5.
As they've done before, the UK leg of their tour was split so they could do more festivals in Europe. Co-headlining with Def Leppard allowed them to do the big venues. The tour dates were rolled out with an initial batch, and more slotted in not long afterwards. Tickets went on sale in January (with Leppard fans offered advance sales via their fanclub - see it can be done, even for these halls), and by May around half the venues were sold out.
Glasgow SECC, 17th June 2008
- live review
SET-LIST • Best Years, Fool for Your Loving, Can You Hear The Wind Blow, Love Ain't No Stranger (dedicated to Mel Galley), Lay Down Your Love, Is This Love, Snake Dance (guitar solos), A Fool In Love, Drum solo, Ain't Gonna Cry No More (Acoustic), Ain't No Love In The Heart of The City, Give Me All Your Love, Here I Go Again. Encore: Still of the Night.
" For the first time in almost 27 years, Whitesnake are playing under a headliner in the UK. Not a great way to celebrate 30 years of a band. The hall was really packed by the time they came on at 7.45pm. The band tore into the first song. The sound was very bass heavy, a much denser heavier sound than previous tours, pretty much the same as the album really. Coverdale's voice is struggling to hit the high notes now, but he can still sing a fine tune. The first four songs went down very well. Two slower numbers dropped the tempo, the inclusion of a pointless guitar solo did nothing to help the wavering attention of the audience. Ain't No Love sounded a bit flat. I guess the denser sound does not lend itself to such a song. As a contrast Give Me All Your Love really gets the crowd going, big sing-a-long bit and huge cheer at the end. The set ends on a huge high, the audience roars for more. Overall not a bad show, though the breaks in the momentum caused by the pointless solo spots do show that even after 30 years of Whitesnake, we still complain about the same things. Def Leppard played and were probably still playing as I was enjoying a nice cold beer in my living room 45 miles away. At least Mr. Coverdale does not need a fancy stage show to generate some sparkle." Kevin Dixon
---
IAN GILLAN
Live In Anaheim
- CD / DVD review
Live In Anaheim
EU : Edel 0187732ERE : 2008 2xCD
(CD1 • Second Sight / No Laughing In Heaven / Into The Fire / Hang Me Out To Dry / Have Love Will Travel /Wasted Sunsets / Not Responsible / No Worries / Rivers Of Chocolate / Unchain Your Brain.
CD2 • Bluesy Blue Sea /Moonshine/Texas State Of Mind /Sugar Plum /When A Blind Man Cries / Men Of War / Drum Solo / Smoke On The Water / Trouble / Knocking At Your Back Door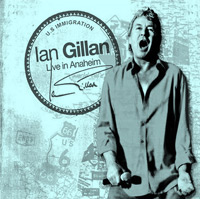 As the 2006 Gillan's Inn tour never made it out of America (and was quite a well-kept secret even there!), this is a useful official souvenir for those who missed it and is "approved and 100% endorsed by the artist" according to the sales bumf. Two tracks have already appeared on the later special editions of the Gillan's Inn (which make them just that little bit less special). Sonically if you think "Gillan solo during his between-DP spell in the early 90s" you'll not be far wrong; a pretty good backing band comprising Randy Cooke, Rodney Appleby, Michael Lee jackson, Dean Howard and Joe Mennonna (though not as well honed as his Naked Thunder tour musicians) and (as the track list above shows) a whole mess of off the wall cuts and favourites all delivered in fine no-nonsense style. Gillan has been in stronger voice (the following Deep Purple tour for starters) but all in all a great time seems to have been had by all. Strangely I enjoyed the early in the set grunge of Into The Fire most; with a bass so slack it sets the teeth on edge, it manages to capture some of the spirit of 1970 very well. Guitars restrained as well. Points have to be docked for flash but ultimately very skimpy packaging (booklet? One piece of paper!), and the mix is a bit strange at times too.
Live In Anaheim
Germany : Edel 0187738ERE : July 2008 1xDVD
The DVD of this show took several months to reach the stores after the audio edition but despite the extra time they had, and the new super jewel box plastic DVD case, if anything the packaging is even sparser than the CD (and the tray notes haven't been changed, so they still advise you to crank up the volume of the disc), while someone's lazily forgotten to proof the inside, so the last few lines of text are obscured by a graphic.
Quality wise the vision is happily better and it's a pretty good record of the tour, with a number of fixed and roving cameras. Being a low budget sort of gig the House Of Blues lighting is a bit dark, but all the musicians (and Ian) have had their shirts specially laundered for the shoot! The image quality does look a little soft to me (and lacks detail - the highlights flare out quite a lot in close ups), but this is probably down to the budget. We'll not dwell on it too long, but for once I think the DVD works a little better as it puts the gig into context more. Listed bonus features are: Tour Featurette Video / Ian Gillan Interview / Photo Gallery / A Case of The Memorabilias (which turns out to be a gallery containing ... one photograph! So it takes you longer the read the gallery title than look at the content...).
---
Live In Australia
- DVD review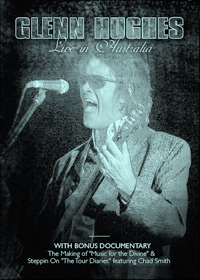 Live In Australia
Australia : TMM208 : Aug 2007 2xDVD
Tracks : Coast to Coast, I Found A Woman, This Time Around, Nights In White Satin, Last Mistake. This House, Frail, The Divine, This Is How I Feel, Whiter Shade Of Pale, Mistreated, Soul Mover, Gettin' Tighter and You Keep On Moving.
This came out first as a double DVD set in Australia, and was then distributed more widely as a single DVD in Europe and the UK. Originally to be titled Live at the Basement they changed their minds later on. The set also came out on a single CD in November (Edel 0186 I 62ERE), and has also been licensed to Brazil. The Australian DVD bonus material includes the Monkey Man video (from Music For The Divine) and two other promos, the documentary of the making of that album, snippets from the summer 2006 gig in Rome, and other odds and ends. The backing musicians on the show are JJ Marsh on guitar and Lachlan Doley on keyboards, plus a string quartet.
"What a veritable Glenn Fest! So much more satisfying overall than the web-cam vibe and post production slap-dash quality of the last DVD, Live in The City Of Angels. Great editing, top-notch performances by Glenn and the musicians at the acoustic Basement gig, and that notable keyboard freak-out on the tail end of Getting Tighter by Lachlan - great energy and technique! I would love to see this guy in Glenn's band. How great it is to hear Glenn feature a song from Play Me Out after years of waiting - definitely the perfect setting!" Simon Ford
First Underground Nuclear Kitchen
- album review
First Underground Nuclear Kitchen
EU : Frontiers FRCD37I : May 2008 CD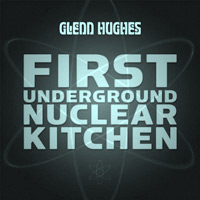 When you produce a track as fully charged as Never Say Never, and then slap it bang into the middle of your new album, you run the risk of making everything else seem like a prelude to and coming down after. For me it just takes everything Glenn has been working with and for over the last three decades and gets the balance of metal, funk, soul and fab retro sound effects so absolutely right that quite frankly I'd be more than happy to have paid the price of admission for this one track alone.
There's also the almost equally great Oil And Water, and the just about as excellent title track as well. Play them all very loud and revel in the power. What a rush. The production is good too, retaining some of the ambience of Music For The Divine but layering the music with more instrumentation. The rest of the album hits any number of directions. Nothing quite comes up overall to the highlights, but there are some great moments. I'm one of those fans who tends to err more on the heavy side of Glenn's music, but for the hardcore who like the ballads then there are a few here to revel in. So really it should be an album which has something for everyone, which is not an easy trick to pull off. Mostly I hope it gives the man himself some satisfaction and shown him that doing what he wants to do rather than trying to second-guess his label or audience, it offers the best way forward.
I did feel the Trance Nation '50 chillin' greats' type sleeve rather lets it down, and never did see the point of a slip case which is exactly the same as the cover underneath.
Tour and band news
- news
The sudden departure of f J Marsh from Glenn's band prompted a lot of comment on the interweb, much of it critical. It was thus with some surprise that Marsh rejoined Glenn when he played Norway in 2007, and Glenn posted some of his own thoughts about it. "He is in great form, I have never seen him so happy and energized. He is a part of my family, and it's good to see and hear him beside me on stage. So please everyone, let's not get into any debates on who is better, or the right guitar player for me."
It seems as if it was Marsh's love of the rock'n roll lifestyle which caused him to lose his place, so maybe it gave him pause for thought (I've managed to get hold of Marsh's solo CD at last, and it's clear he had a lot to do with the sound.). The rest of the late '07 touring group comprised Anders Olinder (who has worked with Peter Gabriel) on keyboards, and Matt Goom (a mate of Chad Smith) on drums. As well as Jon Lord, the 2007 Hell Music Festival also featured Glenn Hughes on June 30. There were a couple of other dates in Norway into July, then a break to start work on new material before a proper Music For The Divine tour in the autumn.
Liverpool Academy, 7th June 2008
- live review
The Carling Academy is tucked away right behind the Liverpool Empire, indeed might even have been a store room for the place at one time. The venue was upstairs and quite a reasonable sized room. They're used to handling big crowds (Plant played here on his last tour), judging from the heavy duty crash barrier in front of the stage - complete with warning that crowd surfing is dangerous.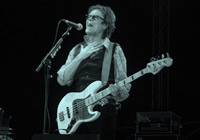 It was soon clear (once you ears had adjusted to the volume - it wasn't quiet!) that there were audio problems. Indeed for a while all I could hear properly was Glenn and the drummer. On-stage there seemed to be issues as well. Glenn was not happy and after a couple of songs stopped the show for a few minutes while roadies tried to find the source of the on-stage noises which were putting him off. I'm not sure if the onstage problems were fixed but about a third of the way through the guitars started to become more audible in the crowd. Glenn's gone for two players on this tour; it does give a certain amount of extra variety to the solos, but JJ did look a bit lost at times. The new guy (Luis Maldonado, something of a child prodigy according to his own website), who also played most of the guitar on the latest album, is very good, and the Bolin leanings worked really well. Even the old echoplex (well, in actual fact a Fulltone tubetape Echo, a copy of the sort of machine Bolin used, and yours for about a grand) was set up and switched on a few times.
The band were delivering a much heavier set than I was expecting. The quieter soul songs off the new album were largely ignored in favour of the hard stuff; not that I was complaining! When Glenn felt the need to do a vocal improvisation he let loose at the end of a song, and you really do marvel at how he reaches those sounds. The new drummer seemed to struggle to keep time at one or two points early on but this went as the band warmed up. We got a good wedge of the new album to kick off, including my three favourite titles. Glenn did kind of apologise for not doing all the oldies but I don't think he needed to. When they came, the Purple classics Mistreated and Burn slotted in well - and felt part of the set, rather than the reason for everyone being there. On a couple of tours the balance has tipped too much towards the oldies, though we all appreciate the dilemma.
The place could have been a little fuller, and I would have liked a couple of longer instrumental sections too, let them get right into the groove. This started to happen at the end of a couple of songs, but was cut off. Still, as I said at the start it had been a long time for many in the crowd (and good to see some younger faces amongst them as well) and the venue was under a tight 10.30pm curfew.
---
Secret Voyage
- album review
Secret Voyage
EU : SPY 91780: June 30. 2008 CD
EU : SPY 91781 : June 30. 2008 2xLP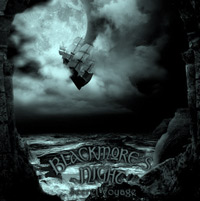 The cunning old fox. Slap in the leccy guitar at the start of the album instead of at the end like normal! So we get an eleven minute (yes I know it's marked as two tracks, but they run into each other) percussive and mainly instrumental romp through fairly familiar Blackmore's Night territory, but with added Strat, which doesn't half liven up the proceedings and give the whole event a little bite. Had this been on offer umpteen Blackmore's Night albums back you might think 'way to go Ritchie'. In many ways this is one of the band's more rounded offerings, and fans will really enjoy it. It pulls everything together where the last album seemed very half-hearted overall, almost as if it didn't really know what it wanted to be, or where it wanted to go. Here the doubts have gone and normal service is resumed so, while it's all what you would expect from previous albums in that there's the usual spread of tempos, the tasty acoustic instrumental, the doomy Third Ear Band percussion, etc., the production is pretty spot on and it's nice to have the music breath a little instead of being swamped in vocals from end to end. Less really is more.
The pre-Blackmore's Night faithful might struggle getting to grips with the cover of Rainbow Eyes, and in all honesty I'm not sure how long it would have taken me to work out what it was if I didn't know. As you get some more classy electric runs most of the old school will be too busy listening to that to bother with much else; some of the playing is sublime - old Deep Purple buffs will hold the breath during the closing couple of minutes as the engineer slowly fades him out. Ritchie puts another shilling in the meter to kick off some Perfect Strangers style runs in The Circle and again in the strange reading of Can't Help Falling In Love, which was never really meant to be treated like this, and seems to speed up as it belts along... very very strange, and not in a good way. In fact from here on, HMS Secret Voyage rather falls off the flat earth for me. It occurs that tracks1 - 8 actually make up the running time of a proper vinyl album, so on that basis it's not such a bad deal.
The Hexagon, Reading. 14th June 2007
- live review
"The Hexagon is about twice the size of the Concert Hall, where Blackmore's Night have played before, but in the event was only half full. Lights went down, nothing happened, lights came back up. 10 minutes later the band started. And we only got 75 minutes and no encore, so what was going on backstage, I don't know. I'm forced to say the main description of Ritchie was anonymous. Despite it being his band, and him running the show, the guitar was low in the mix a lot of the time, and while he seemed to play lots, it wasn't particularly special - just part of the band. Some nice acoustic in Diamonds And Rust was about as good as it got. It was still enjoyable as a band event; keyboard player was the star really, and covered a lot of the parts that violins etc. have done in the past. The backing singers outshone Candice.
Luckily the Czech support band Gothien were excellent, offering upbeat takes on Macedonian dance tunes with an authenticity that Blackmore struggles to reach. They were summoned on three times during the headliner's set, to beef up the sound, which worked best in a big band take on Mond Tanz / Child In Time. I actually find Candice quite endearing on stage, "we've been a band now for 10 years, which is longer than all three of Ritchie's marriages put together", and "this is a nice traditional tune we heard on the radio played by a Mr. 50 Cent". Ritchie responded by claiming Sting to be his favourite medieval composer." Matthew Kean
Matthew as a relatively experienced Blackmore gig goer wasn't too phased by the low-key and shortened set, but BT's local loops lit up as others hit the internet to vent their frustrations. The Hexagon confirmed that they received a "number of complaints" after the show according to Michael Day who called to try and find out what had been going on. The venue offered all disgruntled callers free tickets for another concert.
---
DON AIREY
A Light In The Sky
- album review
A Light In The Sky
UK : Mascot Records M723S.2 : Feb 2008 CD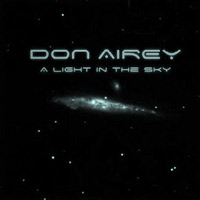 The album takes Don's hobby of astronomy as it's inspiration. "What I had in mind was making something that sounded like a cross between Rainbow, Mahavishnu Orchestra and Jean Michel Jarre.. There was no point in making some generic hard rock album." Those fearing an album full of dated Difficult To Cure type synth sounds should rest easy though. His stint in Purple, some six years and counting, has brought Airey's love of the classic Hammond back to the fore, and this album is awash with the sound. Most of it was done at Chapel Studios in Lincolnshire, the sessions were recorded as live as possible. "Just about everything is a first or second take, all of the Hammond playing and most of the synth and guitar solos were recorded live. I knew I didn't want to make one of those Fileshare albums in which everyone sends their parts by email." Don also handled production and the CD features Laurence Cottle on bass, Rob Harris on guitar, whose day job is with Jamiroquai, members of Thunder and others. The violin playing is by Lidia Baich, a Viennese concert virtuoso who Airey met when Deep Purple played in Modena with Luciano Pavarotti in May 2003.
There is a kind of concept to the CD, but don't let the spacey links which the album is hung on put you off, it does cover a wide range of styles, from the instrumental Kraut-rock rhythms of Ripples In The Fabric Of Time, to Rainbow-esque rockers and Endless Night. Airey's time in Colosseum 2 is also referenced in a couple of the lengthier tracks, not just the title track but especially the swinging Big Crunch, resplendent with heavy violin riffs, jazzy guitar and tricky timing, though perversely one or two of the shorter instrumentals I feel could have been stretched out to advantage - the weirdly titled but driven Hammond-fest come jazz bass jam Space Troll Patrol being one which is needlessly short at under four minutes.
It is also the burden of a player like Airey that older gimmers like myself who grew up listening to the 'big three' rock keyboardists will always be picking out the influences of Lord, Emerson and Wakeman at times (Space Troll Patrol has a very ELP like final flourish) but it's far from distracting. Similarly the excellent Sombrero M104 is very reminiscent of The Nice in the piano work, albeit much more accomplished. There are certainly a couple of numbers here which would works superbly in a Purple context - Andromeda M3I for example could be mistaken for an out-take from a Purple jam, while Pale Blue Dot would have been better than several tracks on Rapture or Bananas. This album certainly isn't a fashionable album in todays terms, but does drop nicely into the classic rock genre, with good restrained grown-up playing from all concerned. Whizzy guitarists are two a penny these days, but people who can get to meaningful grips with a Hammond are much less common.
---
also in the magazine... Shades Of Deep Purple 40th anniversary .... Deep Purple 2007/2008 tour reviews .... Deep Purple book and magazine reviews .... Remembering : Jeff Healey, Alan Black, Tony Dangerfield, Ben Nisbet, Thomas Appelqvist .... letters ... Deep Purple, Bedford 'Blues At The Eyrie' feature 1970 .... Deep Purple gold award discs ... Made In Japan feature .... Jon Lord news and live reviews ... Whitesnake news and live reviews ... David Coverdale in New Zealand 1975 feature ... . Glenn Hughes news and live reviews .... Ian Gillan news .... the Fireball air conditioner ... Nick Simper, Isle Of Wight festival 1969 feature ... Tommy Bolin news ... Blackmore's Night news and live reviews .... Ian Paice live reviews .... Graham Bonnet 2007 UK tour, live reviews ... Roger Glover news ... Joe Lynn Turner news .... EMI / Sanctuary Records .... DVD and CD reviews .... the first UK DPAS, feature .... Questiona and answers .... How I got into Steve Morse .... Steve Morse news ... What if Gillan and Glover hadn't left in 1973? article ... Deep Purple Live In London 1974 .... Deep Purple record releases rounded up .... Deep Purple Mk1 compilations .... and much more. 78 pages.
---
| | | | | |
| --- | --- | --- | --- | --- |
| | | | | |
| | | | Future issues | |
darker than blue magazines can be purchased from the
dpas online store