Issue 43 and Darker Than Blue stepped into the murky world of Macintosh computers, as if that of Deep Purple wasn't taking up enough of our time. The magazine straddled the worlds of the Joe Lynn Turner fronted Deep Purple and the mammoth 150 date Gillan tour. Of course what we didn't know at the time (as we wondered at the lack of activity) was that behind the scenes, efforts were already being made (primarily by the record company) to enable Ian Gillan to rejoin the band in time for their 25th anniversary in 1993.

As for the UK, Purple fans were facing a drought gig wise. It was down to Glenn Hughes to bring relief with a very welcome Trapeze reunion. Stockier than before, and with his hair shorn, Glenn still kicked up a storm and this time he was back for good. The shows got reviewed in full, and Glenn posed in an "It's Grim Up North"' t-shirt for the magazine. In archive news, we took a detailed look back at Machine Head with a six page feature but we were still a long way towards the remastered versions, indeed In Concert 70/72 had only just emerged (and they'd managed to press that with a fault).

Away from the magazine, I'd helped launch a new CD label (RPM Records) and was keen to try and bring some Purple archive material to the mix. The Ian Gillan Cher Kazoo title was thus trailed with some excitement, with other projects hinted at. As for Gillan himself, his tour was clearly one of the (if not the) longest ever undertaken by any of the band. We got to two of the UK shows and they were really on top form at one of them, and it seemed as if Ian's solo career was really moving up a gear with new guitarist Dean Howard. The tour was reviewed over three pages. The magazine had four packed pages of record and CD coverage, and two pages of rare newspaper cuttings reprinted - all in a nice shade of... dark green. I'm not sure why, the printer talked me into it.

I had to enroll at college to get to grips with the Mac and software, but overall it looked as if it would do the job. I bought a second-hand LC and it's still working thirteen years on, although it would struggle to cope with today's memory requirements. What really sticks out in issue 43 is a sentence on page 7 which regrets that Live In London still hasn't made it onto CD yet. Some things never change.

ISSUE 43: DIGEST & INDEX

DEEP PURPLE
NEWS : Recording In New York
DEEP PURPLE
VIDEO REVIEW: Heavy Metal Pioneers

GLENN HUGHES & THE KLF

NEWS : What Time Is Love Single

TRAPEZE

LIVE REVIEW : Junction 10 Club, Walsall

GILLAN

LIVE REVIEW : International, Manchester

GILLAN

NEWS : Dean Howard Replaces Steve Morris

DAVID COVERDALE

NEWS : Legends

Recording In New York - News
The lads returned from their Mediterranian tour on October 25th and decamped to Florida on November 7th to soak up some rays and begin writing for their next studio album. Deep Purple went into studios in New York in May/June to record. They've been looking for someone else to twiddle the knobs. The band also decided to give Roger Glover a rest from the producer's chair, and set about looking for someone else to twiddle the knobs. They ought really to have done this back in 84; it'll be interesting to see who they get in and what difference it will make.
While the album may sneak out towards the end of this year, the feeling is that they may decide to hold on until 1993 before embarking on any serious touring. '93 is as you probably know Deep Purple's twenty fifth anniversary, and they're hoping to use this as something to generate a bit of interest with. It was rather sad to hear Jon explaining this to an MTV camera.
Heavy Metal Pioneers - Video Review
"I settled down to watch the few gems promised on the cover, plus 'behind the scenes footage', 'rare tracks', etc. (KENTUCKY WOMAN looked promising, and WOMAN FROM TOKYO). An hour later I was close to chucking it out the window. £11.99 for a badly edited collection of previously issued footage.
It started promisingly enough; interesting flashes of film and HUSH clear and sharp. But it was soon nosediving. Nic Simper left off the band list, then HUSH edited with the subtlety of a butcher going through a side of meat. No KENTUCKY WOMAN. Badly hacked up edits from Doing Their Thing and Scandinavian Nights. On to SMOKE ON THE WATER. 'At this rate they'll take it from the California Jam' I said to myself, which of couse they proceeded to do! So much for Mk 3. Now for a Mk4 clip which had tantalised me at the start, surely they can't f*ck that up? Oh yes they could. Would you believe they've dubbed the Mk 3 studio version over footage of Mk 4? So Bolin amazingly plays a guitar solo while his hands are in the air. The rest was academic. A tiny reunion clips, which look for all the world as if they were taken not from masters, but someone's pirate collection, and Joe Lynn's famous 'footprints' speech. Behinds the scenes footage? Two seconds of Paice having a slash, and a clip of Blackmore waving. Well researched? They sent the tea boy down to the video shop. Rare concert footage of their greatest hits? Bollocks. All in all, total crap." David Browne
---
The KLF 'What Time Is Love' - News
Those of you hip to the trendier areas of the chart scene will know that KLF had a big hit with a track called 'Doctoring The Tardis', under the name of The Timelords. As KLF they recorded a track called 'What Time Is Love', which became a hit for them in 1989. Taking the passion for remixing to its ultimate conclusion, they issued an album comprising over a dozen different versions of the track. Despite that they decided to have another go at it last year, and Glenn Hughes was drafted in on a session basis. When we heard about this, I naturally began nosing about the K sections in the shops. To a non expert such as myself this proved quite bewildering when I set out on what I assumed would be a straightforward errand! Luckily the band credit everything including the kitchen sink on their sleeves, and we found the mix with Glenn on as an American import (Arista 12366:12" & 5" CD) late last year. This was quite pricey but luckily they decided to reissue it in the UK in March.
The actual music is a standard acid house sort of beat with rap vocals, all buried in a sea of samples. There is no doubt that Glenn's excellent vocal refrain makes the track, it would be very bland otherwise, and after a few plays we found ourselves getting to like it. Glenn isn't too easy to pick out amidst all the musical mayhem, but once you've latched on to him you can see why they've called him 'The Voice Of Rock" on the cover! The other mixes are quite poor, and Glenn is only on one of them anyway. I've not yet picked up the UK edition, but I'll try and get details for next time. Anyway, the single went top five, and the video has been on Top Of The Pops. Glenn returned specially to the UK in November for a few days to film the video, which consists of a recreation of Vikings landing on the coast of The New World, is actually quite fun and mercifully short of the fast intercutting with other footage which spoils many promos these days. Glenn can be spotted at the front of the longboat hamming it up!
Trapeze / The Junction 10 Club, Walsall, March 16th 1992 - Live Review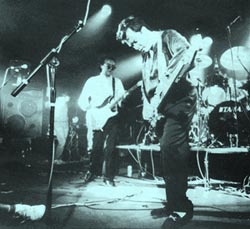 A Trapeze reunion took place in March. While I don't think Glenn sees this as a long term project, he has been happy to go along with it. They played a show at the Hammersmith Odeon on March 20th. This was as a guest band supporting Fish. The show was a one-off charity do to raise some funds for relatives of a guy who managed both acts at one time or another. The following week-end Trapeze did two more shows at Snoopy's in Glenn's home town of Cannock. The Hammersmith set was a short one, but in Cannock they did a full concert including some new songs which Glenn and Mel has written for Glenn's aborted solo album. They got three additional shows together: one in Walsall, one in Newcastle, and one in London at The Borderline on the 16th.
We trekked down to the first of the gigs in Walsall, at the Junction 10 club just off the motorway. Trapeze didn't actually appear until after l lpm. Some of the delay was due to the fact that the evening was being filmed and recorded. During the gig he told the audience they were being taped for a live album, so something may come of this. The show itself was reall tight. Glenn was thoroughly enjoying himself and you'd hardly have guessed that they'd only done a handful of shows. There was very little flash, just an hour or so of very intense music. For me the highlight was probably 'Medusa', which was unbelievably powerful in places. The smoke machine had gone in to overdrive at this point, making it all very Sisters Of Mercy, but even though you could hardly see, the noise was amazing. Glenn every so often grabbing the neck of his Fender bass like he was going to splinter it. Mel played well, plenty of funky riffing to complement the bass, but the night really belonged to Glenn, who seemed humbled by the reachon.
---
The International Club, Manchester, October 17th 1991 - Live Review
Ian's show at The International wasn't overly well attended. Some people reckon the fact that another band were in town (Extreme at the Apollo) might have been the problem; but as we saw people putting up posters for the show as we drove into Manchester on the night, I think lack of publicity might have had a little to do with it! Let's get the track list out of the way, then I won't have to keep repeating it: Dancing Nylon Shirt (this was actually written by Ian around the time of Perfect Strangers), Candy Horizon, Dirty Dog, Toolbox, Don't Hold Me Back, Everything I Need, Brazos, Bed Of Nails, Maybe I'm A Leo, Hang Me Out To Dry, When A Blind Man Cries, Dancing Nylon Shirt, New Orleans. Too Cool and Smoke for encores. Too Cool, sometimes known as Blue Steel (at other time Pleasure & Pain), is a new number - at least it was when the tour began. It was a reasonable show despite the hall looking a bit empty, and picked up about half way through to become very good. Brazos was the disappointment of the evening; I really missed the slow keyboard pulse and Steve Morris treated it a touch too harshly for me. Luckily we got tickets for Bradford Queens Hall, and that was something else. The place was packed to the roof and the band responded to a much more enthusiastic welcome by turning things up a notch. It was just one of those shows when everything makes sense, though how you try and put into words I don't really know. Even Smoke The Water; I ain't heard it driven like this for yonks.
Dean Howard Joins Mid-Tour - News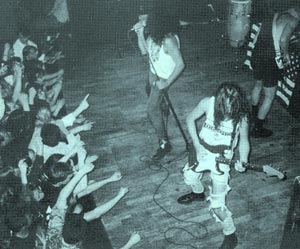 The show in Frankfurt on November 4th 1991 was recorded by German TV and went out live, with simultaneous stereo sound. It lasted 75 minutes. Another station aired twenty minutes of the show from Lauda on 23rd. We actually had a few less than wondeful reports from the German shows: "I'm not holding it against Ian that his voice was gone. The fault with the present outfit lies somewhere else - the concept and the players. Morris was OK as long as there were other instruments, and the responsibility wasn't his." Helmut Gerlach.
At the end of the year it was decided that Steve Morris was leaving the band. He has agreed to keep in touch and work with Ian in a writing capacity. His replacement is Dean Howard, a friend of Al Dutton, Ian's tour manager. Once the band were rehearsed, the touring recommenced. they took in Greece, Japan, Australia, and Thailand. The band then disappeared to South America for the whole of May and the first week of June. After that it'll be album time. They get off the plane at Heathrow, and two days later hit the studio.
---
Legends - News
The Zeppelin / Whitesnake project draws nearer. Although it seems that a line-up of Page, Coverdale, John Paul Jones and Jason Bonham wre getting themselves together in Canada's Little Mountain studio back in October 1991, the duo of Coverdale and Page gave that up and decided to do it without the Zeppelin tag. They've been recording with Heart's Denny Carmassi, and Ricky Phillips from Bad English. It looks like being late 1992 before anyone gets to hear the results. The band are apparently set to be called LEGENDS.
---
also in the magazine...
Trapeze, UK Tour Reviews - Deep Purple / BBC Sessions News - Ritchie Blackmore, Japanese fan club interview - Questions & Answers - 'Machine Head', Twenty Year Anniversary feature - RPM, Cherkazoo news - Gillan, 1992 UK Tour Reviews - Letters - Line Records CD Reissues - Record & CD Reviews including 'The Green Bullfrog Sessions',
and Episode Six 'The Roots Of Deep Purple'.
---
the magazine can be purchased from the
dpas online store
© 2005 DPAS/Darker Than Blue.
Not to be replicated, reproduced, stored and/or distributed in any way without prior written permission