Issue 35... "Hello - I've read your advert in Kerrang and I decided to become a member of Deep Purple..." One of the highlights from the PO Box between issues! Another was someone wanting a signed photo of Zippy and Bungle... This issue slimmed down a little after the efforts expended on the previous one. Partly this was to ease the financial burden as Issue 34 had been very costly to mail. Whitesnake were on the road at the time. Their popularity was on the wane in some quarters, mostly amongst the older die-hards, and so we got some stick for daring to give prominence to coverage the latest tour, but felt that we should try to feature all aspects of the Deep Purple family as best we could. This coverage was despite my real disappointment over the new album 1987, and I decided to give the UK tour a miss (I'd thought about Nottingham but they cancelled it as they couldn't get their stage gear in). Overall people enjoyed much of the tour but there were reservations about this new American direction from many. Mind you, I couldn't stop playing Still Of The Night.

The record labels flooded the market with Whitesnake singles in every size, shape and colour, with reissues of Snakebite in America and Greece, and Omnibus persuaded me to commence a biography of Whitesnake too. This was going well until they suddenly decided to bring it forward so leaving me less time for the magazine. Purple wise all was pretty quiet as they sifted through tapes of the American leg of the last tour to try and piece a live album together and organise a new recording of Hush to celebrate the band's anniversary. We marked this with a looking back at the album and some of the many sleeve variations.

Meanwhile Gillan and Glover got their joint album project on the go and Accidentally On Purpose was reviewed in detail in the magazine. Archive wise the appearance of a really good quality bootleg of the Paradiso show from 1969 was the talking point amongst collectors, as it had previously only been about on very poor tapes We're still trying to get the berks in Holland to co-operate on a release even now. The magazine dipped a toe into the world of compact discs too, as these were beginning to come through at a rate of knots. Time to start saving for a player. Any stories that the hardware companies squashed the launch of a laser player capable of playing vinyl discs just so we'd have to buy the record all over again are probably true.

ISSUE 35: DIGEST & INDEX

WHITESNAKE

NEWS : 1987 North American Tour News

WHITESNAKE

LIVE REVIEW : Birmingham NEC

DEEP PURPLE

NEWS : Live Album Planned

DEEP PURPLE

VIDEO REVIEW : The Videosingles

GILLAN / GLOVER

NEWS : The Gillan / Glover Project

GILLAN / GLOVER

RECORD REVIEW : Dislocated & She Took My Breath Away (singles)

GILLAN / GLOVER

RECORD REVIEW : Accidentally On Purpose

GLENN HUGHES

RECORD REVIEW : Phenomena II

GLENN HUGHES

NEWS : Dragnet & John Norum

The 1987 North American Tour - News
Jerry Scott has sent us a bit of news about the close of the American tour where Whitesnake were supporting Motley Crue. He saw them in Ottowa and Montreal at the end of October. The set consisted of Bad Boys, Children Of The Night, Slide It In, Here I Go Again (number one in Canada at that tine), Give Me All Your Love, Crying In The Rain and Still Of The Night. "I fear David is becoming something of a poseur, too much for me anyway. From what I could see there were far more people there to see them than Crue. In Montreal David announced that it would be their last show as a support act. During Crue's act he came on and sang Jailhouse Rock with them. Whitesnake stole the show for me but Its a shame the days of Paice & Lord are over, they're very Americanised now. Still I like the LP and don't know why you don't". Well Jerry, for that very reason!
Birmingham NEC, December 8th & 9th 1987 - Live Reviews
The whole European tour looked in jeopardy at one time when Coverdale's voice was affected by Illness (which gave the rumour mongers a field day) and indeed all the European dates apart from Britain were cancelled, a shame if only because the German tickets were amazing - with the new logo embossed in colour. The band added a New Year's Eve extra at Wembley and promptly cancelled the show at Nottingham because they couldn't get the gear in.
NEC1 "All we had was a very metallic sound, the same in every song. David hasn't lost his wit with funny chat to the crowd but wasn't in very good voice tonight, forgetting his lines at times too. Highlight for me was one verse of Mistreated sung alone. Ain't No Love was OK as well. If they can sell two nights here and three at Wembley then who am I to comment, everyone around us seemd happy enough. They didn't play very long either, not like a certain old band that still manage nearly two hours." Russell Berger
NEC 2 "I went along expecting a good show from two bands I quite like. MSG gave a somewhat lacklustre 45 minutes. 'Snake were on prompt at 8.45. A jangle of noise and a yelp from DC and into Bad Boys, a fair opener. Here I Go Again was a better moment but Coverdale was beginning to show signs of a bad throat. After a poor Guilty Of Love he dashed off leaving the band to jam rather badly, they found it hard to come up with anything spontaneous. By Love Ain't No Stranger I was rather bored with it all. The most tedious moment of all followed - the guitar solos. This resulted in a time-out to the loos only to find that half the hall had had the same idea! Still Of The Night was about the best of the night with DC putting more into it than anything else. The posing that went on got on my nerves more than anything." Dave Bllllngham
---
DEEP PURPLE
Live Album In The Making - News
Gillan and Glover were back in London in January, lan was spotted ligging and/or propping up the bar down at the Marquee. The pair were joined soon after by the rest of the band to begin mixing the new live LP - indeed most of the band seen to have been in the UK since Christmas. Metal Hammer reported that it would contain two new tracks, and we can confirm that HUSH has been recorded anew - the band using studios in Reading.
The double live set (the idea of a triple was looked at but it seems that would be a pricey thing to do these days) is planned for around June time by when the group will be back in the studios working on the next proper album. A series of big US festival dates has been lined up for them this summer but before they depart they have hopes of playing one small gig In London. It will not be the Marquee but something about that size was being sought. As for touring, I've heard from a reliable source that dates for Italy in mid-Septenber are now being finalised, as part of a European tour.
The Videosingles - Video Review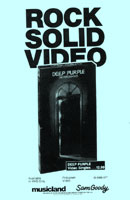 BAD ATTITUDE is first up & features the group at work in a recording studio in Norwalk, Conn., with some good camera work. The only effects are a torn screen image with overlapping shots some In colour some in black & white, very effective.
They' ve padded out the good with the bad for CALL OF THE WILD is next, filmed in America in December 86, with a studio full of people miming to the single and the band only glimpsed briefly. "The band's sense of humour is as devastating as their music" run the sleeve notes. Well if you call being ripped off thousands of dollars for crap like this amusing then that's fair enough, personally I'd want my money back.
PERFECT STRANGERS is the elaborate home movie job shot on location at lan Palce's home and during rehearsals in Bedford in 1984. We did originally think it was shot in Vermont, that artificial landscape doesn't look very English at all, but if it's down Henley way that would explain it!
KNOCKING AT YOUK BACK DOOR is the other bummer, some director completely misreading the songs lyrics (I suppose it's just as well or it would have been confiscated at customs) to give us a pseudo Mad Max story line.
NOBODY'S HOME ends the tape, the best for last! When people told us it was a live video I thought they meant live footage synched to the studio track (as on Knocking..), It's actually just a straight live performance. It was shot on March 5th 1985 at the Civic Centre, Providence Rhode Island. They filmed the full show for MTV. It was never screened. However Space Truckin' from the gig was aired on French TV and is just as good as the Nobody's Home clip. There is a real edge to the number, good sound and mix too. I do have worries that lan's vocals were dubbed in but I may be wrong here (you're not). Magic stuff anyway, with the clip ending as lan says "It's been a long time". The way it's been shifting out of shops here and in America might just spur them on to something a bit better next time. It might even awaken EMI to do something with the numerous odds and ends which are waiting to be rescued.
---
Extracurricular Activity - News
The project originated as a solo album by lan Gillan who was still signed to Virgin Records when the DEEP PURPLE reunion took place. Over the course of 1985 and 1986 he got Roger to help him do some of the writing. The first sessions took place in Monserrat around October 1986 just after The House Of Blue Light had been finished. The pair of them hired the studio for two weeks, and found they were actually very prolific, turning out about one song a day. In all a total of 13 finished tracks were assembled, ten for the album, the rest for the CD or b-sides etc. I can't understand why they pushed the single so hard leaving nothing in reserve for the album. The duo turned up to perform two numbers live on FRIDAY NIGHT LIVE on March 25th 1988. They opened with Dislocated, which annoyingly faded out for the adverts, then closed the show with Via Miami. Good to see them on the box, although it sounded a little rough compared to the album. A video for the second single was done too but I've not heard of it being screened except on cable TV. Both felt that the project enabled them to work out sone of the material not readily suited to Purple, so they could return to the next DP album with renewed interest, Personally I always feel a bit sad that they can't integrate some of both elements without saying Purple must sound like this or that. I'll bet Purple could do a great reggae beat!
Dislocated & She Took My Breath Away - Singles Reviews
Dislocated / Chet - Purple People Eater. Ten, TENT/TEN 193 12"/7" : UK Dec 1987
A lot of you bought it but few of you went overboard for it, judging from the terse reviews many people slipped into their letters over Christmas. DISLOCATED has good vocals and strange lyrics over a fairly basic tune tarted up with some feeble and overbearing brass work. CHET I find more appealing, though it lacks that bit of discipline which could have made it a possible hit. lan's vocals often heavily sampled over a simple drum/bass (technology is so dominant here that it's rather silly of me to try and guess at what is responsible for any of the sounds) beat possibly inspired by the Sigue Sigue Sputnik material. Last up is PURPLE PEOPLE EATER. It lacks life, very studio bound instrumentally except for the great authentic piano work.
She Took My Breath Away / Cayman Island. Virgin VS1041 12"/7": UK Jan 1988
Second trail blazer, a soft vocal pproach on the a-side which was interesting if a touch uncommercial sounding, backed with a dreadful reggae number.
Accidentally On Purpose - Album Review
accidentally ON PURPOSE. Virgin V2498 : Feb 1988
It neither inspires me to wax lyrical about it nor drives me to give it a panning. I think while it was probably good fun to do, this enjoyment largely falls to come across on the disc, due to the very clean sound on the recording and the studio perfornances of the musicians. I suppose I like my music with a rough edge to it.
Surprising to me was the fact that the album as a whole had far more cohesion than I was expecting after the singles, (somehow the fact that every track is different in style doesn't hurt it at all.) Indeed the whole set just seems to drift by in a pleasent enough fashion without demanding too much of the listener. There is very little musical bite to give lan the kick he works best against. Some tracks have really neat ideas buried away In them; Via Miami I'd want just for the repeated ad infinltum chorus line. I Can't Dance To That is neat, suffering somewhat as it is close to Purple in its construction but a good catchphrase and some great lyrical twists from lan. I think it's left to Clouds And Rain as my favourite from the whole batch, it works emotionally and the simple backing doesn't intrude too much.
Overall one of the main purposes behind the project seems to have been to let the pair rediscover their writing partnership to some extent and to unburden a themselves of certain material which they didn't feel was strong enough or suitable for Purple. If it does help in the production of the next studio set then it will have been worth doing.
---
Phenomena II - Album Review
Phenomena II. Arista BMG 208 697 : UK Nov 1987 LP/CD
"The new Phenomena album is much more commercial and Americanised than the first was. Some tracks could easily pass for Asia or Foreigner. There is no overall concept and the frequent references to the devil etc are avoided. The other important difference has to be Glenn's minimal role. He only sings on three songs, which are SURRENDER, HEARTS ON FIRE and DOUBLE SIX, 55, DOUBLE FOUR. The album as a whole has its moments and if not a classic is worth a listen if you find bands like Asia etc pleasing." Chris Stanton
The single Did It All For Love/Double 6,55.Double 4 Arista RIS 42; UK: Nov 1987 turned up in our local news shop for 50p the day it came out - obviously the rep had been in giving copies away! Glenn is on the flip only so the fact that the 12" (which I've not seen anywhere) carries an extended A-slde will be of sod all interest to most of you! It isn't earth shattering but Glenn turns out a decent performance, it is nice to hear him working lower down the vocal range again. The song needs a bit of work in the structure - it doesn't flow too well, but I feel it has more promise than the A-side, despite the blue arsed fly guitar work. - Mr. Gorham's snippet on the other side shows a lot more restraint and taste.
Dragnet & Norum- Hughes - News
Glenn has teamed up once more with Pat Thrall for just one track! Pat Thrall knows actor Dan Ackroyd well, so when the latter was looking around for someone to help out on the soundtrack of his latest movie DRAGNET he roped in Hughes & Thrall. The duo only did one track for the soundtrack, titled City Of Crime.
Of more interest to Hughes watchers was his arrival in London in mid-March when he flew over to attend the John Norum concert at the Hammersmith Odeon. Early rumours that he would actually play were a little over optimistic but it may be the start of something, John Norun left the Swedish band Europe at the end of 1986 because he didn't like the way they were going and was cheesed off when much of his guitar work was mixed down on the last hit album. Glenn Hughes happened to remark to Swedish photographer (and DPAS member) Mike Johansson how much he liked Norum's work. Johansson knew that Norum had been a long standing Glenn Hughes fan and put the two in touch. The result was Glenn's arrival in London to see Norum's March 19th show and meet the man. The resulting get together produced plans to begin work on a Hughes/Norum project almost at once and before long he went out to Sweden to lay the ground work. On May 21st the duo made their world debut on Swedish TV as guest band during a national rock contest.
also in the magazine...
Whitesnake UK tour reviews...Whitesnake illustrated biography news....Gillan / Glover news...Cher Kazoo feature...Deep Purple, Paradiso Amsterdam 1969 bootleg review....The Outlaws singles....Deep Purple, 1987 live bootleg reviews....Shades Of Deep Purple feature....Video news....
---
the magazine can be purchased from the
dpas online store
© 2003 DPAS/Darker Than Blue.
Not to be replicated, reproduced, stored and/or distributed in any way without prior written permission